Converting MPEG to MP4 for the Portable Media Player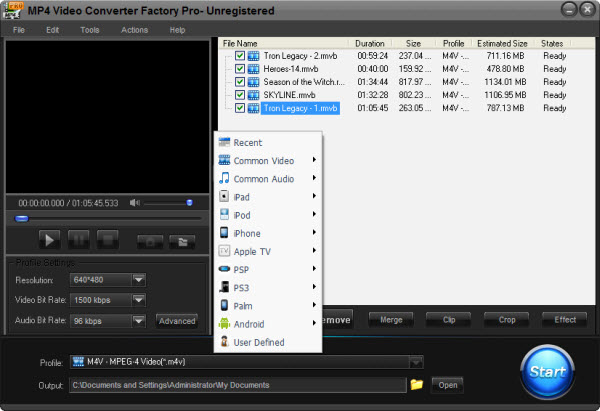 With the popular of portable media player, many people like enjoying videos or audios on their portable media players like iPhone, iPod, Blackberry, Nokia, PSP and so on. However, as the limitation of format, sometimes we can not play our favorite videos or audios on our portable players. Fortunately, video converting software can help you solve your problems, when you want to watch your videos or audios whenever you need or wherever you go. For example, MPEG and MP4 are both popular video format, but for many portable players, MP4 is generally used, so converting MPEG to MP4 is a good way to make friends with your portable media players.
The Brief Introduction of MPEG
As the original format that we will convert, it is necessary for us to know some basic knowledge of MPEG, here we say MPEG means MPEG-1 and MPEG-2, so in order to know MPEG, we should have some general knowledge of MPEG-1 and MPEG-2.
MPEG-1, the first MPEG compression standard for audio and video. It is used on Video CD, SVCD and can be used for low-quality video on DVD Video. It was used in digital satellite/cable TV services before MPEG-2 became widespread.

MPEG-2, transport video and audio standards for broadcast-quality television. MPEG-2 standard was considerably broader in scope and of wider appeal - supporting interlacing and high definition. MPEG-2 is considered important because it has been chosen as the compression scheme for over-the-air digital television ATSC, DVB and ISDB, digital satellite TV services like Dish Network, digital cable television signals, SVCD and DVD Video.
Portable Media Players' Friend - MP4 Format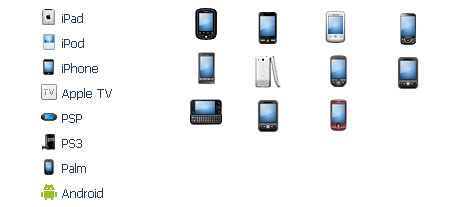 Before we choose a MP4 video converter to get MP4, we should have some basic knowledge of MP4. Here are some brief introductions of MP4.
MP4: MP4 also called MPEG-4, is generally used by portable media players, and is a very popular video format. It uses further coding tools with additional complexity to achieve higher compression factors than MPEG-2. In addition to more efficient coding of video, MPEG-4 moves closer to computer graphics applications. In more complex profiles, the MPEG-4 decoder effectively becomes a rendering processor and the compressed bit stream describes three-dimensional shapes and surface texture. MPEG-4 supports Intellectual Property Management and Protection (IPMP), which provides the facility to use proprietary technologies to manage and protect content like digital rights management.
After having some basic knowledge of MP4, we can see that MP4 is one of MPEG formats, but different types and have different functions, MP4 has more convenient advantages than other MPEG formats, especially for portable media players. So, converting MPEG to MP4 is a good way to make friends with your portable media players.
How to Convert MPEG to MP4
With so many advantages, MP4 is really a valuable format we want to get, so what we should do now is how to convert MPEG to MP4.
1, We need and have to download a MP4 video converter and learn the guide.

2, After knowing the operation introduction, you can convert MPEG to MP4 now.

3, Just enjoy your converted video!!!
It is really an easy operation, isn't it? The whole process will not waste your precious time, what you should care is just enjoying your converted videos. However, there is also an attendant question, i.e. what kind of MP4 video converter should we choose? Because there are many kinds of MP4 video converters in today's market. Here I suggest a great MP4 video converter I have ever used - Free MP4 Video Converter Factory. It is an all-in-one video converter which can help you get MP4 easily with high speed. It has professional and rich settings; you can adjust your videos or audios following your will. Free MP4 Video Converter Factory can be really beyond your imagination!
Screenshot of Free MP4 Video Converter