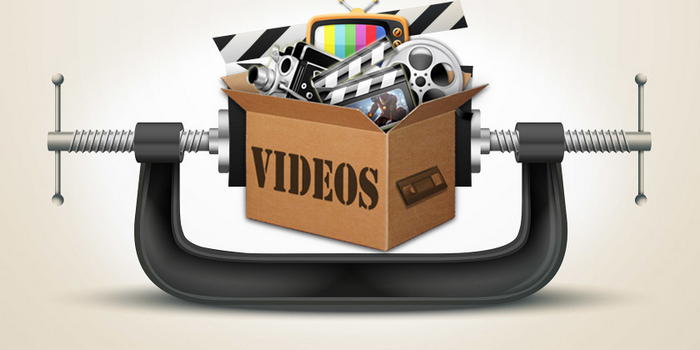 Video Compression
Why You Need to Compress a Video?
As various HD devices develop rapidly, it will result in a serious concern while fulfilling your visual enjoyment. The digital raw video files you shot, especially HD videos, are always very large (several gigabytes in size) due to a large amount of data they have to store. Thus, it will virtually not convenient for video transfer since HD video generally takes up more space on your hard drive or memory/SD card on mobile devices. You know, storage space often comes at a premium nowadays.
Besides, large video files are slow to stream online or upload to YouTube or other online video sharing sites, it's not permitted to email as attachment because of the file size limitation. In the circumstances, you may want to reduce video size, aka video compression.
Best Video Size Compressor for PC
To compress a video, the most direct and efficient approach is to rely on a powerful but easy-to-use video size compressor. WonderFox HD Video Converter Factory Pro is such an almighty program specialized in diversified HD video solutions, even 4K video compression and conversion. With this versatile utility, you don't need to be proficient in any particular glossary and HD video editing skill. It owns 300+ built-in optimized presets of video/audio formats and devices.
More than that, coming with another practical feature, it also enables you to download 4K/8K YouTube video, 360-degree video, VR movie as well as YouTube music download. So you are able to download and compress video for email, convert and compress video for YouTube with only a few simple clicks. All the process bases on a single hand operation completely. Simply speaking, WonderFox HD Video Converter Factory Pro meets all the criteria for best video compression software.
Six Effective Methods to Compress a Video
So here comes the question, how to compress video files to smaller size with WonderFox HD Video Converter Factory Pro. Free download and install this video size compressor on your Windows-based computer. Open it and import a video, let's get started.

HD Video Converter Factory Pro
WonderFox HD Video Converter Factory Pro is the easiest and fastest HD video size compressor to downsize videos for any purposes without quality loss, such as compress video for email, YouTube, transferring, etc. Learn more >
Method 1 - Downscale Resolution to Downsize Video
Open Output Format list on the right hand, select any preset profile you desired here. Then drag the slider along resolution bar below to downscale resolution, or click "Settings" button to change resolution on the new pop-up window.
Tips: You are also allowed to convert SD video to HD here.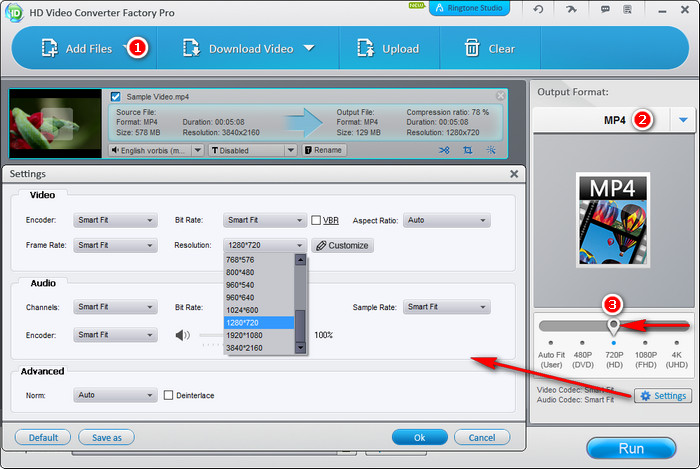 Downscale Video Resolution
Method 2 - Adjust Compression Setting Bar
Tick the little box in front of "Compression Setting" as the picture shown below, drag the slider to adjust "Compression Ratio".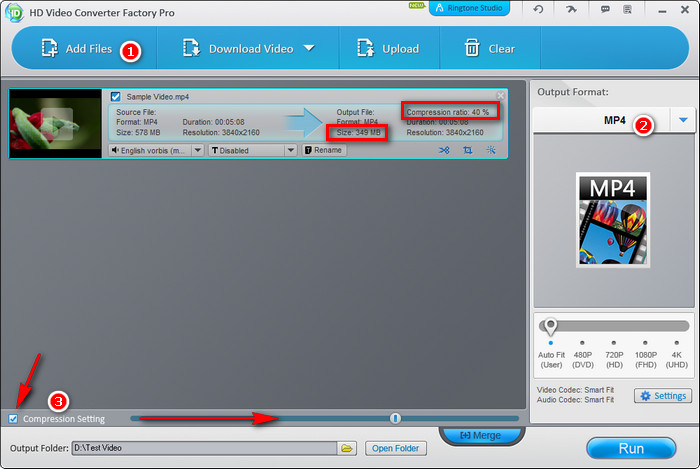 Regulate Compression Ratio
Method 3 - Optimize with the Advanced Encoder
HEVC (aka H.265) and VP9 are the advanced video compression standards and successors of H.264 and VP8. You are able to convert HEVC video and VP9 video by selecting the optimized presets under Video Tab of Output Format list.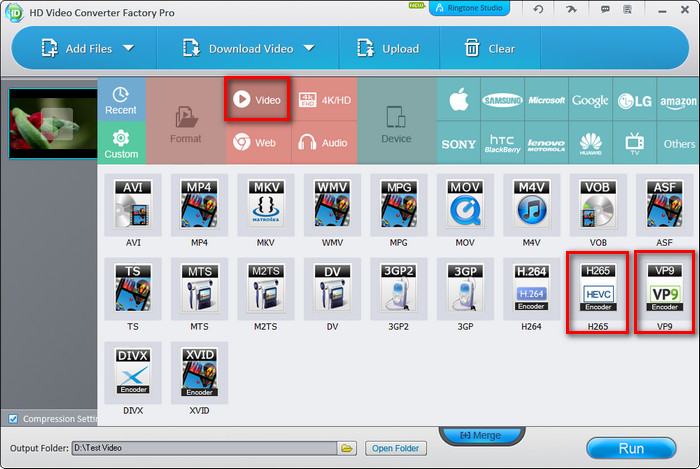 Choose Advanced Encoder H.265 or VP9
Method 4 - Reduce Bit Rate
Bit Rate, the amount of data that each second of video uses, can be either Constant Bit Rate (CBR) or Variable Bit Rate (VBR). In "Settings" window, you can choose CBR or VBR to reduce the Bit Rate to compress a video.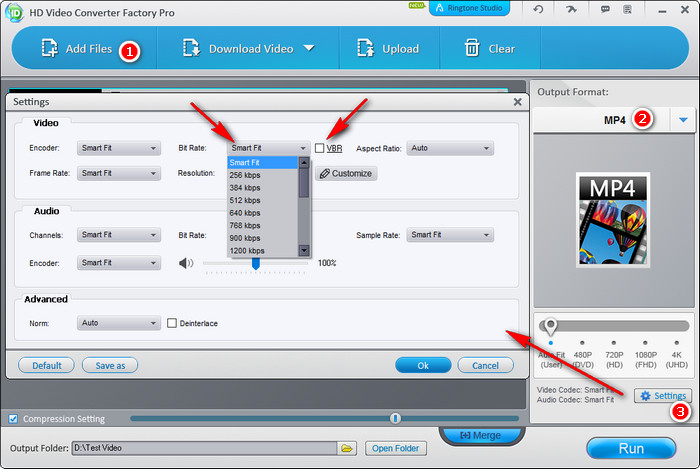 Adjust Video Bit Rate
Method 5 - Change Frame Rate
Videos are typically shot in 24 or 30 FPS. A variable frame rate will lead to audio sync problem, that's also the common problem of audio video out of sync in HandBrake. If you shot a video in 60 FPS or higher, go to "Settings" screen and change frame rate to 24 or 30 FPS, which will reduce video size to a large extent.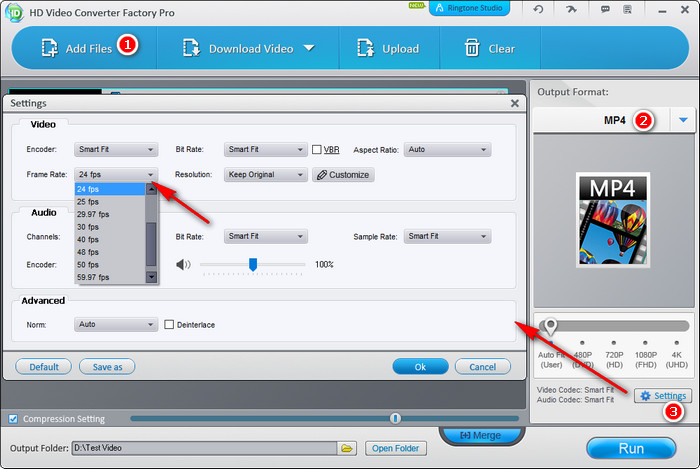 Select Specific Frame Rate
Method 6 - Cut and Remove Unwanted Video Part
You may want to cut and remove those ads or unwanted part in the video. Click "scissor" icon and drag the two sliders to cut video, or input start time and end time for fine-tuning. If needed, you can even merge multiple video clips into one.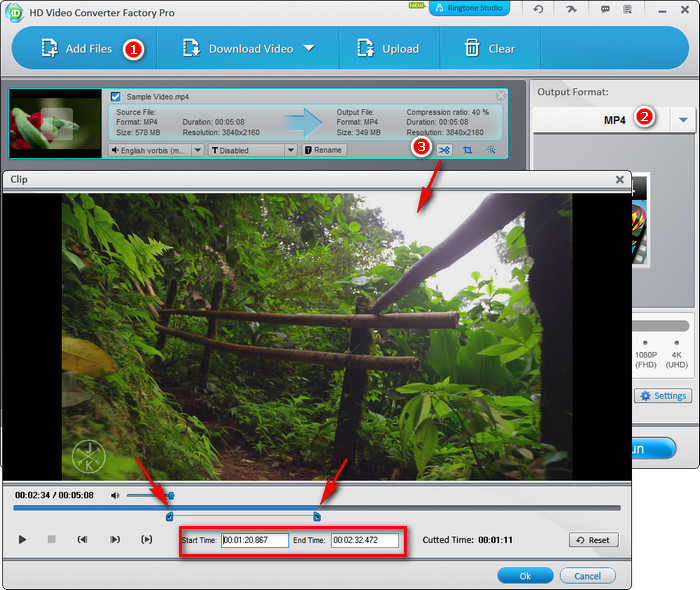 Cut Off Unwanted Video Part
Either way, you'll need to define output folder path and hit "Run" button to start the video compression without any significant loss of quality. So look, with this handy video size compressor, compressing video becomes fairly simple and straightforward. There is always a right method for your need. Take a try on your large videos, don't forget to join the discussion and share your experiences below.

Congrats, problem solved now! Why not keep the full-licensed program for
LIFETIME
at lowest price now!
Still got question? Submit it to us and get answer within 24 hours.