MPG/MPEG is an old video format that is still in use today. However, files with .mpg or .mpeg extensions are usually large in size. If you have batches of MPG files stored on your device, you probably will need additional storage soon. Nevertheless, you can free up space by compressing MPG videos into much smaller files. Below I will introduce a powerful MPG Compressor and show you how to reduce MPG file size with this software in five ways.
The MPG Compressor we will use is called WonderFox HD Video Converter Factory Pro. It is a feature-rich application consisting of a suite of programs for handling video and audio files. Here it can serve as a video size compressor to compress all kinds of videos, including MPG, efficiently.
Video compression in this software is simple, whether you are compressing a single file or batches of them. The software also enables you to shrink video files without losing quality by using an advanced video encoder HEVC/H265. The tutorial below gives you an example of how to compress MPG files without losing quality. Now, follow the instructions and start the MPG compression.
Tips: Please free download free download the software and install it on your PC first.
Step 1. Import MPG File(s)
Launch HD Video Converter Factory Pro and select Converter among the five modules (Converter, Downloader, Recorder, GIF Maker, and Toolbox). In the next interface, click + Add Files to import the MPG file(s) you want to convert into this program. Or you can drag and drop these video(s) into the converter directly.
Tips: You can add multiple MPG files into the program for batch compression at once.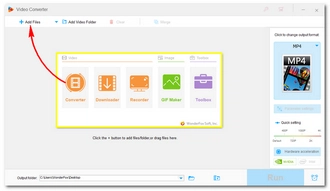 Step 2. Choose Output Format
Click on the right-side format image to open the output format library. Next, go to the Video category and select your preferred output format. I suggest H265 for MP4 because of its wide compatibility and support for the H265 codec (an advanced video encoder). Alternatively, you can choose MP4 first and then change the encoder to H265 in the Parameter settings below.
Tips. Only MP4, MKV, and MOV support HEVC codec. So you can choose to compress MPG to MP4, MKV, or MOV if you need to use the HEVC encoder.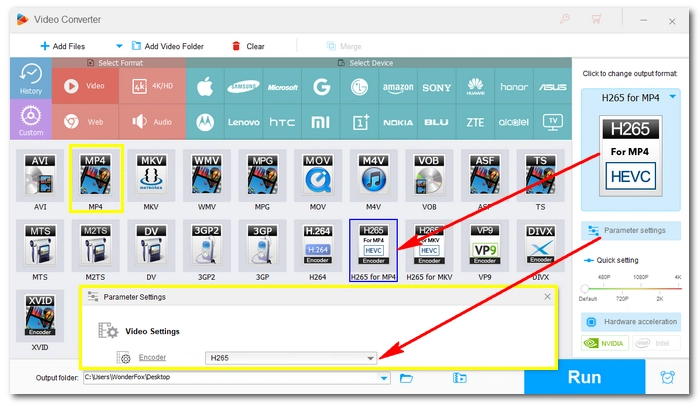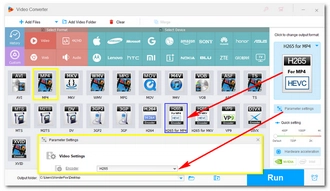 Step 3. Start MPG Compression
Back to the main workspace. Click the bottom triangle button to specify an output folder or leave it as default. When everything is ready, hit Run to start the compression.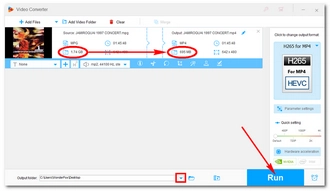 Other Ways to Reduce MPEG File Size with the Same Software
Besides using the H265 codec to reduce video file size, the software also allows you to compress video files in other ways. The following methods will dramatically reduce your video file size from GB to MB. Yet, on the other hand, they will also cause a notably quality drop in your video. So measure the pros and cons before you go with these methods.
Step 1. Load your MPG videos into the converter.
Step 2. Choose an output video format from the format list. You can use the same format as the original or choose a different format.
Step 3. Go to the Quick setting over the lower-right of the workspace and drag the slider to change the resolution to 480P, 720P, 1080P, 2K, or 4K. If you want a more specific resolution, open the Parameter settings and customize resolution at will.
Step 4. Finally, click Run to start the compression process.