It's a real pain when you play a video in an incorrect aspect ratio on your screen. In this article, you will get to know the significance of aspect ratio, and I will show you the ropes on adjusting video aspect ratio for better display on your device.
Get this easy-to-use video aspect ratio converter free download here, let's get started: https://www.videoconverterfactory.com/download/hd-video-converter-pro.exe

by Louis
Updated on Aug 18, 2023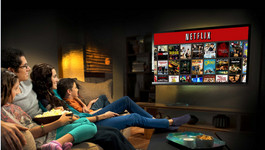 Private home theater
With the advances of technology, the home theater experience becomes more important. When going to an electronics retail store to pick out a TV or projector, a potential buyer is often overwhelmed by the sheer selection and sizes of TVs to choose from. Not only do TVs come in large or small sizes, there is also another factor that you need to be aware of: Screen Aspect Ratio, which is the relationship of an image's width to height.
Instead of buying a new TV, you could get better enjoyment by mean of adjusting aspect ratio of your video files. So now I'd like to teach you how to adjust the aspect ratio of your video collections with a full-featured aspect ratio converter.
How to Adjust Aspect Ratio?
Scheme One: Change Aspect Ratio from 4:3 to 16:9
4:3 is known as the standard aspect ratio, while the 16:9-standard is commonly referred to as widescreen. With the development of technology, 16:9 becomes more popular and widely used. Most people may have one question in their mind: can I watch 4:3 videos on a 16:9 display? The answer is positive. Your videos will become clearer with higher quality than the original ones, and with this practical 4:3 to 16:9 converter - WonderFox HD Video Converter Factory Pro, the conversion can't get any easier.
Free download and install this aspect ratio changer tool to change your video aspect.
Adjust Aspect Ratio within 3 Steps
Step 1. Open Aspect Ratio Converter and Add Videos
Run WonderFox HD Video Converter Factory Pro and open "Converter" module. Click the "Add Files/Add Video Folder" button to import videos or you can just simply drag and drop your video files. Another advantage is that you can put in your files in bulk, which handsomely saves your time and energy.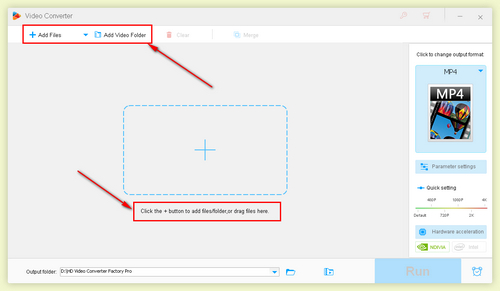 Add files
Step 2. Select Output Format and Adjust Aspect Ratio
Press the format image on the right to expand 500+ presets. You can select any output video format you want and click "Parameter settings" button to open the aspect ratio list and select 16:9.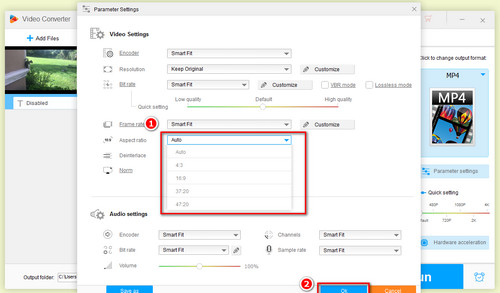 Select output format
Tips: What's more, this software also supports more advanced settings. When it comes to the quality of video, most of us probably think that a poor quality 4:3 video couldn't be clearly watched on a larger 16:9 screen. However, this software could make dreams come true. It could help you convert SD video to HD video simply by choosing the output format as "HD video formats", such as MKV(HD), AVI(HD), MPG(HD) and so on.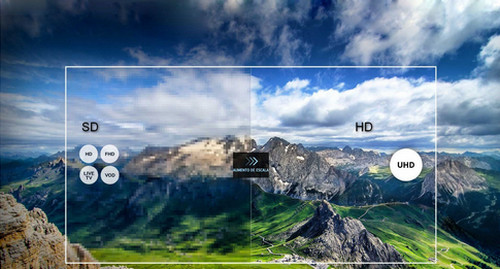 SD to HD
Step 3. Start Video Aspect Ratio Conversion
When everything is ready, click "Run" button to convert aspect ratio of your videos in batches.
Notes: There are still a large number of output formats you can choose, such as MP4, WMV, WEBM, VOB, meanwhile, you can also convert video to 4K, change video resolution. Besides, the software also provides the optimum settings of the most popular electronic products, such as iPhone, Samsung, LG, Toshiba, HD Projector and so on.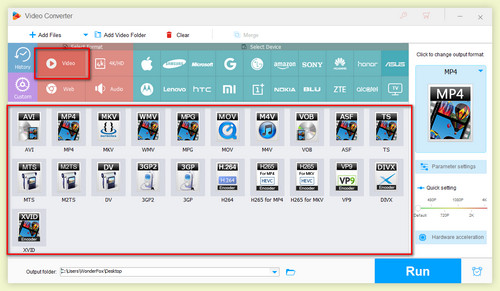 Other formats
Scheme Two: Change Aspect Ratio from 16:9 to 4:3
Step1. Import 16:9 video files. >> Step2. Select output format and choose 4:3 aspect ratio in "Parameter settings". >> Step3. Start converting.
Tips: By the way, when it comes to converting Sony HD aspect ratio projector, 16:9 videos to 4:3 videos for your smaller iPhone, this 16:9 to 4:3 converter (vice versa) will help you greatly improve the conversion speed without quality loss. With the fast and safe compression of the video, you can save a lot of time and occupy less room of your device by means of reducing the size of videos. This program would be a great aspect ratio video resizer you have ever met.
Now, please download the HD Video Converter Factory Pro to complete your jobs.
What Does Aspect Ratio Mean?
Aspect ratio is the relationship of an image's width to height, or its proportions. For example, a 4:3 display produces an image that is more square, where a 16:9 ratio produces an image that is more rectangular in shape. The most common aspect ratios are 4:3 and 16:9 (standard HDTV). Which one do you like better? It probably depends on what you plan to playback.
More Functions and Benefits for Windows Users
WonderFox HD Video Converter Factory Pro is an excellent video converter which is recommended by CNET. It's not only an aspect ratio tool, but also a powerful tool that allows you to download 4K video , merge video into one, add effects to your video, cut video, make cellphone ringtone. It's a converter that supports almost all major format conversion, such as MP3, MP4, new VR video, you can transfer video to any of your portable devices.
More Special Features of WonderFox HD Video Converter Factory Pro
Provides a built-in video editor
Various media formats, optimized profiles for 500+ hot devices
Download video from YouTube. Freely select output video size before downloading
Compress video with best quality with smallest size
Fastest conversion speed, 50X speed up supported
Extract soundtracks from film/video, your ringtone maker