Yes! Not only can you convert YouTube videos to TikTok, but you also can repost your YouTube content to other video-sharing sites, such as Twitter, Facebook, Reddit, Tumblr, etc.
Actually, cross-posting is a tactical measure taken by many social media marketers, helping save you the hassle of creating separate content for each platform and reaching a wider audience.
Unluckily, YouTube doesn't offer a native Share button for TikTok. You need to take extra steps to upload a YouTube video to TikTok. Moreover, though both YouTube and TikTok are video-sharing platforms, they each work a little differently. For example, YouTube caters to long-form content that can be hours in length, whereas TikTok favors short-form videos that average around a minute or even shorter. In addition to the content length, the aspect ratio for both platforms differs too.
With that said, to share your YouTube video on TikTok successfully, you need to edit your YouTube video and make it fit TikTok's video specs requirements first.
And to achieve a hassle-free YouTube video to TikTok sharing, we compiled several tools that would be of great help. The whole process may take a few steps. But don't worry, we'll break it down for you.
Just follow our guide below to learn how to upload a YouTube video to TikTok step by step.
Way 1: Upgrade to YouTube Premium
With a subscription to YouTube Premium, you can easily hit the three vertical dots under the video and choose Download to save the wanted video.
Way 2: Download from YouTube Studio
You can download your own YouTube videos in YouTube Studio. Here is how:
Open YouTube and sign in. Then click on your profile and choose YouTube Studio.
Click Content in the left sidebar and you can see all the videos you've uploaded.
Hover the cursor over the video you want to download. Hit the three-dot Options icon and select Download.
Way 3. Save YouTube Video with 3rd-Party Software
Also, you can choose to download content using third-party YouTube downloading software. And among a vast number of YouTube downloaders, WonderFox Free HD Video Converter Factory is considered a fantastic option, taking into account performance, safety and features.
It offers support for 480p/720p/1080p/2K/4K/8K video downloads from YouTube, as well as supporting getting videos from Vimeo, Instagram, TikTok, Facebook, Twitter, and any of your favorite sites. It also enables you to download videos with subtitles, save the video to audio only, and download music.
Easy, free, and no watermark! Follow the steps below to get the YouTube video to TikTok:
Step 1. Download and install the WonderFox downloader on your Windows PC first.
Step 2. Launch the free app and select Downloader. Then click New Download.
Step 3. Open YouTube and open the video you want to share on TikTok. Copy its link address. Next, press Paste and Analyze tabs on the New Download window for URL parsing.
Step 4. After that, all available download options will be displayed below. Choose the one with the desired format, resolution, and file sizes. Click OK to add the video to the download list.
Step 5. Set an output path for the downloads and click Download All to start downloading.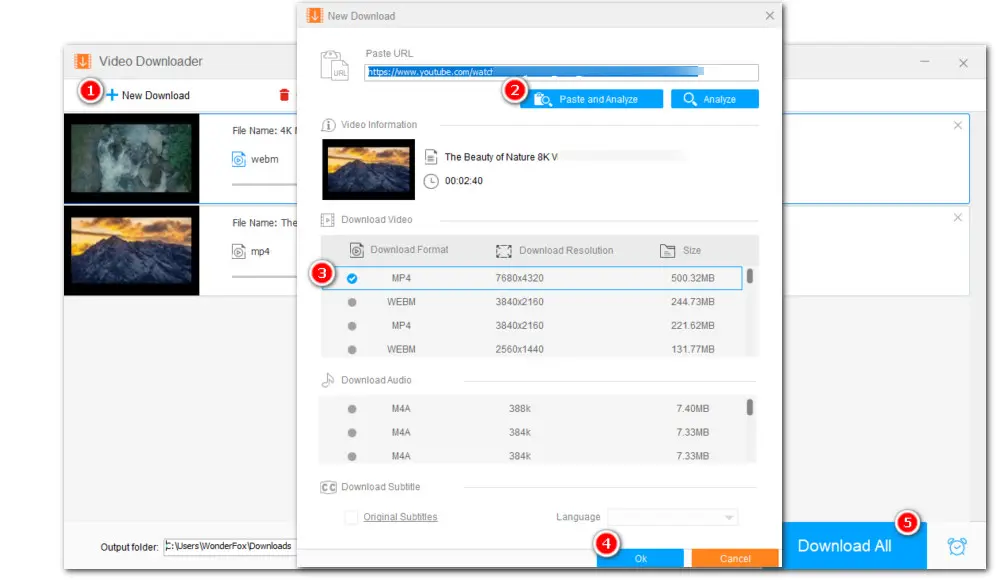 As stated previously, the video specs requirements for each platform can vary widely. So, to make the audience get the best content viewing experience possible, it's crucial to know which video sizes and specs are optimal for TikTok.
Here are some video requirements differences between standard YouTube videos and TikTok videos. Scan the table below and then edit and convert the downloaded YouTube video to make it fit into the proper length, aspect ratio, and format.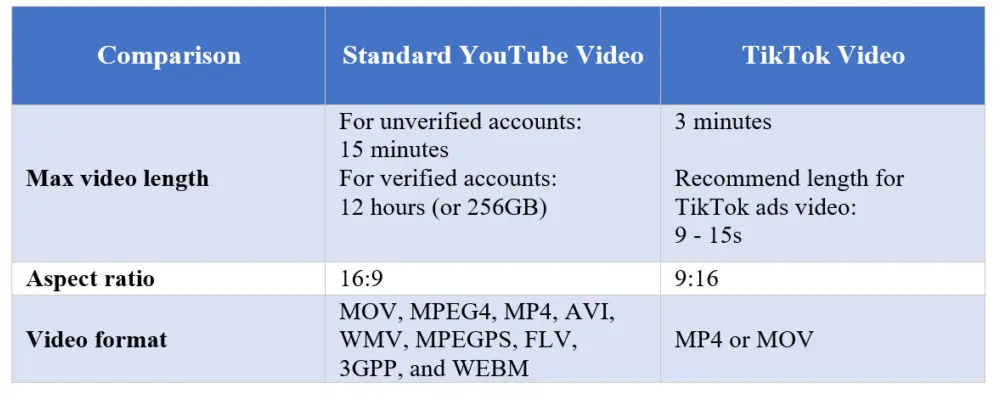 As well as a free, powerful video downloader (mentioned in Part 2), WonderFox Free HD Video Converter Factory offers extensive and diverse features, such as video editing, parameter configuration, format transcoding, video compression, and so on.
With the built-in simple editor, you can fast trim and cut the video to retain the highlighted part, split a long YouTube video into multiple segments for TikTok, or change the dimension from 16:9 to a vertical 9:16 or 1:1.
Besides, you can use it to convert any YouTube video to TikTok-recommended format and adjust parameters such as resolution, bitrate, sample rate, audio volume, and so on.
Here is a step-by-step guide for this free & powerful YouTube to TikTok converter:
Step 1. Import the YouTube into the Program
Launch the free program on your PC and enter Converter. Next, click the center plus sign or the upper-left Add Files to import your downloaded YouTube video.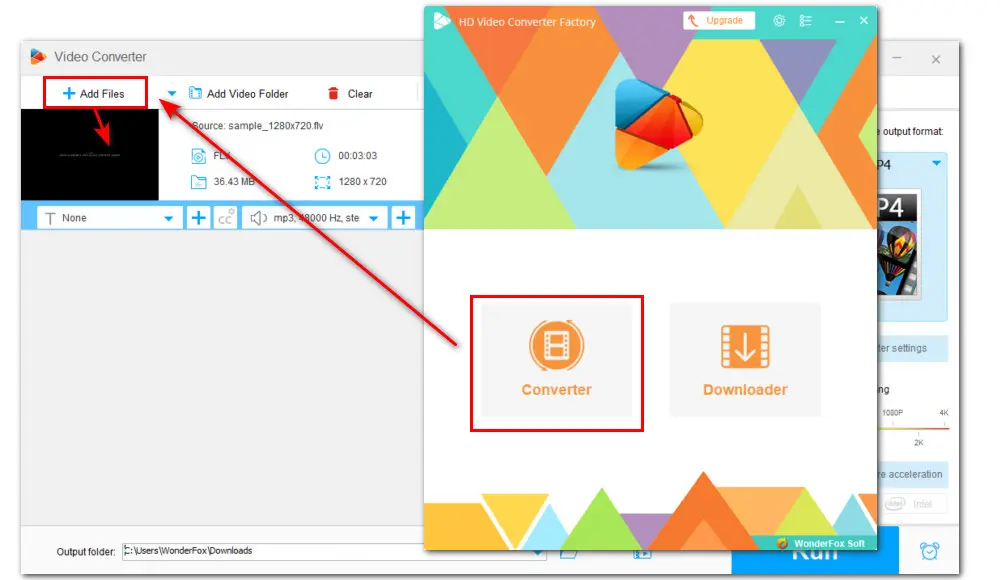 Step 2. Edit the Length and Aspect Ratio
Under the imported file, click the Trimmer icon to make the video short enough for TikTok. You can also split it into multiple short clips and then upload them all on TikTok without content loss.
Hit the Crop icon. In the cropper window, check Free Aspect Ratio to freely drag the dotted box or manually input the resolution to customize it to 9:16. Also, you can tick off Fixed Aspect Ratio to select one, like 1:1, from the presets.
When everything is ready, click OK to save the changes.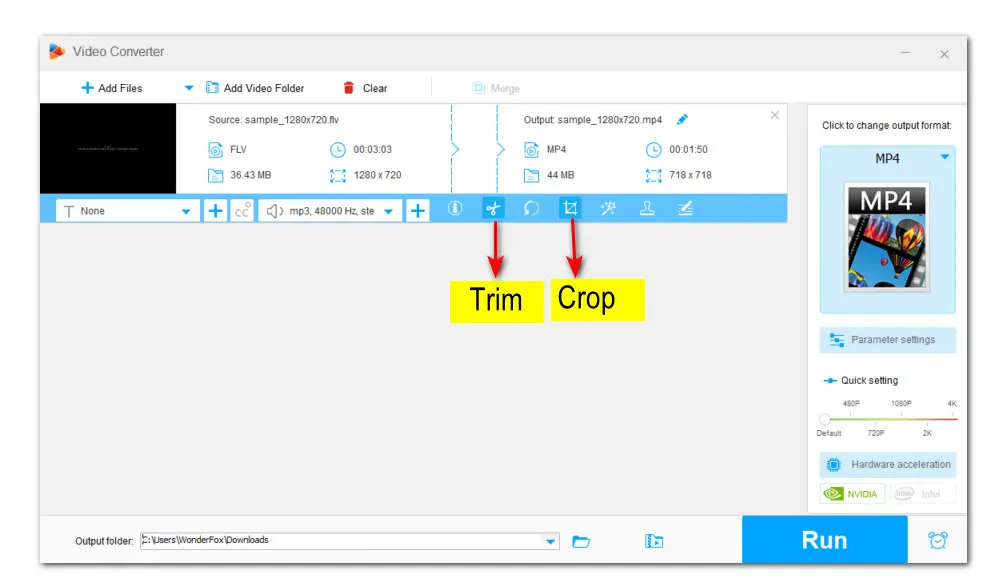 Related Read: Convert 4:3 to 16:9 | Aspect Ratio Converter | Google Drive to YouTube | Resize MP4 Video
Step 3. Modify Video Parameters
On the right side of the conversion page, hit Parameter settings to customize more parameters such as codec, video resolution, sample rate, bitrate, audio channel, and volume.
Click OK to save and back to the main page.
Step 4. Select a TikTok Format and Start Conversion
Enter the right-side format library and click Video. Then choose the recommended MP4 or MOV format as the output format.
Next, hit the bottom triangle button to specify an output path and click the big Run button to start conversion.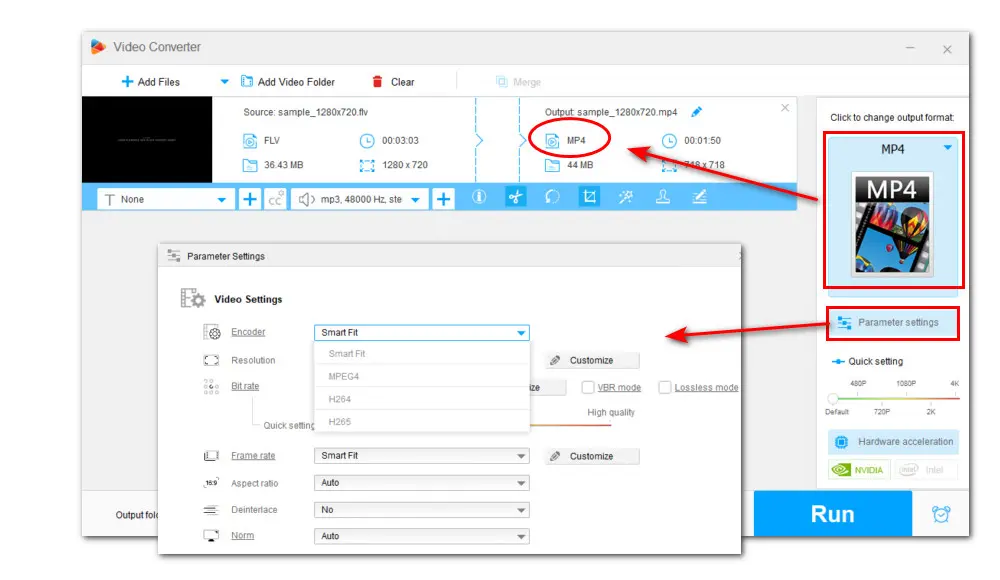 Clipchamp makes another excellent YouTube video to TikTok editor that can be free downloaded from the Microsoft store currently. It comes with both desktop version and online version.
Programmed with a user-friendly interface, this video maker offers rich editing features covering most of your editing needs. You can quickly optimize the downloaded YouTube video to meet TikTok's video specs requirements with the help of predefined options for TikTok. For example, 6 types of aspect ratio included are 9:16, 16:9, 1:1, 4:5, 2:3, and 21:9. You can drag the line to change its dimension too.
Here is how to use Clipchamp to convert a YouTube video to TikTok online:
Step 1. Click https://app.clipchamp.com/ to log in to Clipchamp.
Step 2. Hit Create a new video to open the editing page. Click Import media on the right-side bar or straightly drag your video to the editor.
Step 3. Drag the imported video onto the timeline at the lower-middle of the page to get ready for editing.
Step 4. On the upper-right side of the interface, change the aspect ratio to 9:16 or 1:1.
Step 5. Select the video on the timeline and hit the Scissor icon to cut the video to a reasonable length based on your actual needs.
Step 6. Hit Export to choose an output video quality (up to 1080p). It will start downloading the resulting video file and save it to your local disk immediately.
Below that, you're also provided with an option to send the finished video to TikTok directly so long as you connect to your TikTok account.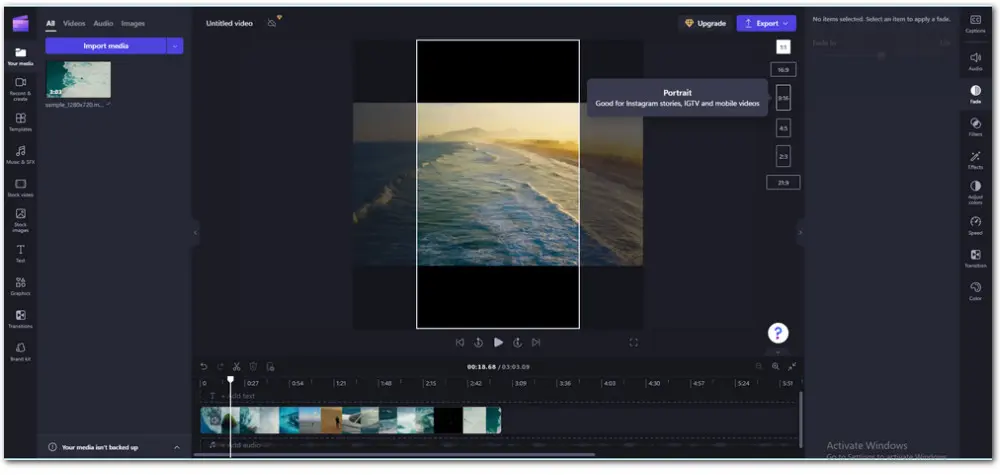 Kapwing is a fast online solution for YouTube video to TikTok conversion, enabling you to add a YouTube video by simply pasting a URL. However, there are times when it fails to parse the URL and ends up showing you an error message.
With this featured-packed online video editor, you can trim, crop, and flip the video, add filters, apply transition, and do more. But what impresses me the most is the inbuilt templates for TikTok and a funny feature named Safe Zones. Using the Safe Zones function, you can preview how your content will look on TikTok, Instagram Reels, and YouTube Shorts, making sure the video appears the way you expected them to.
Can't wait to try this feature? Take the steps below:
Step 1. Sign in to Kapwing with Google, Facebook, or email via this link: https://www.kapwing.com/signin
Step 2. It's suggested that you directly import the video to Kapwing from your computer instead of a YouTube video URL. Hit Click to upload or perform a drag-n-drop action.
Step 3. Then use the timeline to trim, merge, and edit your YouTube video.
Step 4. Unselected the video clip on timeline and go to the CANVAS section on the right side of the interface. Under the Show Safe Zones tabs, click the TikTok sign. Then hit the Resize Canvas button and confirm to resize the YouTube video to an aspect ratio of 9:16 for TikTok.
Tips: For other aspect ratio options, you need to select the video clip on the timeline and head to the EDIT field to crop.
Step 5. With the TikTok's safe area template, you can adjust the video within the screen without worrying the added elements getting covered by the likes, comments...

With this comprehensive guide, you now can know how to upload YouTube video to TikTok with no error. Besides, with the help of the above-listed YouTube to TikTok converters, resizing your YouTube content to make it perfectly match up the video specs that we need for posting and sharing should be easy and fast.
And whether you want to download the YouTube videos or are going to adjust the dimensions, crop, trim, rotate, compress to reduce file sizes, or change video format, WonderFox Free HD Video Converter Factory has got you covered. Free downloadFree download this all-in-one toolbox to get the easiest way to resize video in just a few clicks.