"I have shot a video with my camera and want to upload it to YouTube, but I can't figure out how to convert it into something that YouTube will support. What's the easiest way to convert videos to YouTube?"
As a video content creator, you may have created a video for YouTube upload, only to find that it is in an unsupported format or "invalid file format". It's an upsetting thing, but this article can help you. In the following, we will explain how to convert video to YouTube format using a simple video to YouTube converter. But first, you might want to check out the best video format for YouTube upload.
Before we learn how to convert video for YouTube upload, it's a good idea to have a look at the YouTube upload format. As of now, YouTube supports many major formats, including .MOV, .MPEG-1, .MPEG-2, .MPEG4, .MP4, .MPG, .AVI, .WMV, .MPEGPS, .FLV, 3GPP, WebM, DNxHR, ProRes, CineForm, and HEVC (h265).
If YouTube doesn't support your video, you'll be asked to convert it to one of the supported file formats. But be aware that even if you choose the correct format, you may still not be able to upload the video to YouTube due to incompatible codecs, length, resolution, etc. Fortunately, YouTube has clearly stated the recommended upload format, and your video can match the following specs to upload smoothly.
The Best File Format to Upload to YouTube:
Container: MP4
Video codec: H264 (no interlacing)
Audio codec: AAC-LC
Frame rate: <= 60 fps
Now, we can use an efficient video to YouTube converter to convert videos to the best YouTube format for upload. Learn details in the next part.
WonderFox HD Video Converter Factory Pro is the perfect video converter for YouTube upload that can convert video to YouTube format without a hitch.
It already has optimized YouTube presets that allow you to convert video to YouTube-friendly format (H264 MP4 with AAC-LC audio) in one click. It also has customizable settings, and you can further modify the encoding settings, such as bitrate, frame rate, resolution, codec, etc. The whole process is straightforward. You can free download free download the program and follow the steps to convert video for YouTube upload now.
Step 1. Import Videos into the Program
Run the video to YouTube converter on your PC and open the "Converter" module. Next, drag your videos into the program directly, or import files through the add buttons.
At the bottom of the Converter interface, hit the ▼ button to specify an output path or leave it as default.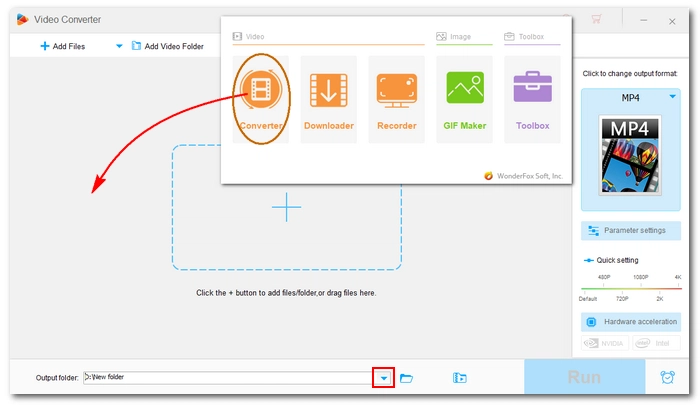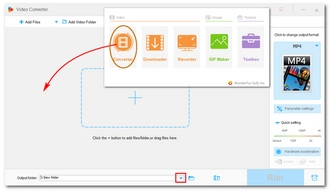 Step 2. Choose One Preferred YouTube Preset
Go to the right-side format section and click to open the output format list. Then head to the "Web" category and select "YouTube (for MP4)" as the export format.
Tips. At the "Parameter settings" below, you can further modify the output settings, like altering the bitrate, changing the frame rate, scale resolution, and deinterlacing video (if the source video is interlaced).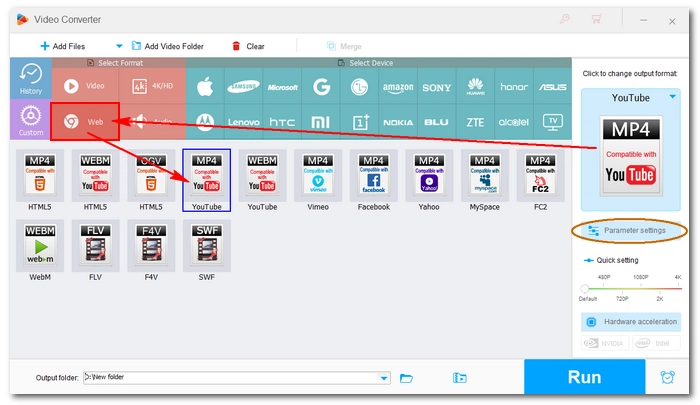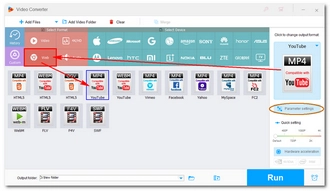 Step 3. Convert Video to YouTube Format