When we shoot video with our phones, sometimes we may get footage that is upside down or reversed. The video needs to be flipped to the right position to play correctly. Fortunately, flipping a video is a basic video editing skill, and you don't need professional editing software. A simple video editor tool will do the trick. In the following, I will share with you three easy-to-use video flipper tools that can help you quickly flip videos on Windows PC. Continue reading.
How to Flip a Video Horizontally or Vertically on Windows?
WonderFox Free HD Video Converter Factory is a simple video application with multiple useful tools, one of which is a handy video flipper and rotator that can help you mirror flip a video in seconds. It allows you to flip a video horizontally and vertically, and you can also flip and rotate videos at the same time. With excellent format support, this program can flip almost any video file. Moreover, it has high quality output.
Now, let's download and install download and install this video flipper (no watermark) and see how to flip a video below.
Step 1. Start the program on your Windows PC, then open the Converter module.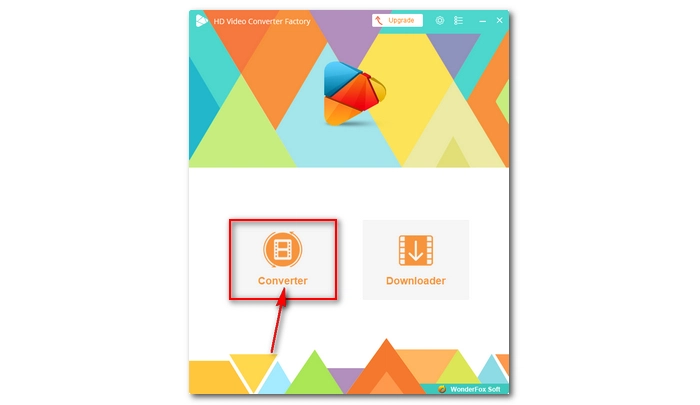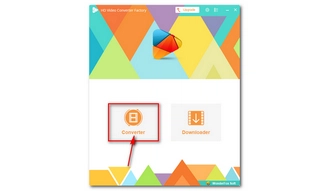 Step 2. Click Add Files to add whichever video you want to flip. Alternatively, you can drag and drop the file directly into the interface.
Step 3. Select the Rotate tool in the video toolbar to bring up the video rotator and flipper.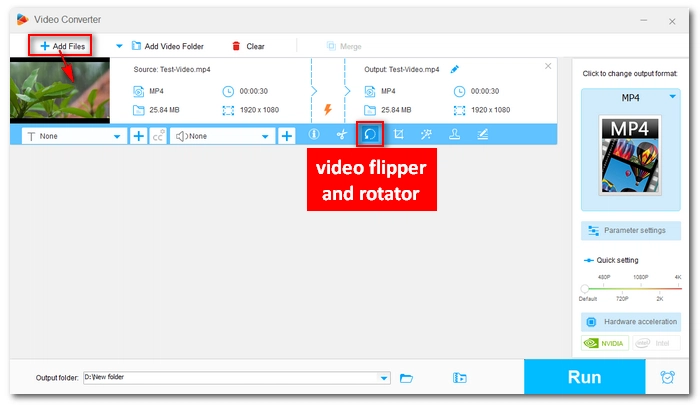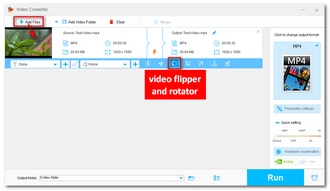 Step 4. Choose either Flip Horizontally or Flip Vertically to flip your video in real time. Then click Ok to continue.
Note: The next operation is displayed on the result produced by the previous operation. Say, when you click Flip Vertically right after Flip Horizontally, the effect will appear on the horizontally flipped video. If you don't want that, make sure you click the same button again before proceeding to the next move.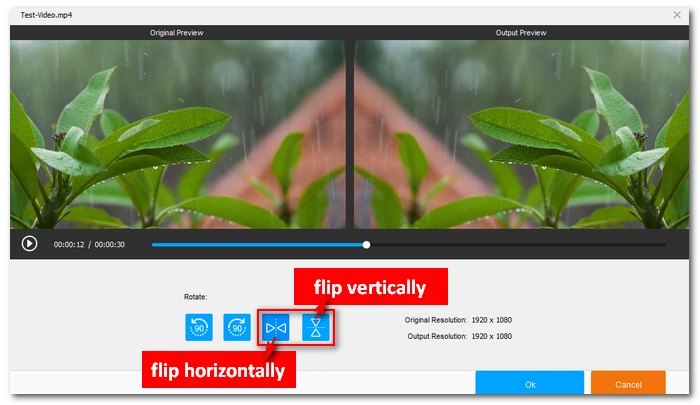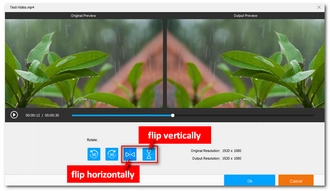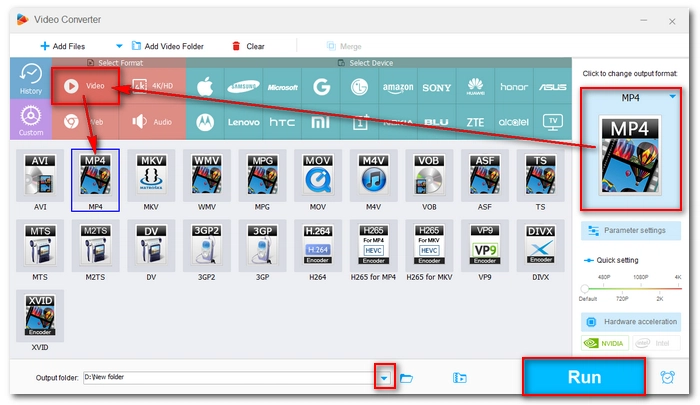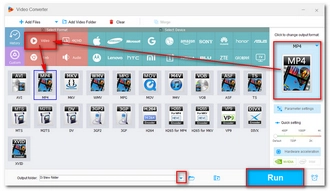 VLC media player is a Swiss-army knife of a program for handling video and audio files. Besides being a universal video player, it provides editing functions that can help you effectively convert, compress, crop, cut, join, and of course, mirror and flip videos. It allows you to flip a video upside down while playing and save the flipped video afterward. In addition, as it supports all videos, it can flip any video you throw at it. Let's learn how to flip video in VLC with the following steps:
Tips. If you haven't installed VLC media player on your PC, get the latest version of VLC at https://www.videolan.org/vlc/.
Step 1. Launch the VLC media player and drop your video into it.
Step 2. Select Tools on the top menu bar and choose Effects and Filters. Or you can simply press the shortcuts "Ctrl + E" on your keyboard to bring up the effect window.
Step 3. Open the Video Effects tab and find Geometry.
Step 4. Check the box before Transform. Then select Flip horizontally or Flip vertically from the drop-down menu. You can even choose Transpose and Anti-transpose to rotate and flip the video at the same time. As you apply the effect, the video will change in real time.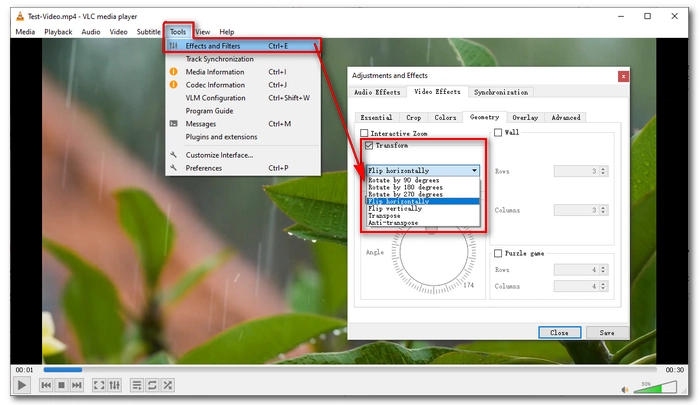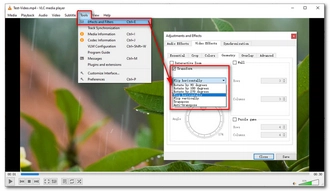 How to flip video and save it in VLC:
If you want to save the flipped video, you need to do some extra steps:
Step 5. Click the Media menu and select Convert / Save (Ctrl + R).
Step 6. Press the +Add button to add the video you want to flip. Then click Convert/Save at the bottom of the dialog.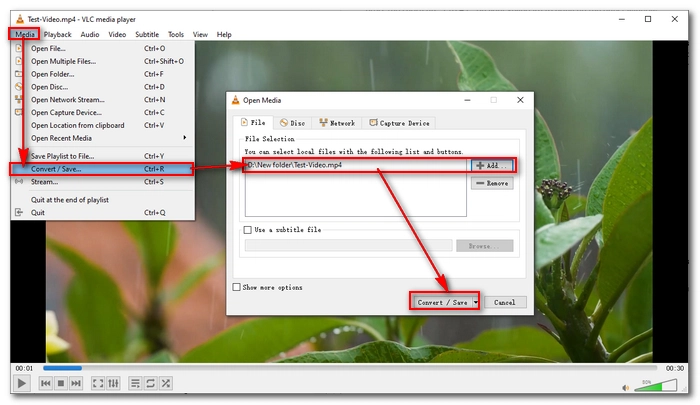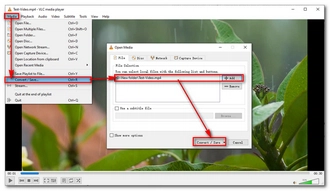 Step 7. Choose an output profile according to your preferences. Then click on Settings to edit the selected profile.
Step 8. Switch to the Video Codec tab and open Filters.
Step 9. Scroll down to select Video transformation filter. Then click Save.
Step 10. Click the Browse button to rename the file and choose an output folder.
Step 11. Finally, press Start to save the flipped video to your local drive.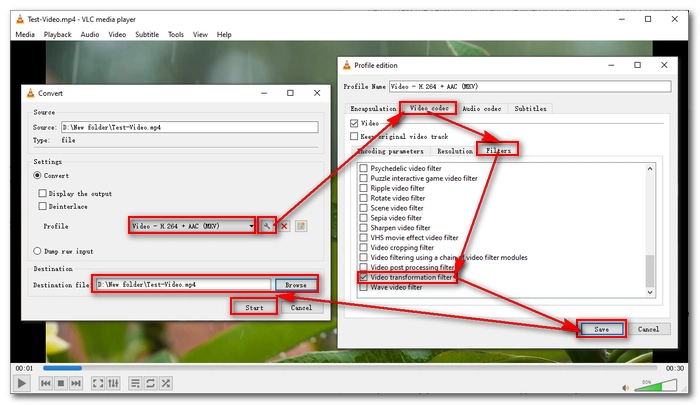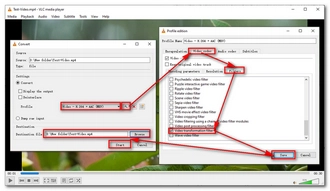 If you have updated your system to Windows 11, you can also use the pre-installed Clipchamp to flip a video efficiently. Clipchamp allows you to flip video vertically and horizontally in very simple steps. Let's follow the instructions below to flip a video in Windows 11 using Clipchamp.
Tips. Clipchamp is also available as an online video editing tool that can be accessed across platforms.
Step 1. Open Clipchamp on your Windows 11 desktop and sign in to the app (you can register an account for free).
Step 2. Select Create a new video.
Step 3. Click Import media to import a video to the media library (Clipchamp also allows you to add media from cloud drives).
Step 4. Click and drag the video onto the timeline at the bottom area of the program.
Step 5. Click to select the video on the timeline. Now, you will see a floating toolbar appear on the left side of the video preview window.
Step 6. Select Flip horizontal or Flip vertical to adjust your video.
Step 7. When you get the wanted result, hit the Export button at the upper-right of the program to save the flipped video to your computer.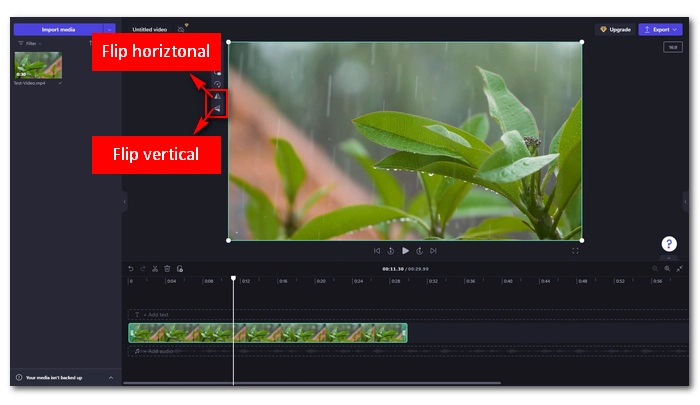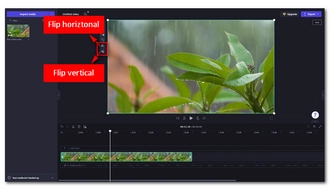 That's all I want to share about how to flip a video on Windows. With these three methods, you should have no problem flipping a video horizontally or vertically. I hope this article is useful to you. Thanks for reading. Have a nice day!