YouTube has already been, without doubt, a must-watch platform for most people every day, and even at night before bed. However, due to dazzling light, watching YouTube in bright mode would make your eyes uncomfortable. Since a large number of platforms and applications have offered dark mode or turn off light feature, definitely, YouTube doesn't fall behind. The dark mode has been rolled out to relieve eyestrain, save battery or be cooler. Without further ado, let's dwell more into how to make YouTube dark mode respectively on computer, Android and iOS.
Also Read: Slow Down YouTube Video | YouTube Transcript Download | Mirror YouTube Videos | Enable YouTube Picture-in-Picture
Part 1 - How to Change YouTube to Dark Mode on Computer?
It's fairly simple to activate dark mode for YouTube on computer whether you're signed in or signed out. Follow the steps below.
Step 1. Visit https://www.youtube.com/, click on your user profile icon at the top-right corner, then select "Appearance: Device theme" option in the drop-down menu.
Step 2. Switch to YouTube Dark theme. Then you'll see the cool YouTube black background at once.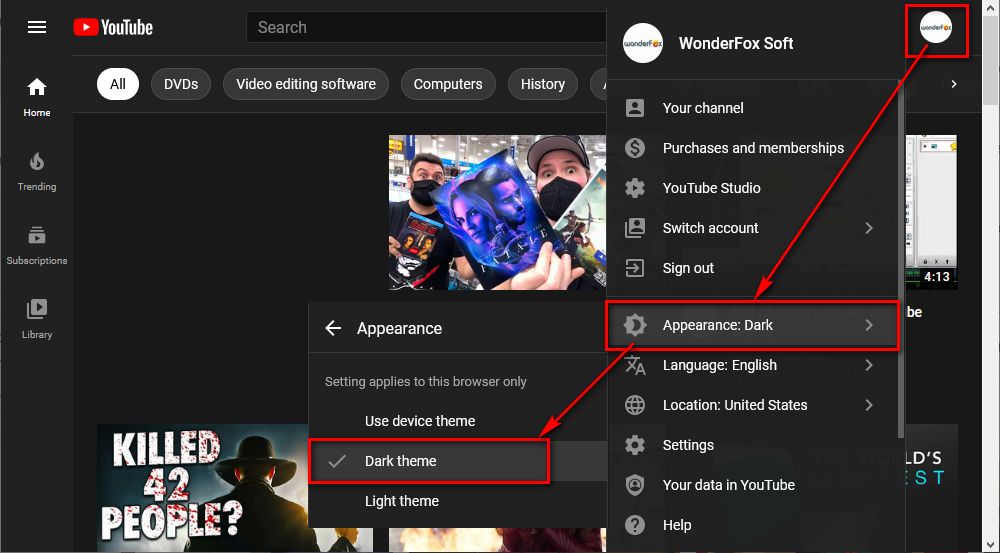 If you're not logged in, the only difference is that, you need to click on "three-dots" icon, select "Appearance: Device theme" option in the drop-down menu, then activate YouTube night mode. To quit dark theme and switch back to the original settings, re-access "Appearance" option and select light theme. The settings apply to your current web browser only, which means it doesn't sync with your Google account, you'll have to enable YouTube dark theme on each computer and each browser you use.
Despite Appearance feature provided by YouTube official, you can also make YouTube dark mode using some browser extensions and plugins, not only do they help enable YouTube night mode, but also they offer other amazing features to make YouTube tidy and powerful, such as Enhancer for YouTube, Turn Off the Lights, Improve YouTube, YouTube Night Mode, etc. Check them out if you get interested.
Hot Search: Delete YouTube Video | YouTube Song Finder | YouTube Private VS Unlisted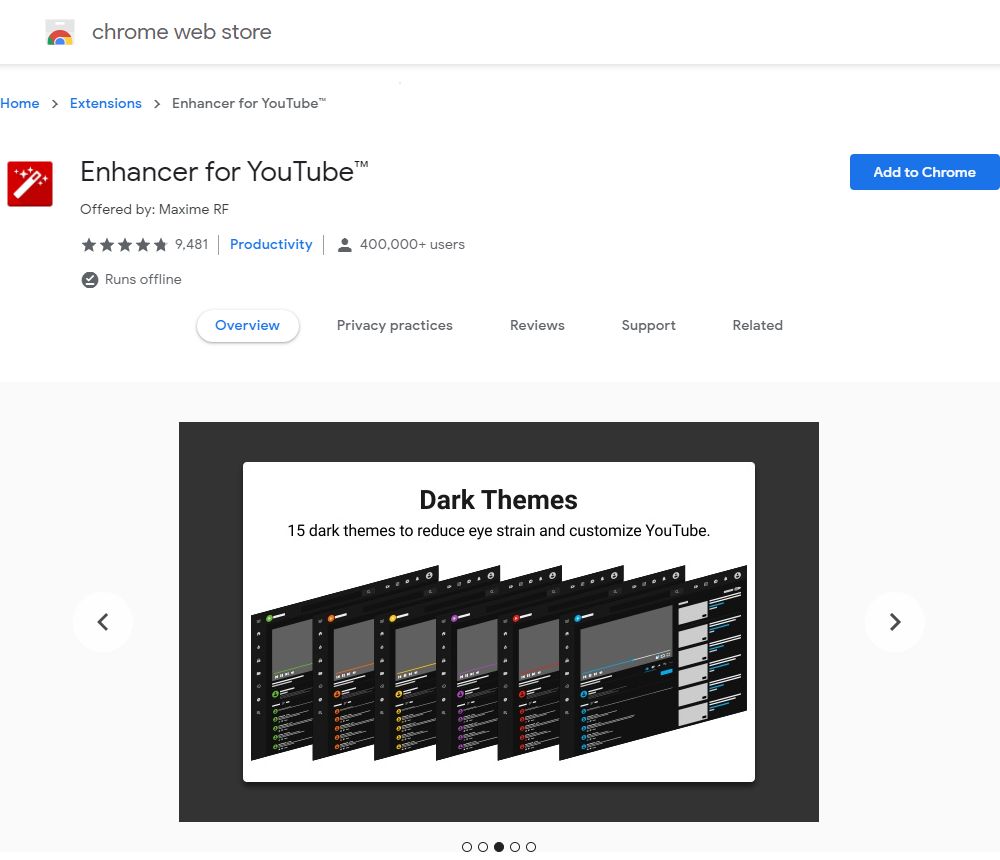 Part 2 - How to Change YouTube to Dark Mode on Mobile?
Also, you can set YouTube to dark mode on mobile phone. Next, I'll demonstrate how to enable YouTube night mode on Android. The steps can be applied to iOS devices as they share the similar procedure.
Step 1. Open YouTube app on your smartphone, whether you're logged in or not, tap the profile icon at the top-right corner.
Step 2. For Android 10 and iOS 13 (or newer) versions: tap "Settings" > "General" > "Appearance", then select "Dark theme".
For other Android and iOS versions, tap "Settings" > "General", then toggle the slider next to "Dark theme".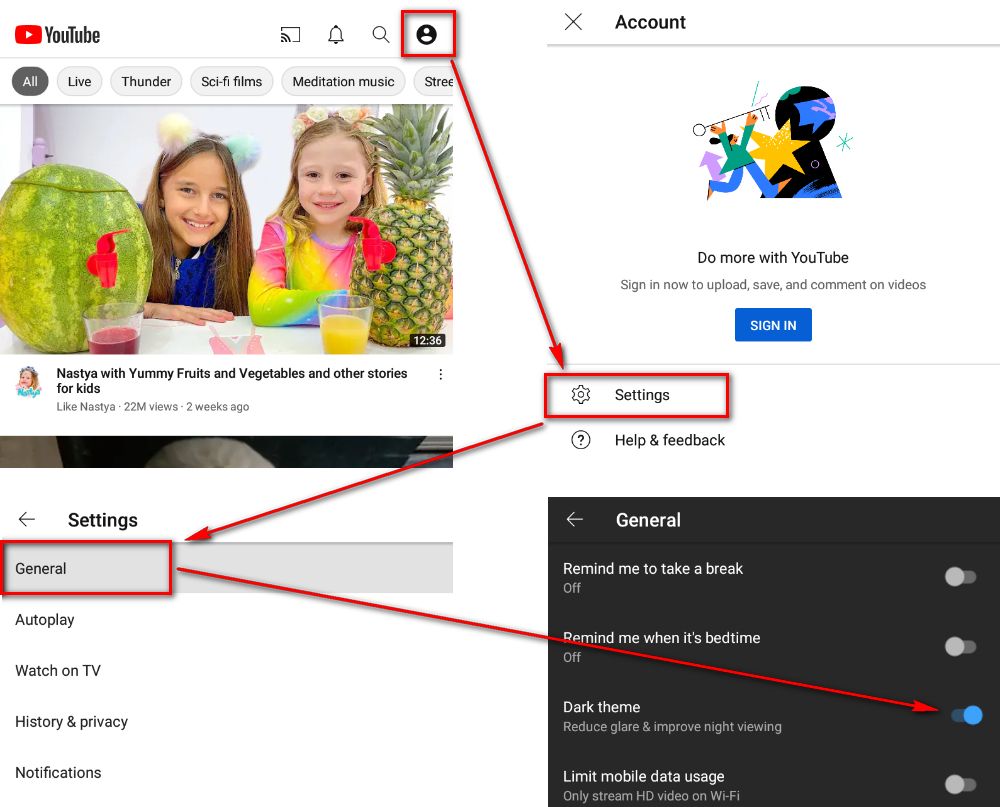 Final Words...
YouTube dark theme allows you to tone down your screen's glare and improve the viewing experience with a black background. Pretty cool, isn't it? As mentioned above, the dark mode setting can't be synchronized via your Google account on different platforms, you have to activate YouTube night mode on each browser and device. Hope you've got it, thanks for reading!