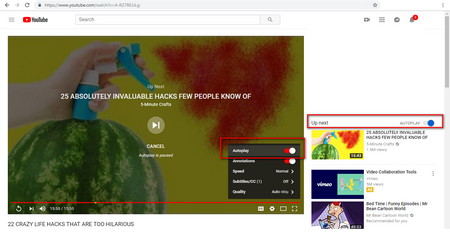 How to Stop YouTube Autoplay
Here is an easy method to permanently make YouTube turn off autoplay within several simple clicks.
(1) Click the "Gear" icon on the lower-right corner of the video, switch off the "Autoplay" option.
(2) Or you can directly turn off "Autoplay" on the right side of the video player.
By doing the above 2 operations, you are able to permanently stop YouTube autoplay next video. One day, if you want to turn on YouTube autoplay, you can turn on the "Autoplay" switch too. In addition, please note that if you are connected with mobile data and have been inactive for 30 minutes, the video autoplay will stop automatically. But if you are connected to WIFI, autoplay feature will stop after 4 hours.
Also see: Download YouTube Videos | Loop YouTube Video | YouTube to MP3 not Working