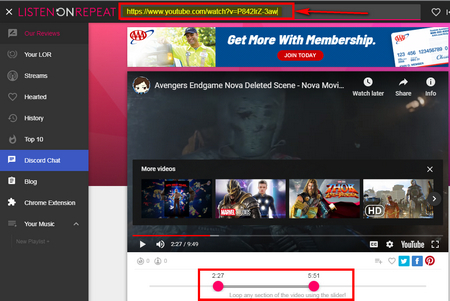 YouTube Infinite Loop
Some 3rd-party online services also can set YouTube video to loop, such as https://listenonrepeat.com, http://www.infinitelooper.com, and https://loopvideos.com/. Besides, these loop video online tools even can loop part of YouTube video. Here we take http://www.infinitelooper.com as an example to tell you how to loop a video on YouTube.
Step 1: How to loop a YouTube video, first of all, visit http://www.infinitelooper.com.
Step 2: Go to YouTube and copy the video URL that you want to loop.
Step 3: Past the URL into the box and click "Search". Finally, this online video loop tool will repeat YouTube videos automatically.
Also see: Top 5 Free Online Video Converters | Download Online Videos Easily | Top 5 Free Online Audio Compressors
Tips: You can adjust the looping part by dragging the blue progress bar. This is a really easy way to solve how to repeat a song on YouTube issue.