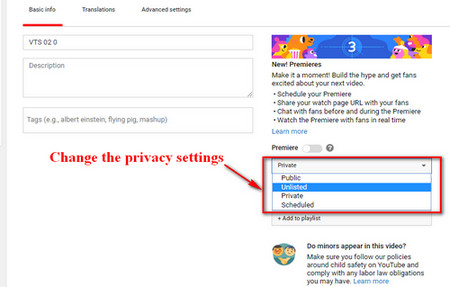 Change the Privacy Settings
An Unlisted YouTube video will not come up in any search results like related videos, recommendations and Subscriber feed. Besides, it's invisible on your channel. It will generate a URL link after you upload the video to YouTube and change the setting as Unlisted. Only people who know the link can visit and watch the unlisted video even if they don't have Google accounts. Therefore, if you want to share the video with someone, you only need to send the link to him or her. In other words, anyone who knows the link can share the video with more people easily. If the video contains sensitive information and you don't want the video to be seen by others apart from the people you share it with, in YouTube Private VS Unlisted comparison, making a YouTube video Private is a better option for you.
A private YouTube video is the most secure video type. Just like unlisted YouTube videos, private videos will not come up in search results, channel, related videos, recommendations and Subscriber feed. The difference between Unlike and Private is that a private video can only be viewed by those who are invited to view it by the uploader. If you want to view a private video, you need to have an active Google account and get the invitation from the video uploader or you can't watch the YouTube video. However, a private YouTube video can be shared only with up to 50 users.