Can I Rip DVD Rentals from RedBox, NetFlix, and Amazon to Keep Forever in My PC for Streaming in TV?
Q1: I want to rip DVD rentals (personal use only)?
Hi my parents usually rent movies at night and they want to watch there movie first and by then the time is late. So i want to copy the DVD files and watch it on my computer and then delete the copy files, cause my HDD is small. This is for personal use only i do not want to give copies to my friend as that will hurt the DVD rental economy.
Q2: How can I copy a rented DVD with copyrights to my computer or external drive?
I want to rip DVD rentals and make copies from Redbox, Blockbuster etc. I downloaded free EM FreeDVD copy Version 2.72. It is like CloneDVD, but free. However, it never worked on Windows 7 Home Premium. Friends, do you think it will work if I put on my old computer? Or do you have a better free software for this? I love to copy good movies. Not for sale just for the family.
Related Tags: copy dvd, remove drm , rip dvd rental, dvd to video, dvd to audio, backup redbox dvds, dvd to 4k tv

Rip Rented Redbox/Netflix/ Amazon DVD for Backup
The most common way to watch a new DVD is to rent one. In general, one DVD purchase will cost you about $20, but you just spend as little as $1 to $2 to rent a DVD. Rather than watching the rented DVD in the limited time, more and more people are now wise enough to rip and copy rented DVD movies from Netflix or Redbox or any other online DVD rental service or DVD store to a format or device that are going to play with. Some may ask, is it legal to rip DVD rentals for personal, noncommercial use only? If yes, how to do it? Actually, In the UK, for example, ripping a DVD to your hard drive was breaking the relevant laws and regulations. But the British government recently introduced the latest law to make creating a backup of personal media legal and you can finally rip DVD rentals with peace of mind. Check out is it legal to rip DVD rentals in your country or region.
You may know that to rip DVD rentals and make a digital copy you need a professional DVD ripping software namely DVD ripper. Among them, Handbrake is probably the one you're most familiar with. But you know what, it only rip homemade DVD not copy-protected DVD. But the truth is that most DVDs borrowed from Netflix, Redbox, Amazon, etc. are entangled with copy protection or region code restriction, and it is impossible to rip Redbox dvd & copy redbox dvd, rip Netflix dvd & copy Netflix dvd with commonly used DVD ripper like Handbrake. Copy protections vary from different DVDs. For example, DVDs released by Walt Disney Company are usually encrypted with its own Disney X-project DRM, but ARccOS (Advanced Regional Copy Control Operating Solution) is a copy-protection system made by Sony that is used on some DVDs. It means that if you want to rip and copy different DVD rentals with one DVD ripper, it must be able to get rid of all the tricky DVD copy protections. For an ultimate DVD rentals ripping solution, WonderFox DVD Video Converter is best to rip DVD rentals. With this DVD ripping software, you can rip and copy rented DVD to digital file in AVI, MP4, WMV, MOV, MKV, FLV, or any other format to be stored in the computer's hard drive or a memory USB disk or mobile hard disk for playback anytime and anywhere. Cost-effective and convenient. See the full tutorial below.
How to Rip and Copy DVD Rentals to PC for Streaming in TV?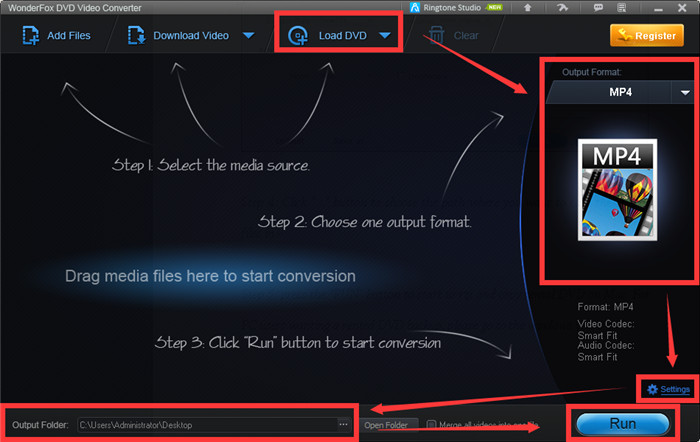 Step 1: Free download, install and run the DVD rentals ripping software, load the rented DVD by hitting the "Load DVD" button.

Step 2: To rip and copy DVD rentals to your PC, please set the output format in the drop-down list. And of course, you can also rip and convert the rented DVD video to different portable devices like DVD to iPhone 6/6 Plus and DVD to Samsung Galaxy S6 Edge.
Step 3: You can do whatever you want with video settings once you learn how to change or adjust them.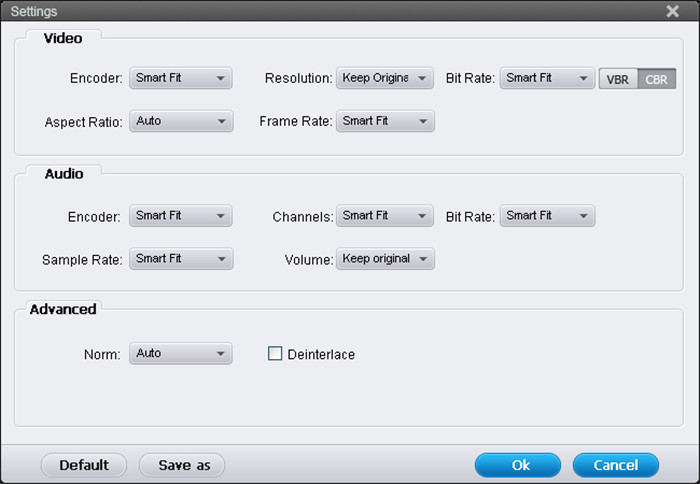 Step 4: Click "…" button to choose the folder where you want to save the output files in.
Step 5: Press the "Run" button to start to rip and copy rented DVD to video in PC. For streaming the DVD rental video to TV, just use the right cables to connect your computer and your TV for transmission.
Related Resource
Time-limited Offer Today
Special Offer: WonderFox DVD Video Converter
It designed for your digital life and family media sharing. The total multimedia solution to rip DVD, convert video, download YouTube video, etc.