Easy Solution for DVD to AVI
Movie is always a hot topic among people in our current life, and DVD is also closely bound up with it. "Frozen", Walt Disney Animation's Oscar-winning film, already had become the fastest-selling digital release of all time when it bowed on Digital HD and Digital 3D on Feb. 25. The animated hit sold 3.2 million Blu-ray and DVD discs in its first day of release, the studio said Wednesday. That figure includes pre-sales, and puts it on track to become one of the biggest sellers on home video in a decade.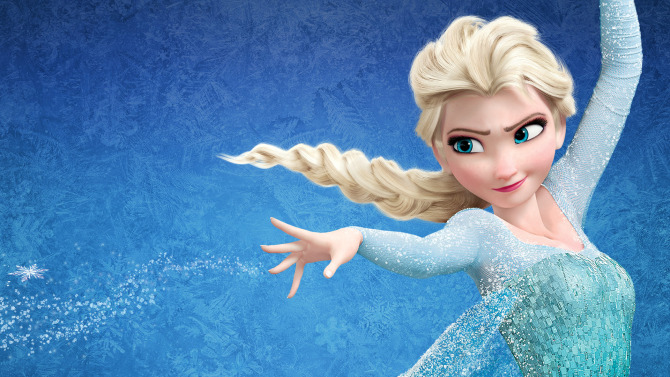 Frozen is so unstopped, and people love this animated movie exactly. It leads to an amazing fervor and strong sales on home video. In the case of Frozen, we can learn that DVD plays an important role in home video.
Related DVD: Despicable Me 2, The Smurfs 2, Captain America: Winter Soldier, Thor: The Dark World, The Hobbit
DVD for Life
DVD, as the traditional video storage, is very popular among movie lovers. It provides us the high-quality video and fabulous entertainment for family time. Furthermore, DVD can compress a large video file into only a small disk by advanced encoder technology, that's so fantastic.
Even though DVD is good enough, it doesn't conform to the trend of the times. Nowadays, portable devices are prevalent, and they are more convenient, such as iPad Mini 2, iPhone 5S, Samsung Galaxy S5, Nexus 7. People love to enjoy video on their portable devices, instead of TV or desktop for DVD.
To insert the disc into the DVD-ROM, we can view the movie. That's the simplest way for watching DVD on PC. As a result, it will bring the damage to both DVD and PC. In addition, DVD disk is fragile. For repeated playbacks or the naughty kid perhaps, the doom may unfortunately come to your favorite DVD disk. We need to take some measures to protect it from the accident. To backup DVD to your hard disk is a wise choice.

However, because of the encryption and CSS protection , we can hardly directly. Especially copy DVD to portable devices.
As we know, DVD is equipped with incredible capacity, which enables it to put a large file into the disk easily. But the file is still too huge for us, and it's inconvenient for backup. Actually, there's a way to rip DVD and shrink it, but you should know how it works first. The original encoder for DVD is the MPEG2, the old encoder format, which gains huge file size, limited and less compatible. Absolutely, MPEG2 is not the best choice for backup. Comparing with MPEG2, AVI is definitely more advanced. In another word, AVI is born for PC usage and hard drive reserve. For these reasons, we ought to rip DVD to AVI: AVI is widely used now, and it performs well on the compatibility; It also offers better compressibility and outstanding graphics.
Easy Solution for DVD to AVI
Indeed, some DVD rippers and DVD converters can help you to do it with ease. If you really need to rip DVD movie to AVI, you will feel helpful about the following details.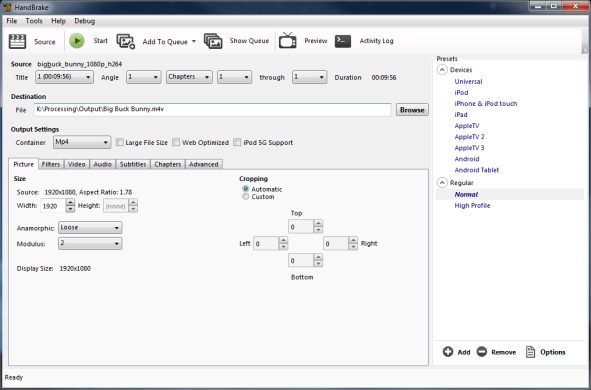 Handbrake is the most famous FREE DVD ripper tool. As an open source tool, FREE highlights itself, even though it's not the best at DVD ripping honestly. You may fail to rip DVD or get the disordered video files probably.

Personally, WonderFox DVD Video Converter is the best Handbrake alternative. This program has a simple and straightforward interface which makes it easy to handle, even computer novices can use it without any problems. Only few clicks to rip any latest DVD with ease. By following the steps below you can also be a hacker torip DVD movie to AVI.
How to Rip DVD to AVI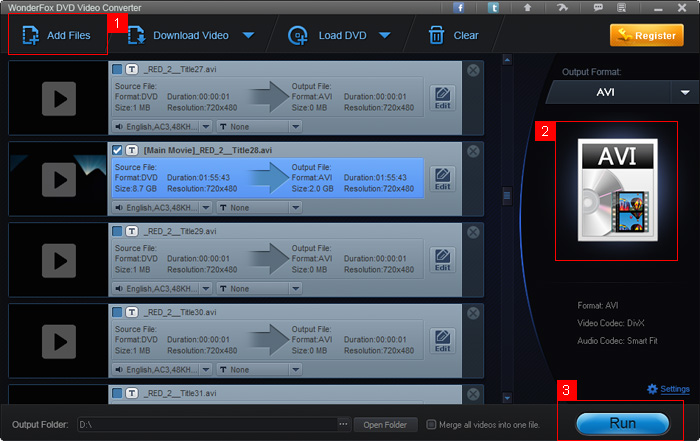 Step 1:
Install WonderFox DVD Video Converter to your computer, and then launch it. Insert the DVD disk, and then load the DVD.
Step 2:
Choose AVI as the output format. If you have further demands, you can adjust resolution, Bit Rate, Aspect Ratio and so on by pressing "Settings" button.
Step 3:
Click "Run" and conversion starts. You will get the output file you want after enjoying a cup of coffee.
Conclusion
As you see, to rip DVD to AVI isn't as difficult as imagination. WonderFox DVD Video Converter will be the best solution for it. Unique encode technology makes the conversion 50x faster than ever with 0 quality loss. Except ripping any latest DVDs, it also support video conversion, online video download and video edit. Why don't you have a try by yourself? You won't disappoint about it.
Still have trouble about convert DVD to AVI? Please feel free to Email Us >>
Related Software
WonderFox DVD Video Converter - all-in-one media solution includes DVD Backup, DVD Rip, Video and DVD Converter, Video Downloader, Video Editor/Player
WonderFox DVD Ripper - A professional dvd ripping tool, bypass any encrypted DVD and region code, and convert DVD content to most video formats and handheld devices
Related Resource
DVD to MP4: More and more people prefer to convert DVD to MP4 for playback on iPad and cell phone.
DVD to MPG: Backup DVD movie to hard drvid within 5 minutes.
DVD to MKV: Backup DVD to MKV with 0 Quality loss, and keep the 6-chunnel audio.
DVD to MOV: Convert MPEG2 video to H264 video.
Copy DVD to Hard Drive: Fastest backup your DVD disc.
DVD to iPhone 5S: Convert and play DVD on iPhone 5S.
DVD to Samsung Galaxy s5: Guide for how to rip DVD to your Samsung Galaxy S5.
Remove Region Code from DVD: Better and faster solutions to remove region code from DVD ever.
Backup Encrypted DVD: Crack nearly all types of encrypted DVDs.
Related External Resource
DVD is a digital optical disc storage format, invented and developed by Philips, Sony, Toshiba, and Panasonic in 1995. DVDs can be played in many types of players, including DVD players.
Special Offer: WonderFox DVD Video Converter
Want to enjoy a complete movie night with your family instead of waiting long time for conversion? WonderFox DVD Video Converter is the best choice, which provides one-stop total solution to Rip DVDs (Disney, Paramount, Sony Included), Convert videos, Download online videos, Edit and Play movies/video with excellent performance.
Join the Disscussion