How to Get a Better Experience in Playing DVD on Widescreen TV
Some Questions about Watching DVD Movie with Widescreen TV:
1. Does the DVD picture fit itself onto my widescreen TV? Or do I lose the top and bottom of the picture?
2. Why do movies have black bars top and bottom or on the left and right sides of the TV screen?
3. How do I get rid of the black bars on my widescreen TV?
4. Why everybody looks fat on a widescreen TV?
What is Widescreen
Before we come to the point, there is a need to understand what widescreen defined as is?
Widescreen images are a variety of aspect ratios used in film, television and computer screens. For television, the original screen ratio for broadcasts was 4:3 (1.33:1). In the late 2000s, 16:9 (1.78:1) TV displays came into wide use. They are typically used in conjunction with high-definition television (HDTV) receivers, or Standard-Definition (SD) DVD players and other digital television sources.
In recent years, widescreen TV has already dominated the television market. Some well-known brands include Samsung, Vizio, LG, Sony, Panasonic, Sharp, Toshiba, Philips, Sanyo, JVC, Hisense, TCL, Apex, Supersonic, and Skyworth.
At the mention of widescreen TV, it's natural for us to think of flat-screen TV. Indeed, the vast majority of flat-screen TV is of widescreen.
Widescreen TV Adopts 16:9 Formats
We can always find the DVD disc born the imprint of"16:9", "4:3Letterbox", "4:3Pan & Scan" on the back cover. Most of the people know that the numbers stand for screen formats, but which one should be selected for playing movie on TV?
In general, the widescreen TV screen always adopts 16:9 aspect ratio, with the function of stretching picture vertically or horizontally. So, flat-screen televisions will automatically stretch the picture into 16:9 widescreen sight, after receiving the widescreen-deforming signals coming from DVD. Compare to the 4 X 3(namely the full screen DVD), the 16 X 9(the widescreen DVD) is like a wide angle lens.

Having black bars on the top and bottom when you playback a DVD or Blu-Ray movie on your widescreen TV is normal. If the original format is 4:3, dispatch its into 16:9, image will be stretched while you don't actually lose any of the image.
In order to preserve the original aspect ratio, the video will insert black bars on the top and bottom of the image. DVDs which say widescreen or 16:9 format simply mean that the video on the disc is encoded for playback on widescreen TVs as opposed to 4:3 TVs, but that doesn't necessarily mean there won't be black bars in the encoded video.
1. How to Remove the Black Bars on Widescreen TV
We've put a great deal of time effort into this project. You are always going to have a black strip on top and bottom of your screen, while there is no selection in the flat-screen DVD player for it completely fills the screen. Therefore, if you want to get a better visual experience when playing DVD on widescreen TV, some adjustment on your DVD movie is necessary.
Crop the DVD Movie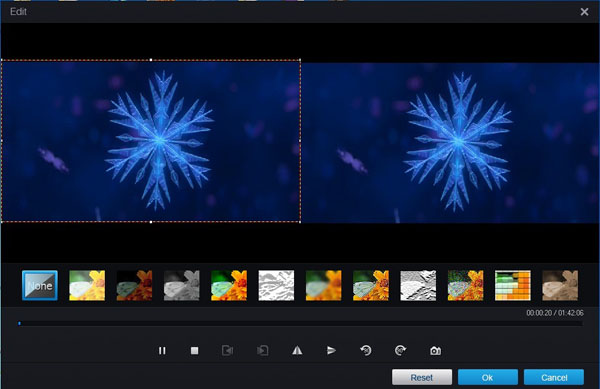 WonderFox DVD Ripper Pro enables to remove the black padding that you find on some wide-screen movies by cropping the DVD movie. Click the "Edit" button in the main interface of WonderFox DVD Ripper Pro to enter the editing window, and then drag the dotted line around the image to crop the unwanted black bars. After it's done, click "Ok" to save the change and go back to the main bar, and the conversion process will be started by clicking "Run".
Download WonderFox DVD Ripper Pro Below:

2. How to Solve the Problem of Image being Stretched Overly
Adjust the size (resolution) of the video to fit your screen. A perfect resolution value cannot be put forward, because the movies vary with different resolution. The best value fits for your screen depends on your original video resolution. Please select the best resolution with few clicks.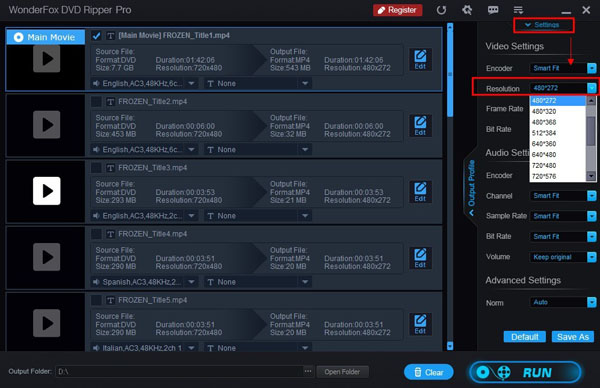 You may take the information I provided here for your references. Just download the WonderFox DVD Ripper Pro and make some adjustment on DVD movie, then play it on your flat-screen TV at ease.
Note: This DVD ripper supports directly transfer DVD to widescreen TV.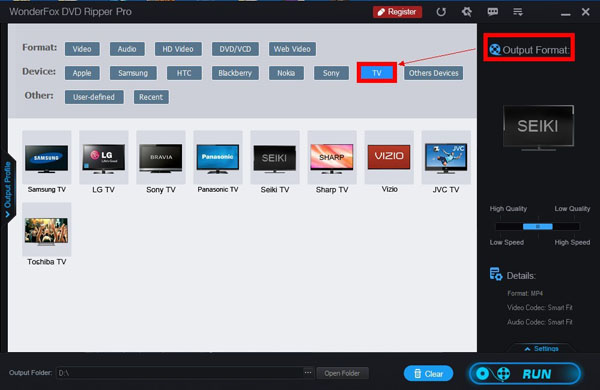 Download: https://www.videoconverterfactory.com/dvd-ripper/
Everything has advantage and disadvantage, so does widescreen TV. It provides us with a broader view, at the same time, there are still some minor flaws. Though, with the assistant tool like WonderFox DVD Ripper Pro, we can make best use of the benefits flat-screen TV has brought to us.
Related Software
WonderFox DVD Ripper Pro - A professional dvd ripping tool, bypass any encrypted DVD and region code, and convert DVD content to most video formats and handheld devices
HD Video Converter Factory Pro - Equipped with advanced High-Definition (HD) video conversion technology. It can help users convert videos from Standard-Definition (SD) to High-Definition (HD) like HD MP4, HD MKV, HD AVI, HD MTS, HD TRP and also enables users to cut down the video size (convert HD videos to SD videos)
Related Resource
SD Video to HD Video: Just Be Addicted to Your HD World
DVD to TV: Watch DVD movie on any TVs withour DVD player
DVD to AVI: Easiest solution to rip DVD to AVI video
DVD to MP4: Just for portable devices
Download Movie from DVD: Is that ture? The answer is YES
Backup Encrypted DVD: Storage DVD as a video file
Related External Resource
Widescreen images are a variety of aspect ratios used in film, television and computer screens.
Special Offer: WonderFox DVD Ripper (Buy One Get One FREE)
Provides the best solution to convert any DVD(include copy protected DVD) to a wide range of mainstream video and audio formats such as AVI, MP4, VOB, MKV, MPEG, MOV, FLV, WMV, 3GP, MP3, AIFF, FLAC, M4A, etc. And new media formats are keeping added and supported. It takes about 50 minutes to rip a 120 minutes' DVD to AVI with 0-Quality-Loss and much less time to MPG.
Join the Disscussion