Before anything else, you should know that MKV is only a container format that can hold various audio and video codecs. It will require your TV to support both the MKV format and the MKV codec to play MKV on TV smoothly. And that explains while most modern smart TVs, including Samsung TV, LG TV, Apple TV, Android TV, and Sony TV, support MKV format, they fail to play MKV files sometimes. You would often find MKV has no image, no audio, or neither on TV.
Note. You may also find your MKV frame rate and bitrate too high to play on TV if the encodings are all right.
Fortunately, you can fix the unsupported video format easily today. In the following, I will show you steps to convert MKV to TV-supported format so you can play MKV files on TV via USB. In addition, you'll learn more about how to stream MKV to TV without converting the file. Please read on.
How to Play MKV Files on TV via USB?
To play MKV on TV via USB directly, you need to make your MKV TV-compatible first, that is convert your MKV to the TV format. There are many video converters to do this. But if you want fast and high-quality video conversion, WonderFox HD Video Converter Factory Pro is your better choice. It can convert MKV to all mainstream formats and device profiles, such as MP4, H264, AVI, Samsung TV, LG TV, Android TV, etc. through a couple of clicks. Besides, it allows you to batch convert files with hardware acceleration support. You can also adjust the bitrate and frame rate to an appropriate value for your TV specifications.
Now, free download free download the MKV to TV converter and follow the steps to convert and play your MKV files on TV.
Step 1. Start HD Video Converter Factory Pro on your PC desktop and open the "Converter." Next, hit the center + button or the upper-left "Add Files" to add the unplayable MKV files to the conversion list.
Step 2. Open the right-side output format page and go to the "Video" category. Select one format that your TV supports. You can also explore the device section and see if there is a profile for your TV. If you find the target TV profile, choose it and move to step 4.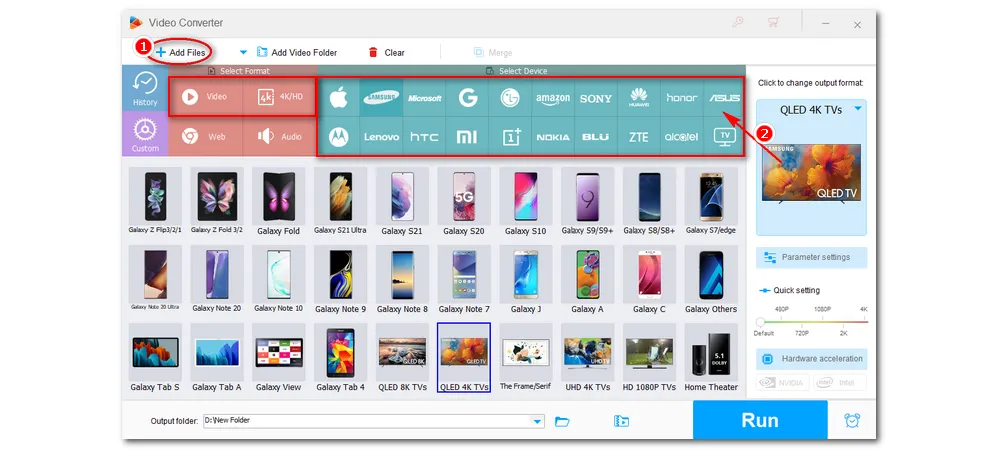 Step 3. Go to the "Parameter settings" below and select the right codec from the video and audio encoder drop-down list. You can modify other parameters, such as bitrate, frame rate, resolution, and more if you like. Don't forget to click OK to save the settings.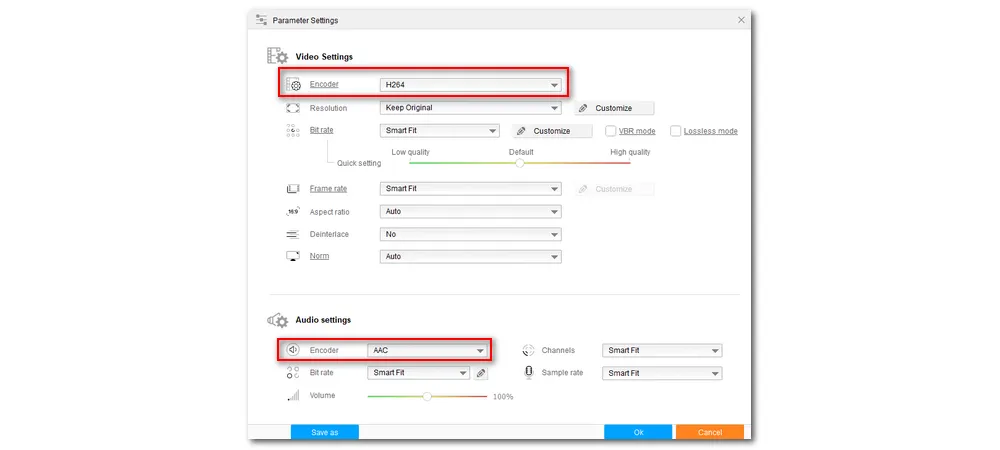 Step 4. Finally, click the down arrow button at the bottom to choose an output folder and hit "Run" to convert MKV to the TV format.
After the conversion, transfer the converted files to your USB and connect the USB to your TV. Now, enjoy watching video on your TV without issue (Use USB 3.0 for 4K transmission to avoid choppy performance).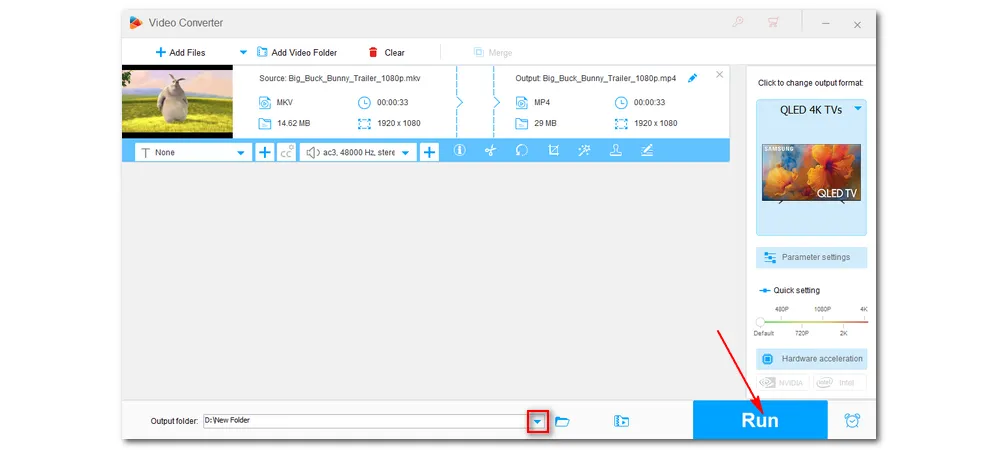 How to Play MKV Files on TV without Converting?
Conversion may be slow if the MKV files are too large. If you do not wish to convert the MKV files, you have other options to try. Here are the methods to help you play MKV files on TV without converting.
1. Play MKV on TV via Chromecast. You can connect Chromecast to your TV and then stream MKV to TV via your computer or smartphone. Make sure that the device and your TV are on the same Wi-Fi network.
2. Play MKV on TV via HDMI cable. You can connect your PC and TV with an HDMI cable. Next, on your PC, bring up the Display from the settings. Click Detect to search your TV display. Then play MKV on TV from your PC.
3. Play MKV on PC via Plex. You can also set up a Plex server to stream your MKV files to TV. Here is a guide on how to use Plex.
Wrap-up
Now, that's pretty much everything I want to share about how to play MKV files on TV. Hope the solutions provided here could be of some help to you. Thanks for reading. Have a nice day!