HD Video Converter Factory Pro Embraces the Comings of H.265 and VP9
Updated on Jul 7, 2020
An official speech by WonderFox Soft in recent days has been delivered with the announcement of the appended Encoder for HD Video Converter Factory Pro – H.265 and VP9. In order to meet the requirements of H.265 and VP9 use crowd, WonderFox makes the latest revision of HD Video Converter Factory Pro fit in with the needs of the two new fads, which may meet in the following development predomination.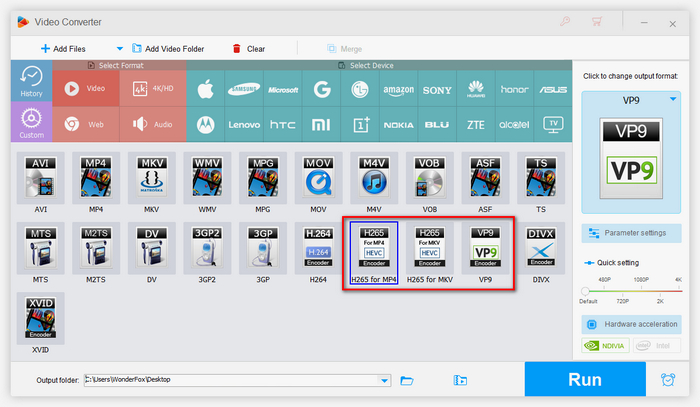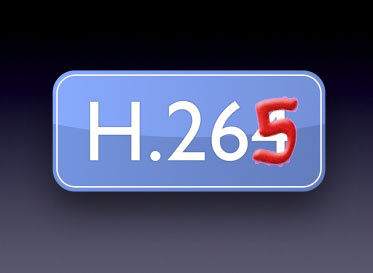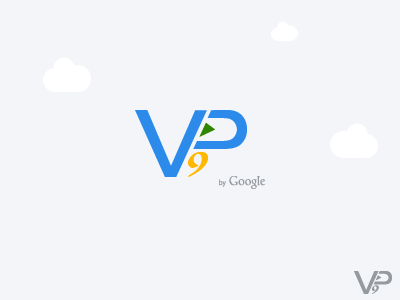 H.265
H.265, namely HEVC short for High Efficiency Video Coding, is a video compression standard, a successor to H.264. H.265 is said to double the data compression ratio compared to H.264 at the same level of video quality. It can alternatively be used to provide substantially improved video quality at the same video bit rate.
H.265 is designed to transmit the network videos of higher quality under limited bandwidth connection. Playing videos of the same quality only need half of the bandwidth that has been originally asked for, which also means that the direct online playback of full HD 1080p videos on our smart phones, tablets and other mobile devices is totally possible. H.265 standard also support for both 4K (4096 x 2160) and 8k (8192 x 4320) Ultra High-Definition videos. We may say, H.265 standard allows network videos to keep up with the screen of "high resolution". The following figure shows a comparison of H.265 vs. H.264.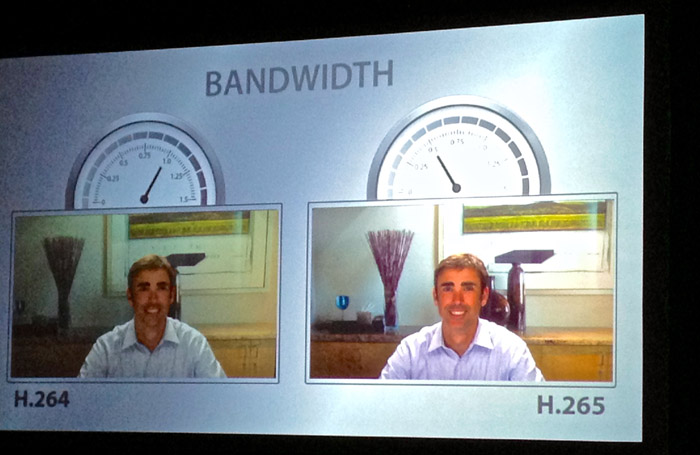 VP9
VP9 is an open and royalty free video compression standard being developed by Google. VP9 had earlier development names of Next Gen Open Video (NGOV) and VP-Next.
Compared to VP8, VP9 has many design improvements. The greatest strength of VP9 lies in its ability to reduce the bit rate by 50% by contrast with VP8 while having the same video quality. Even if in comparison with H.265, VP9 goes beyond. It has been improved to work with better efficiency in coding speed. Thus, VP9 offers more prospects in practice, and it seems to me that VP9 will win the broad masses of the user's favor.
HD Video Converter Factory Pro Overview
HD Video Converter Factory Pro is equipped with advanced High-Definition (HD) video conversion technology, to be totally supportive of H.265 and VP9 video format version. Apart from these, as a HD video converter, it plunks for 4K video switching meanwhile. If you want to directly stream some copy protected High Definition and HD-Camcorder videos to portable and console players, such as iPad, iPhone, Samsung Smartphone or Tab, Kindle Fire, Nexus, Android, Nokia, BlackBerry, Sony, WonderFox HD Video Converter Factory Pro can also do it, free download it below:

If you have any further questions about H.265 converter, VP9 converter, or how to convert videos from and to H.265, VP9 files, please feel free to email us >>, alternatively visit the H.265 video converter's official website for more specifics: https://www.videoconverterfactory.com/hd-video-converter/
Submit Your Question to Us, Get an Answer within 24 hours
Related Resource
Time-limited Offer Today
Special Offer: HD Video Converter Factory
It equipped with advanced High-Definition (HD) video conversion technology. It can help users convert videos from Standard-Definition (SD) to High-Definition (HD) like HD MP4, HD MKV, HD AVI, HD MTS, HD TRP and also enables users to cut down the video size (convert HD videos to SD videos).
Convert HD video to 100+ video formats and mobile devices - 50X Faster conversion speed with 0-Quality-Loss