Disclaimer
The following guides are demonstrated for instructional purpose and personal fair-use ONLY. WonderFox never endorses downloading any copyrighted LookMovie videos for illegal sale, distribution and other commercial intentions. End-users should be responsible for their behaviors.
LookMovie Downloader 1 - Free HD Video Converter Factory
LookMovie delivers movies in HTTP Live Streaming (a.k.a. HLS) protocol that invalidates nearly all online LookMovie downloaders. Free HD Video Converter Factory comes with a built-in video downloader that can help analyze and download most types of streaming videos, including downloading HLS videos, MPEG-DASH, HTTPS, RTMP, etc. Follow the steps below.
Free downloadFree download the LookMovie downloader and learn how it works.
Step 1. Press F12 to find the real HLS M3U8 link while playing movies on LookMovie. If it's complicated for you, The Stream Detector is a great assistant. Install this extension to Firefox via GitHub Page or Firefox add-on page.
Step 2. Play a video on LookMovie. The Stream Detector extension will prompt "New HLS stream detected". Click "The Stream Detector" extension icon, press any M3U8 link. it will automatically copy the HLS stream URL.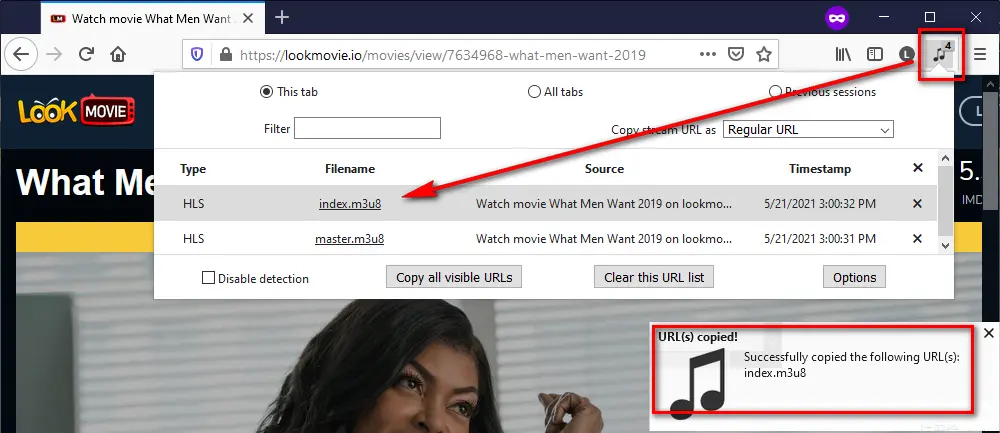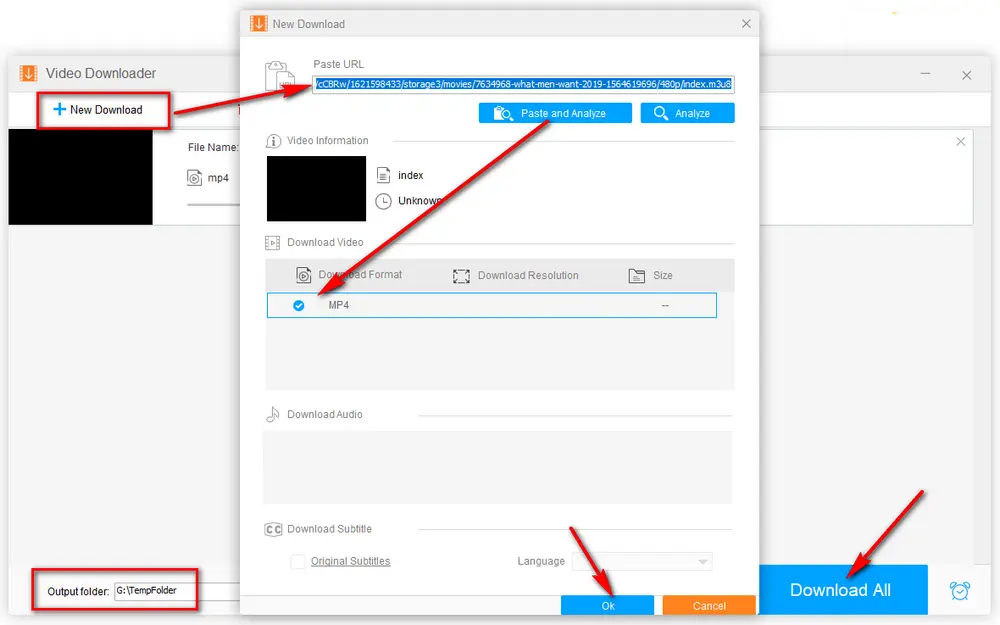 LookMovie Downloader 2 - Xtreme Download Manager
Actually, both Internet Download Manager (IDM) and its free alternative Neat Download Manager are also capable of LookMovie downloads, however, they can only download videos in .ts format so that you have to transcode TS to MP4 or other common format using some free video converters. To make up for this deficiency, I recommend Xtreme Download Manager, another free open-source program that comes with a built-in video converter to downloaded LookMovie videos to MP4 directly.
Step 1. Download and install XDM to Windows, Mac OS or Linux through XDM Homepage or GitHub Page.
Step 2. Run it and click "Tools" on the top menu bar, then select "Browser Monitoring".
Step 3. Add the browser add-on (XDM Browser Monitor) to your frequently-used browser for monitoring the movies from LookMovie.
Step 4. Play a movie or TV show on LookMovie. A transparent "DOWNLOAD VIDEO" button will appear in the lower-right corner of the webpage. Press the button and select the movie stream, then rename the movie and specify a save path on a pop-up "VIDEO DOWNLOAD" window.
Step 5. In the drop-down list of "Convert to" section, you can select MP4 or any other option as you wish. Lastly, hit "DOWNLOAD NOW" button to download LookMovie videos to MP4 directly.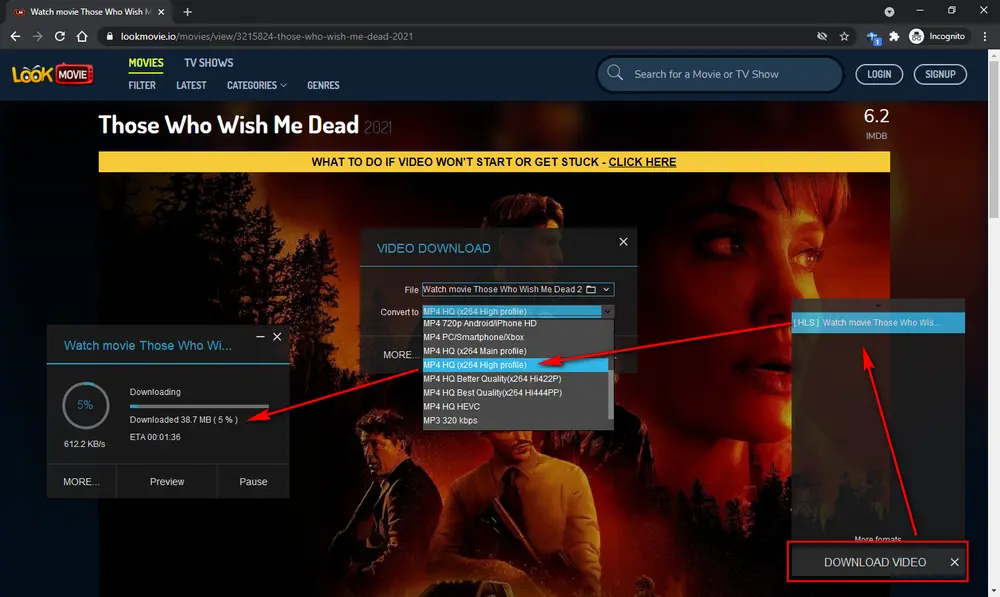 LookMovie Downloader 3 - CocoCut Video Downloader
CocoCut Video Downloader is a recently discovered browser downloader extension available for Chrome and Edge browser, which works very well to download HLS videos. It even allows you to switch to "Recording Mode" for capturing some tough videos.
Step 1. Download and install CocoCut extension from its Homepage: https://cococut.net/. A gray "coconut palm" icon will appear on browser extension bar.
Step 2. Play a LookMovie video, the extension icon will turn green once the HLS stream is detected.
Step 3. Click the extension and click on the "download icon" to download embedded movie from LookMovie.
Step 4. It will start downloading LookMovie video in a new tab. The progress and pause/resume button will be displayed during the downloading. It should be noted that the download page must be kept open when the process starts, otherwise, the download task will be interrupted.
Step 5. Wait for the process to complete and press "Save" button to download movie from LookMovie.
What's LookMovie Official Domain? Is LookMovie Safe?
Without doubt, LookMovie is a paradise where provides tons of movies and TV shows for free streaming online. As you know, when it gains a high reputation, trouble comes along with it. There are various fake websites, imitators and copycats springing up over the Internet. Actually, the Official Domain is LookMovie.ag, and now it redirects to LookMovie2.to. All of other sites with different names and domains are fake.
It's a commonplace topic concerning whether LookMovie is safe or not. The website itself is safe but beware not to trust any AD which may contain malicious keyloggers, browser hijackers and more sneaky stuff. To provide and maintain the free streaming experience, LookMovie has to embed some ADs to offset high server's bandwidth costs. So you're advised to install some AD blocking programs like AdBlock, Adblock Plus, uBlock origin, etc. to stop pop-up ADs and keep safe.