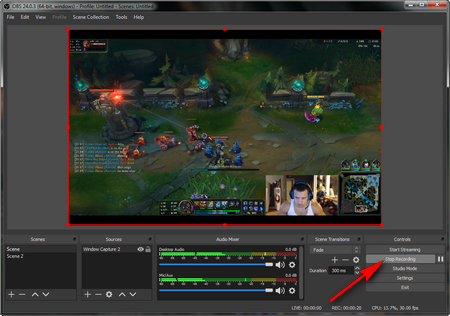 OBS Studio
1. Open Broadcaster Software - OBS Studio
In addition to the respective recording programs launched by the major live broadcasting platforms, OBS Studio is the most frequently used and most powerful live broadcasting software. More than that, it still can be used to capture video for free despite a fact that the configuration is a little bit complicated for your first recording. For the brief recording steps, go to File > Settings > Output, change the recording path, recording format and quality, click OK. Then simply add a Scene > create a source (typically Display Capture and Game Capture) > Start Recording. For better recording results, you're able to make a custom optimization in Settings.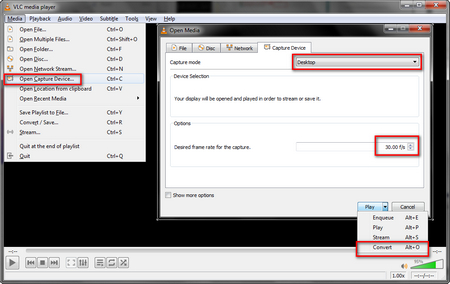 VLC Recording
2. VLC Media Player
Yeah, really, in addition to playing video/music files, the acclaimed VLC Media Player still possesses the ability to capture screen video. Run VLC > Media > Open Capture Device, select Desktop in Capture mode and customize the frame rate for the recording, then go to the drop-down list of the Play button and select Convert. On the new window, choose output recording format and destination folder, lastly, hit Start to free capture video or record webcam. Press Stop playback to finish the recording and you'll find it in the destination folder. However, it only captures the whole desktop and no sound in the video. If you mind this, keep reading.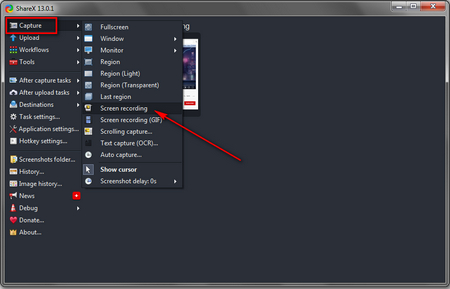 ShareX
3. ShareX
An open-source screen capture software must be mentioned here is ShareX. Definitely, it's a god-given productivity tool to capture GIF, grab an entire scrolling webpage, identify text via OCR, share recording to file-sharing or social media sites. Of course, it also records video from selected area or the entire screen with FFmpeg installed, MP4, WebM, MKV and AVI video formats are supported. The only inconvenience is that the interface isn't the most intuitive for an average user. But after you gradually grasp this program, I believe you're going to love it.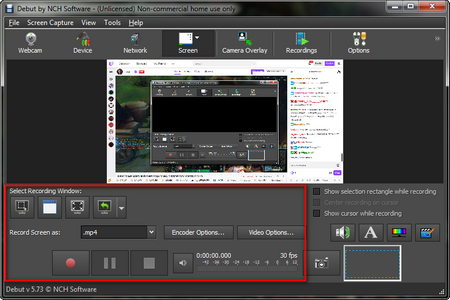 Debut Video Capture Software Free
4. Debut Video Capture Software
https://www.nchsoftware.com/capture/index.html
This program is available for non-commercial use only without any limit. It allows you to capture video from a webcam, recording device, network camera or screen (entire screen, separate window or draw a random section). The quick start guide is as follows: Run the video capture free software, go to Tools > Options > Output and assign a destination folder to save your recording. Get back to the main interface, select capture window and output video format (abundant formats are provided). You can customize the Encoder and Video Options as you wish, at last, hit the red record button to start capturing your video.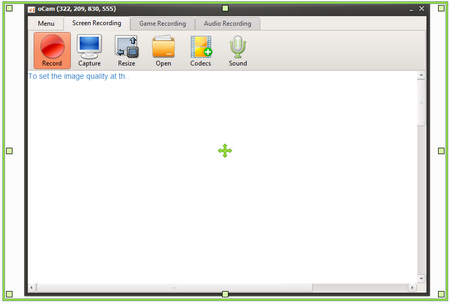 oCam
5. oCam
https://ohsoft.net/eng/ocam/intro.php?cate=1002
Similar to Debut Video Capture Software, oCam is allowed to be used for personal use in non-commercial environments. When you open it, 3 main features will list clearly: Screen Recording, Game Recording and Audio Recording. To your surprise, it still offers some mainstream video formats: MP4, MKV, MOV, AVI, etc. and even animated GIF. Go to Menu > Options to make some simple settings. After that, what you need to do is just dragging the edge of green rectangle to determine the recording area, then pressing the red Record button to capture the video file. The only inconvenience is that it will pop up the Official Version purchase page when you close the free version.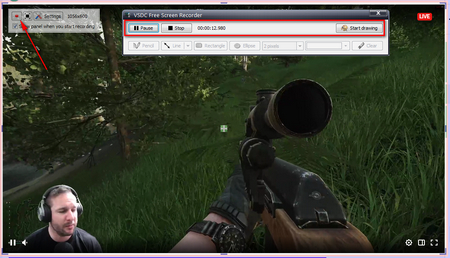 VSDC Free Screen Recorder
6. VSDC Free Screen Recorder Software
http://www.videosoftdev.com/free-screen-recorder
This reliable and practical free video capture software will ask you to set the recorded video/audio format, destination path and recording hotkeys beforehand. After you click on the Start recording button, it will appear a pink-edged rectangle and you're able to designate a specific highlight area for area recording or click on the whole screen button on the transparent toolbar for full screen recording. During the video capture, there is an outstanding feature that allows you to make a draw for making the tutorial demonstration. Finally, press Stop button and it will pop up the notification message that Recording is complete.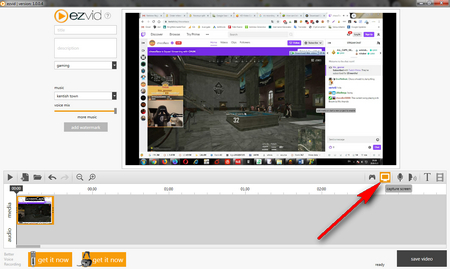 Ezvid
7. Ezvid
https://www.ezvid.com/ezvid_for_windows
I have to say that, Ezvid is not just a handy screen recorder, but a foolproof video editor. When I open this program for the first time, I was impressed by its concise interface. To capture video, just click on the Monitor button on the toolbar, and go to advanced settings. Here you can enable corresponding options to capture an area and sound. In the capturing process, by taking advantage of DRAW feature, you're able to paint or put other graphic icons on the screen. After ending the recording, it will be imported into the main interface for further editing, such as add music to video , record voice, add watermark, etc. You can also add your existing video files as the materials.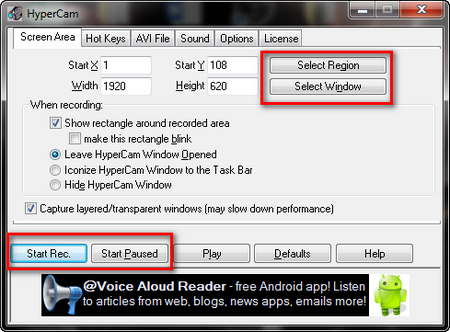 HyperCam
8. HyperCam
http://hypercam.uptodown.hyperionics.com/hc2/
HyperCam version 2 is available for both private and commercial use, which enables you to capture all desktop action with sound and save it in AVI format. Open HyperCam, you'll find that it's a plain but fully-equipped program. Like the foregoing ones I mentioned, you can also determine to record region or window, specify other settings, press Start Rec. or hotkeys to start your video capturing work. Instead of drawing feature, it supports screen notes for explanation while recording.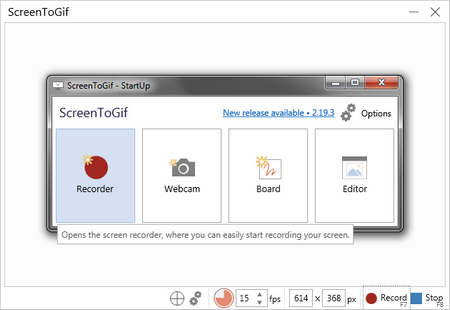 ScreenToGif
9. ScreenToGif
ScreenToGif is a neat and lightweight program I've been using. Don't be tricked by its name, seemingly, it records screen, webcam and sketchboard to animated GIFs. However, it can still save the recording to video file. Run this application, go to Recorder, drag the frame to select recording area. Alternatively, enter the resolution on the bottom as well as FPS, then hit Record to capture your screen. After ending the recording, you'll be led to the integrated editor. Click on File > Save as > Video, it can be saved as AVI format by default. And you have to install FFmpeg for more output options.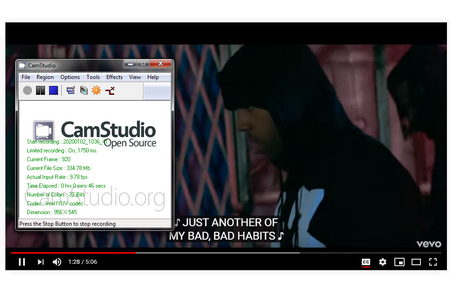 CamStudio
10. CamStudio
CamStudio is also a plain screen recorder program, which captures what you're doing on the screen, saves it as a standard AVI, MP4 or Flash video file with the sound from the system's speakers or a microphone. It also converts AVI files to web-friendly SWF flash videos. Run this free video capture software, click on Region to select capture area: region, window or full screen. In Options drop-down submenu, customize the video, cursor and audio settings based on your need. Then press the red round button to start to capture your screen. When you stop the recording, it will prompt a windows to select the destination path and name the saved video file.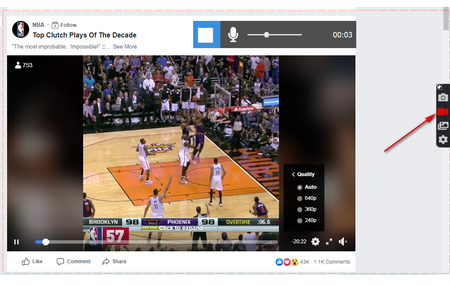 Screenrec
11. Screenrec
Screenrec is a bit different from the video capture software free above. When you launch the program, there will be a back bar sticking at the right side of the screen. Click on the camcorder icon to drag an area for video recording. After a 3-second countdown, it will capture the activities in the area automatically. And it will pop up a video player after you stop the recording, where you can save, delete or share the video. One more thing, there will be a 5-minute recording limit unless you create a free cloud account, which not only removes the 5-minute time limit but also enables you to share video via private URL.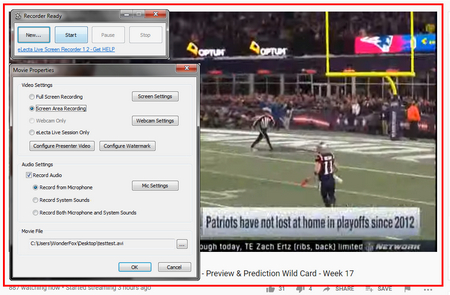 eLecta Live Screen Recorder
12. eLecta Live Screen Recorder
http://www.screenrecordings.com/
Well, it's a self-evident video capture program. Basically, you can master it with ease by following the instruction. Run the program, a very simple interface will appear at the right bottom of desktop. Click on New to select full screen or area recording, and you can record audio from microphone and system sound. Specify the video name and save location, then press OK and Start to capture video for free. After you end the recording, it will be saved in an AVI video automatically.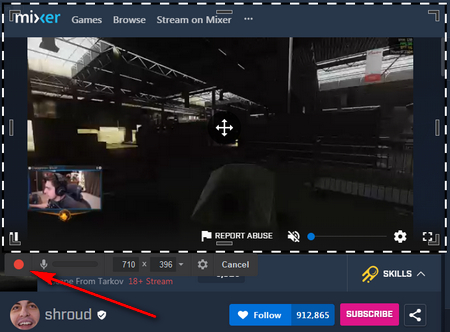 Free Cam
13. Free Cam
https://www.freescreenrecording.com/
Finally, here comes the grand finale - Free Cam. In terms of appearance, it seems a bit like ScreenToGif, but much easier in the usage. Run this tool, create a New Recording, then you'll see a black-and-white recording area displaying right there. Adjust it and simply press the red recording button to capture all actions in the area. Additionally, you can choose to record system sounds, voice over and even highlight the mouse cursor. After done, it will be imported to a brief editor so that you can preview and edit the screencast, save as a WMV video or upload to YouTube.