How to Download Movies from OnionPlay?
OnionPlay Downloader 1 - Internet Download Manager
Without further explanation, most people are supposed to be quite familiar with Internet Download Manager (well known as IDM). Apart from managing, scheduling and accelerating downloads, it also has an aptitude for downloading embedded videos from most streaming sites. As you would expect, it can serve as an OnionPlay downloader.
Step 1. Download and install IDM on your PC from official website: http://www.internetdownloadmanager.com/download.html.
Step 2. After installation, you'll be prompted to install an extension/add-on - IDM Integration Module to browser, mainly used for detect available movies direct downloads from OnionPlay.
Step 3. Play a movie or TV show episode on OnionPlay. IDM can show its "Download panel" while detecting the streaming content.
Step 4. Click the "Download panel" to open "Download File Info" dialog box, where you can rename the video file and specify a directory to save it.
Step 5. Finally, press "Start Download" button to download movies from OnionPlay.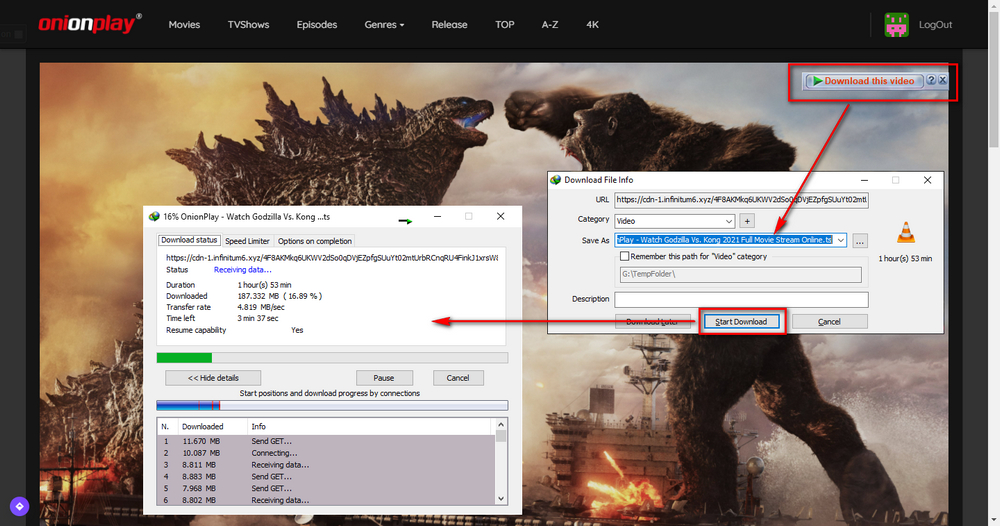 Note: OnionPlay videos are delivered using HTTP Live Streaming (HLS) protocol, so the downloaded movies will be saved in .ts format. If you mind this matter, there are a few free video transcoders available that can help convert TS to MP4 or other mainstream formats. One more thing, IDM is a shareware that offers a 30-day trial period, after that, you have to purchase and register to get full-featured IDM version.
OnionPlay Downloader 2 - Xtreme Download Manager
Xtreme Download Manager (a.k.a. XDM) is a free, open-source and cross-platform OnionPlay downloader that would be the best free alternative to IDM. XDM seamlessly integrates with popular browsers to take over downloads and saving streaming videos from web. To your surprise, XDM comes with a built-in video converter that can help you downloaded OnionPlay videos to MP4 directly.
Step 1. Download and install XDM to Windows, Mac OS or Linux from https://xtremedownloadmanager.com/ or https://subhra74.github.io/xdm/.
Step 2. Run it and click "Tools" on the top menu bar and select "Browser Monitoring".
Step 3. Add the browser add-on (XDM Browser Monitor) to your frequently-used browser for sniffing the movies from OnionPlay.
Step 4. Play a movie or TV show episode on OnionPlay. Then a transparent "DOWNLOAD VIDEO" button will appear in the lower-right corner of the webpage. Press the button and select the movie stream, then a "VIDEO DOWNLOAD" window will pop up, where you can rename the movie and specify a save path.
Step 5. In the drop-down list of "Convert to" section, you can select MP4 or any other option as you wish. Lastly, hit "DOWNLOAD NOW" button to download OnionPlay movies to MP4 directly.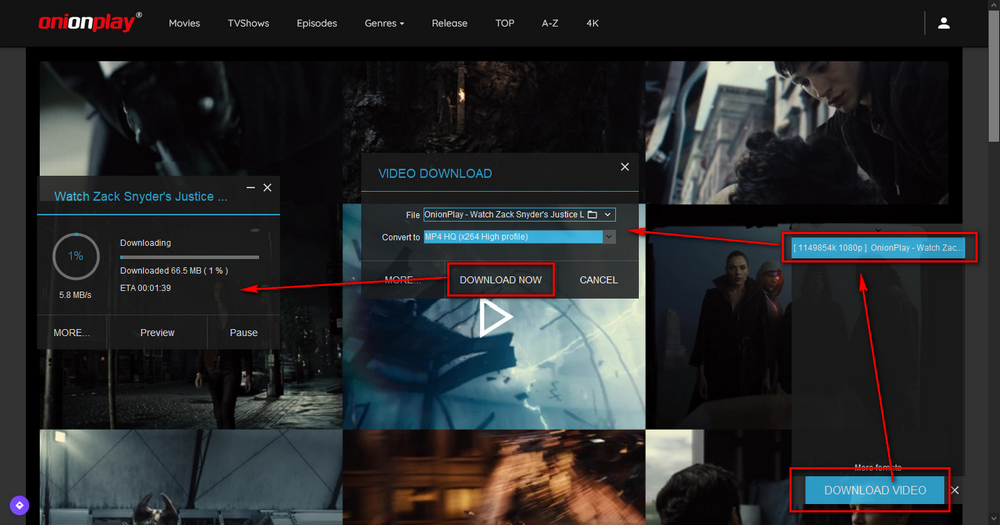 What's the Official Website of OnionPlay?
When you type "OnionPlay" in the search engines, there will be a few websites with different domains showing up in SERPs, even for some domains in plural form or obvious typos. To eliminate your confusion, I'll list all accessible domains below:
1. OnionPlay.is
2. OnionPlay.to
3. OnionPlay.co
4. OnionPlay.net
5. OnionPlay.org
6. OnionPlay.eu
As of writing this post, they are all working to the same website. If you can't access one for geo-blocking or ISP blocking, just try another from the list. All the websites NOT INCLUDED in the above list are FAKE, impostors and copycats. For any change, follow OnionPlay Official Telegram and OnionPlay Chat.
Is OnionPlay a Safe Website?
Is OnionPlay safe? That's a vital question we all care about. As everyone knows that, most free movie streaming websites are densely packed with all sorts of pop-ups, ADs, redirects, privacy trackers, invasive malware and the like, which will bring a security risk. Yet, perhaps surprisingly, OnionPlay is always AD-FREE! OnionPlay claims that it doesn't don't use any kind of ADs, and in the course of my experience, OnionPlay did exactly what it promised. From this point, OnionPlay is safe.
However, since OnionPlay doesn't upload any illegal material to its server, all media files are hosted on the third-party streaming platforms. So OnionPlay CANNOT CONTROL those ADs present inside the video player. It's recommended to use an AD-Blocker to filter and stop unwanted pop-ups and ADs.
Final Words...
That's the end. Now you've figured out how to download movies on OnionPlay using both OnionPlay downloaders. Hope I have made everything crystal clear to you guys. It's time to get some popcorn to stream or download movies!