Method 1 - Download from SockShare Directly
Not many people know that, it's pretty simple to directly download movies from SockShare without any application installed even though there is no download button or link available on the streaming page.
Step 1. Visit SockShares.TV and find your favorite content for playback.
Step 2. When the video starts streaming, right-click on the video player and select "Save video as" option on the context menu.
Step 3. Rename it and click "Save" button to download from SockShare directly.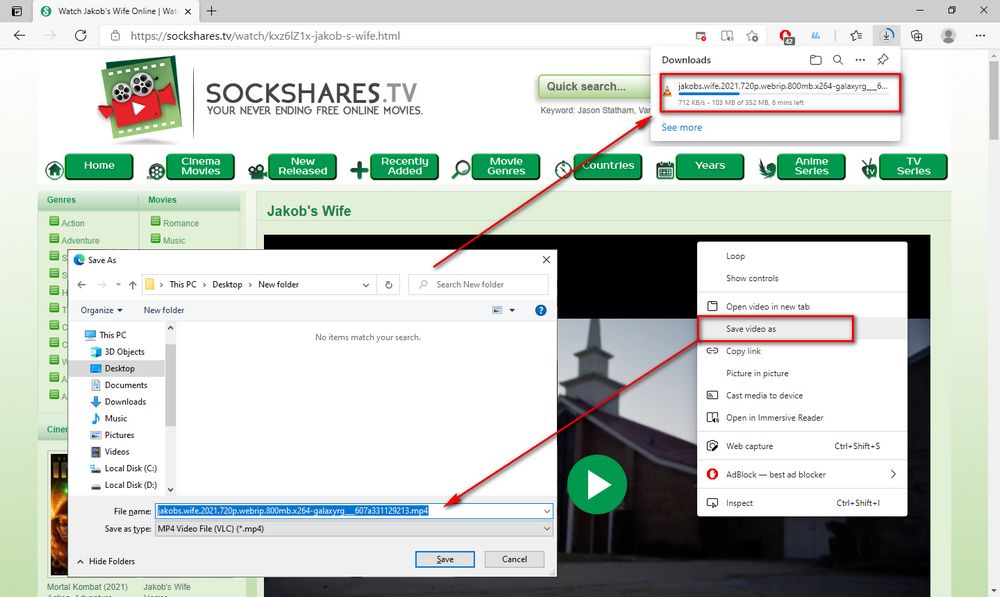 Method 2 - Download SockShare Movies with IDM
I bet you're fairly familiar with this Windows-based well-remarked download manager - Internet Download Manager (also known as IDM). Yeah, it also has an aptitude for capturing and download embedded videos from majority of online movie streaming sites, in other words, it can work as a SockShare movie downloader. Despite a shareware program, IDM offers a 30-day free trial.
Step 1. Download and install IDM from Official Webpage.
Step 2. You'll be asked to install "IDM Integration Module" extension/add-on to major browsers, which will monitor available movie downloads from SockShare.
Step 3. Play a movie on SockShare. A "Download panel" will show up when IDM detects the streaming content.
Step 4. Click the "Download panel", rename the movie file and specify a save path on the "Download File Info" dialog window.
Step 5. Press "Start Download" button for SockShare free movie download.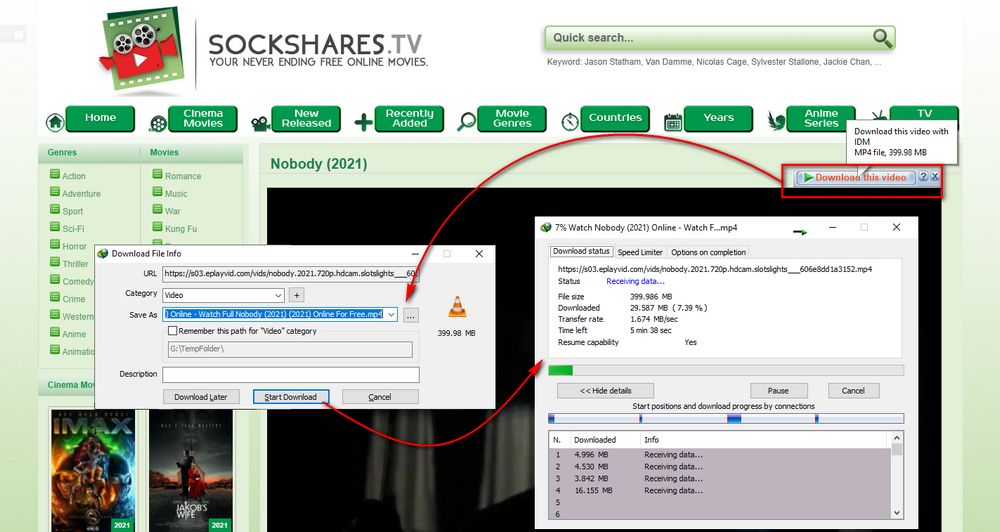 Method 3 - SockShare Movie Download Using Neat Download Manager
Neat Download Manager is a free, simple and lightweight alternative to IDM, which also enables you to download SockShare videos on both Windows and macOS. Here are the simple steps to use this SockShare downloader.
Step 1. Download and install Neat Download Manager from Official Webpage.
Step 2. Launch it and install "NeatDownloadManager Extension" to Firefox, Chrome or Chromium-based browsers, which helps detect the available downloads.
Step 3. Play a movie or episode on SockShare, a "Download Pane" will show up at the top-left corner of the video player.
Step 4. Click the pane to download from SockShare.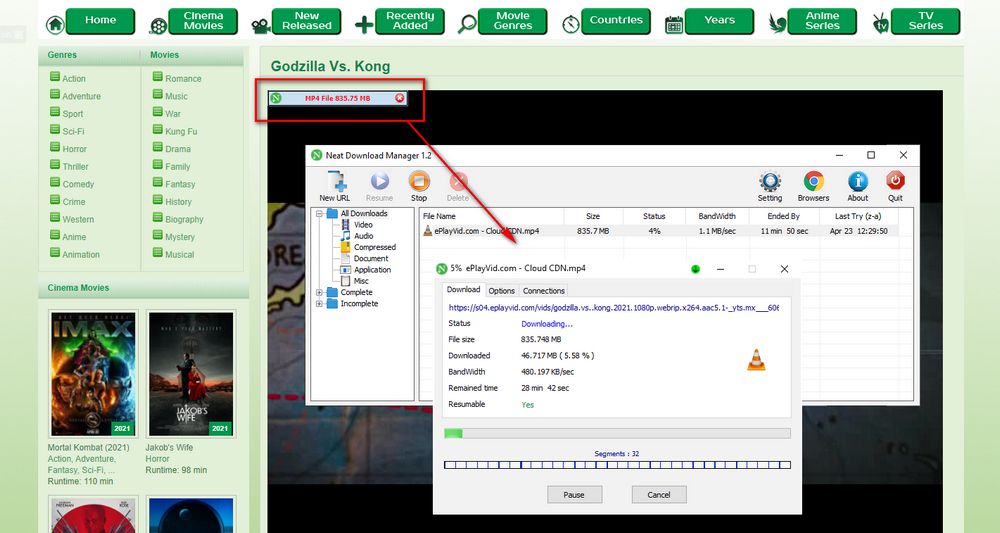 Method 4 - Download SockShare Movies with XDM
Both IDM and Neat Download Manager are able to intercept SockShare movies delivered in HTTP Live streams (HLS) or DASH protocols when you switch to another server, but the movie will be downloaded in TS or M4S format, so that you have to transcode the video to MP4 or any other popular format. As another free, safe and open-source alternative to IDM, Xtreme Download Manager (a.k.a. XDM) is equipped with a Media Converter, which helps download HLS or DASH chunked-streamed video to MP4 directly.
Step 1. Download and install XDM to Windows, Mac OS or Linux from XDM Homepage or GitHub Page.
Step 2. Run this SockShare video downloader, click "Tools" on the top menu bar and select "Browser Monitoring".
Step 3. Add "XDM Browser Monitor" extension to your frequently-used browser for monitoring the movies from SockShare.
Step 4. Play a movie or TV episode on SockShare. Click on a transparent "DOWNLOAD VIDEO" button shown up in the lower-right corner of the webpage and select the movie stream, then a "VIDEO DOWNLOAD" window will pop up, where you can rename the movie and set an output destination.
Step 5. In the drop-down list of "Convert to" section, select MP4 or other presets as you wish. Finally, hit "DOWNLOAD NOW" button to download SockShare movies to MP4 directly.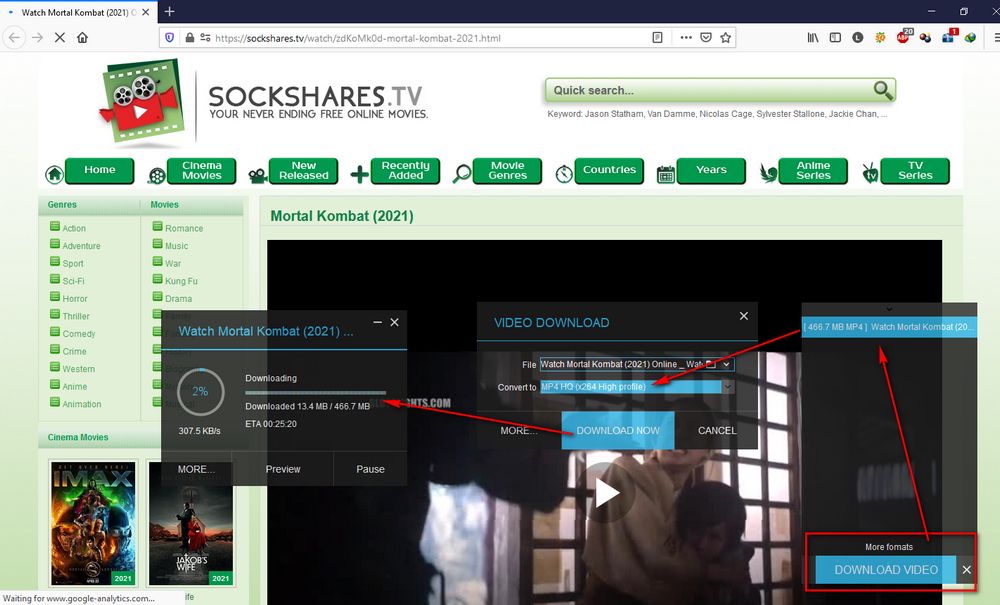 Method 5 - Download from SockShare Using Browser Extension
With some handy browser video downloader extensions installed, you can simplify the steps for SockShare movie download. What you just need to do is, play a favorite content, the extension will sniff the stream, then click the extension and follow the instructions to download SockShare videos. Here are my frequently-used three extensions for your reference:
1. Video DownloadHelper (Freemium): available for Firefox, Chrome and Edge, it supports several types of streaming like HTTP, HLS, DASH.
2. HLS Downloader (Free): available for Chrome and Edge. Only works for HLS-streamed video download.
3. CocoCut Video Downloader (Free): available for Chrome and Edge. It works well for HTTP and HLS videos download, and supports recording DASH video and live streams in Record Mode (RECOMMENDED).

Video Tutorial - How to Download Movies from SockShare?