Part 1: Download from M4uFree via Xtreme Download Manager
For a loyal user of Internet Download Manager (IDM) who has purchased the license to register the full-featured IDM version, there is no need to read on since IDM is able to detect and download movies from M4uFree. If not, however, Xtreme Download Manager (also known as XDM) would be the best free alternative for you. This is a free, safe and open-source download manager that supports HTTP, HTTPS, FTP, DASH, HLS, HDS protocols to download and save streaming videos from web.
Step 1 - Install M4uFree downloader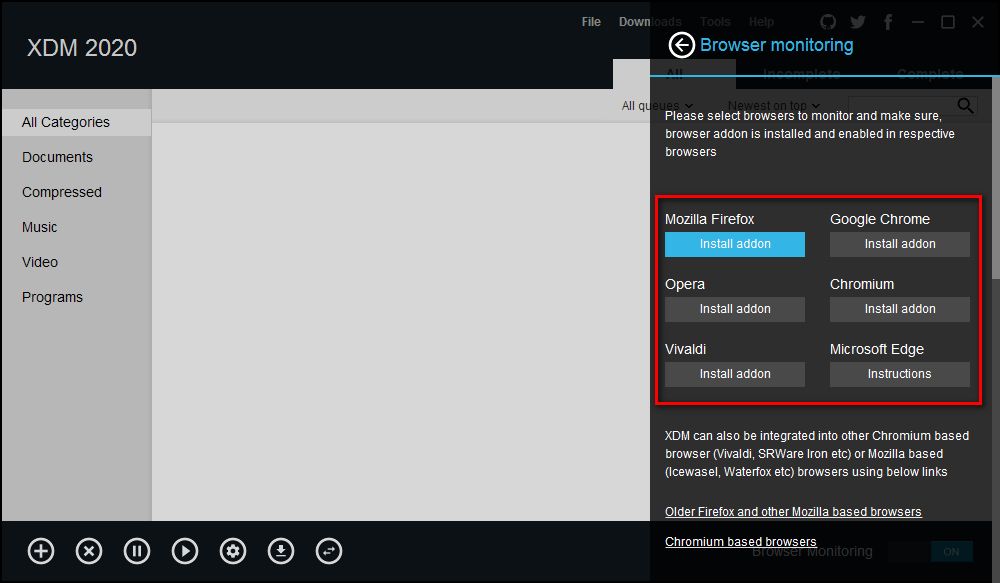 Step 2 - Capture M4uFree Content
Go to M4uFree and play a movie or TV show that you want to download, when it starts loading and buffering, the XDM Browser Monitor will prompt that there is a video available to download. Meanwhile, a transparent "DOWNLOAD VIDEO" button will appear in the bottom right corner of the webpage. Click on the add-on or download button, select the video stream, then a dialog box shows up that allows you to name the video and select a directory to save the downloaded file.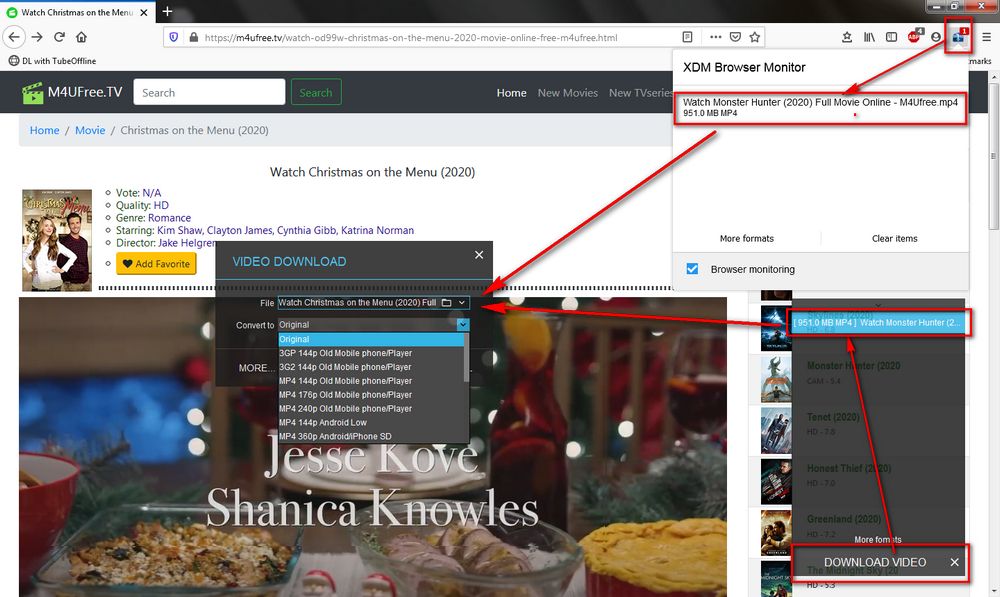 Step 3 - Download M4uFree Movies
In the drop-down list of "Convert to", in addition to the original video quality, you can even convert downloaded movie to MP4 and MP3 formats by means of the built-in Media Converter. Lastly, hit "DOWNLOAD NOW" button to start the process for M4uFree video download.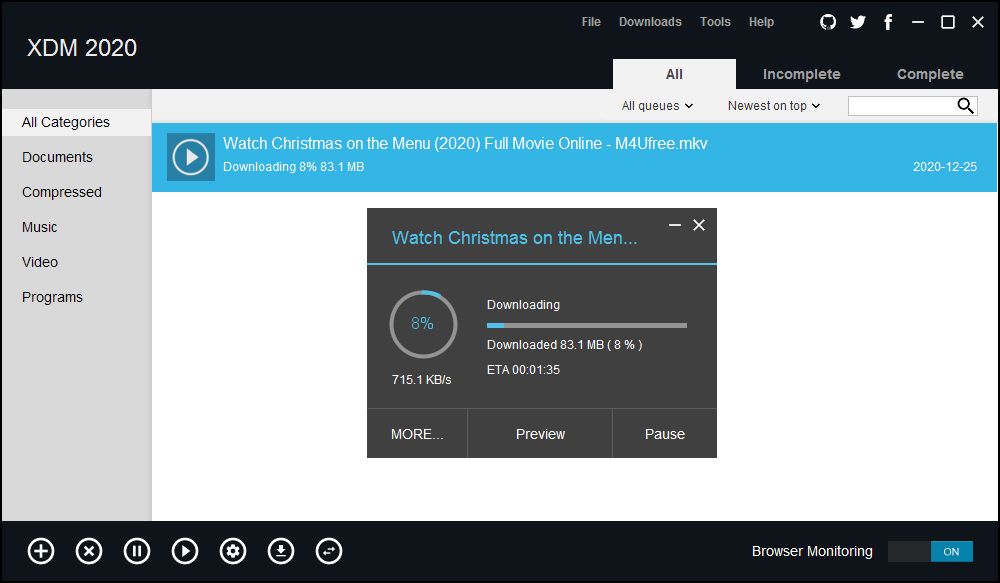 Part 2: M4uFree Movie Download Using Video DownloadHelper
Unlike XDM application, Video DownloadHelper is a completely acclaimed browser extension downloader available on Firefox, Chrome and Edge, which can help sniff and download M4uFree movies.
Step 1 - Install M4uFree Downloader Extension
Download and add the extension to your browser through http://www.downloadhelper.net/install, then you'll see a black-and-white three-balls icon appearing in the top right corner of the browser.

Step 2 - Download from M4uFree
Go to play a M4uFree movie or TV series as you wish, Video DownloadHelper will be highlighted as a colored 3-balls icon, which means there are detected videos to be downloaded. Click on the icon and select one option for M4uFree movie download. If it's the first time you use it, it will pop up a new window to confirm the download method. Simply mark the option "Use this method by default next time" and press "Use browser" button.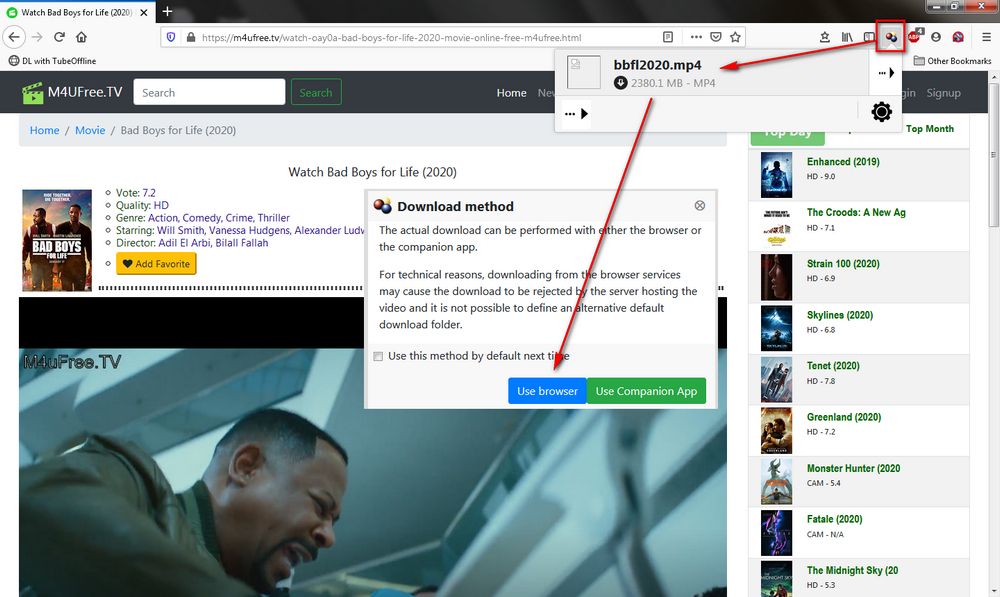 Note: Video DownloadHelper Companion App is required to installed when downloading streams using protocols HLS and DASH. So you're limited to only 1 download per 2 hours unless you purchase a Premium subscription.
Final Words...
Now you've figured out both of the free M4uFree video downloaders and the usage. Someone may ask if there is an online M4uFree video downloader without any program and add-on installed. Unfortunately, I've tested most of the online downloading services, but none of them worked for M4uFree movie download. But if you know a better solution, drop me a message via Facebook, and that would be greatly appreciated.