Why Do So Many Laptops No Longer Have a Built-in DVD Drive?
"How do I watch a DVD on my dell laptop without an optical drive", "How to play DVD on ASUS laptop that is newly release", "How to play DVD on laptop Windows 10"?  Many people are concerned with such questions since the DVD drive is gradually phasing out. This is reasonable though, for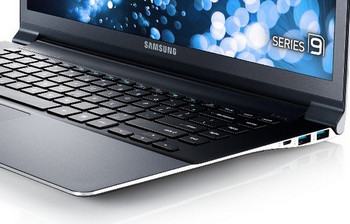 Can't play DVD on laptop?
1. People tend to watch online videos or download videos and movies directly from the Internet.
2. Leaving out optical DVD drive makes laptops easier to make and save quite a lot expense.
3. Digital files can be saved to USB drive which is a more portable way.
Here you can see having a laptop without a DVD drive is becoming a modern trend on market. But what if you are a DVD lover or a collector who really needs something to play DVDs but can't get DVD to play on laptop? Here I will introduce three methods to solve the problem of "DVD won't play on laptop".
3 Practical Methods on "How to Play DVD in Laptop without A DVD Drive"
Method 1 - Buy An External Drive
An external DVD drive is required if you need to play physical discs. If your laptop has no built-in optical drive or your "laptop not reading DVD", you need to buy an external drive and connect it to your laptop so that you can play the DVD discs. It has an obvious disadvantage - inconvenient to carry. But you won't need a DVD drive or DVD player any longer if you can manage to turn your DVD into digital form (you need to borrow a computer with DVD drive first). The next two methods will cover more details.
Method 2 - Turn to A DVD Ripper for Help
Another cheaper and more direct way to solve the problem is to copy your DVDs with a practical DVD ripping program. The first DVD converting tool you think of might be HandBrake. Honestly, HandBrake can rip DVDs at a relatively fast speed. However, if the DVDs are copyright protected, HandBrake can do nothing. Moreover, HandBrake only supports MP4, MKV, and WebM outputs after the update of 0.9.3 and people always meet problems like "no valid source found" using HandBrake. So, what else to choose?
If a trouble-free DVD ripping process is what you want, here I'd sincerely recommend WonderFox DVD Ripper Pro to help you with that. It is a perfect HandBrake alternative but without the HandBrake limitations. It supports to convert DVD to more than 500 formats and devices including MP4, MKV, AVI, iPhone, Android, TVs, etc. It is also capable of removing region codes and CSS from any protected DVDs. Disney DVDs can be easily copied along with those made by other movie publishers with the help of this amazing DVD ripper.
Laptop not playing DVD? Free download the best DVD ripper to extract DVD videos and save it into your hard drive for a successful playback!
How Can I play a DVD on My Laptop - within 3 Steps to Understand
Step 1. Load DVD Source
Firstly, find a computer with a DVD drive or a laptop with an external DVD drive and insert the DVD you want to copy. Next, run WonderFox DVD Ripper Pro and click on "DVD Disc" to select the DVD file you want to copy. Click "Ok" to start analysis. The program will load all the DVD videos into the ripping list with the main movie marked.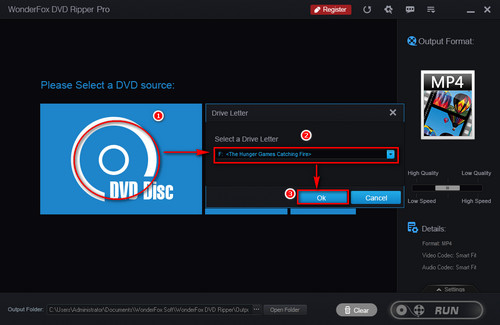 Begin to analyze a DVD
Step 2. Choose Output Format
On the right side of the program, you can go into the format option and choose the video format you want your DVD file to be converted to. MP4 and MKV should be the most common formats which are compatible with most players.
If you are an experienced user you can click "Settings" to customize the parameters, such as adding video frames to 60fps or increasing resolution and bit rate.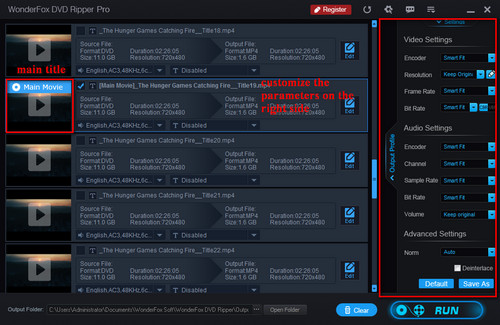 Customizing the video parameters
Step 3. Start Ripping
Remember to preset an output folder for your DVD video at the bottom of the interface. Finally, click Run to start the process. After a few seconds, a 10GB DVD (which can be compressed 10 times smaller in the course of conversion) can be completely copied to your PC and you can find the output video in the folder you preset before.
Now understand "how can I play a DVD on my laptop"?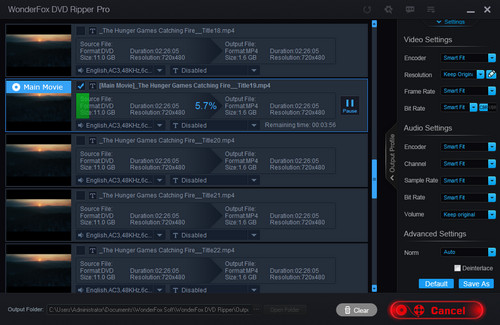 Begin ripping
Before using this software, please firstly learn whether it is legal or not to copy DVD in your country according to the local copyright protection items and laws and this software is not for commercial use. - Is it legal to rip DVD?
Method 3 - Upload DVD to Cloud Servers or USB Drive
Based on Method 2, after you have ripped your DVD, you can stream the video to any cloud servers. In this way, you can view the video using whatever devices you want, for example, streaming DVD videos to OneDrive. Also, you can stream DVD videos to streaming video players like Roku with a single USB flash drive or save DVD videos in NAS, and Plex.
Now, please download the DVD Ripper Pro to complete your jobs.
Main Features of WonderFox DVD Ripper Pro
It also works as an excellent digital player to play any kinds of DVDs
Rip encrypted DVDs for playback on devices such as PC, PS4, Android and iPad.
Reduce the size of DVD videos with more than 50% compression ratio.
Edit your video by clipping, cropping and adding special effect.
Preset video and audio parameter at your own will.
Convert your DVDs to hundreds of common formats and encoders