If you happen to meet a wrong region DVD during playing DVD movies on the computer, changing your computer DVD drive region code is a good practice. Yet most such devices can only be modified in limited times. Once the maximum limit is reached, the region code of the device will be the one you set up at the last time, for good. Also, here expound how to change DVD region code on Windows and Mac severally.
On Windows:  
Step 1. Head to "This PC" or "My Computer".
Step 2. Right-click on the target DVD drive, then select "Properties".
Step 3. Go to "Hardware", select the disk drive you want to change region code of, then hit "Properties".
Step 4. Click "DVD Region". Under this section, you're able to see the available modification times and the current region. Move the slider bar and choose the country that the DVD movie was purchased in, and the new region code will be displayed synchronously.
Tips. If you are not sure the region code number the DVD movie has, check out the back of the DVD package on which the region code is usually printed.
Step 5. Hit OK to save the modification and play the DVD again.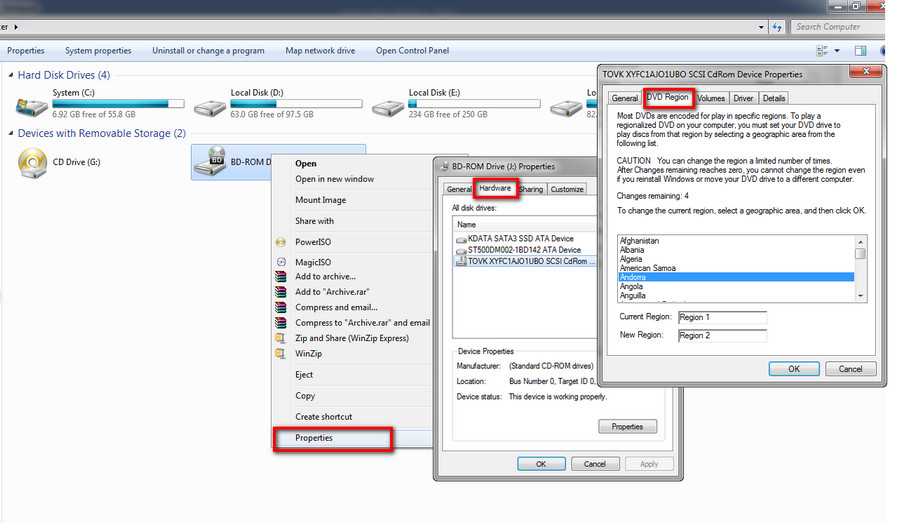 On Mac:
Step 1. Insert the DVD into the optional drive of your Mac. A dialog appears prompting you to choose a region code.
Step 2. Choose the region code matching with the DVD.
Step 3. Click "Set DVD Region" and "Lock" to save the change.