How to Convert WMA to iPhone 4
Microsoft and Apple are the leaders in their respective fields. But they choose to be mutually exclusive instead of being partner. As a result, we can't see WMA on iPhone 4, This is very inconvenient for users. Using iPhone 4 video converter to convetr WMA to iPhone 4 is the best solution.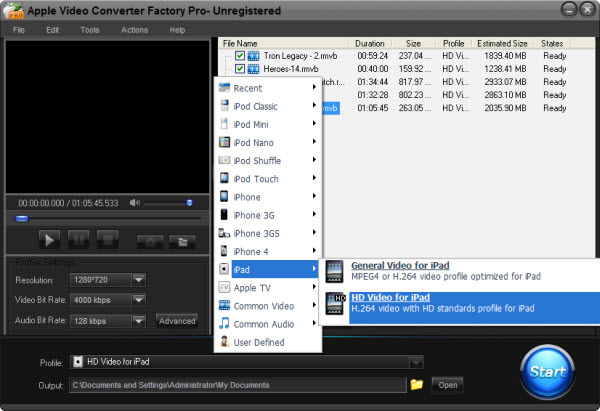 To Convert WMA to iPhone 4 - let Microsoft and Apple work closely together
What is WMA?
Windows Media Audio (WMA) is an audio data compression technology developed by Microsoft. The name can be used to refer to its audio file format or its audio codecs. It is a proprietary technology that forms part of the Windows Media framework. WMA consists of four distinct codecs. The original WMA codec, known simply as WMA, was conceived as a competitor to the popular MP3 and RealAudio codecs. WMA Pro, a newer and more advanced codec, supports multichannel and high resolution audio. A lossless codec, WMA Lossless, compresses audio data without loss of audio fidelity (the regular WMA format is not lossless). And WMA Voice, targeted at voice content, applies compression using a range of low bit rates. Next is the key to see WMA on iPhone 4.
How to convert WMA to iPhone 4?
Here how to convert WMA to iPhone 4 actually means two aspects, one is how to choose a good WMA to iPhone converter, and the other is the steps of converting WMA to iPhone. Here we will discuss them one by one.
First, How to choose a good iPhone 4 video converter: there are some factors that we should pay attention to when we choose this kind of video converter, such as whether it has good converting quality and fast converting speed, as a video converter, this is the basic function; Whether it has easy operation, nobody would like to spend plenty of time to research how to use it; Whether it has reasonable prices, you should choose the one that has powerful converting function but with reasonable price; Whether it has rich parameter settings, with this feature, you can define your video by setting the parameters to get more suitable videos for your iPhone 4.
Second: How to convert WMA to iPhone 4: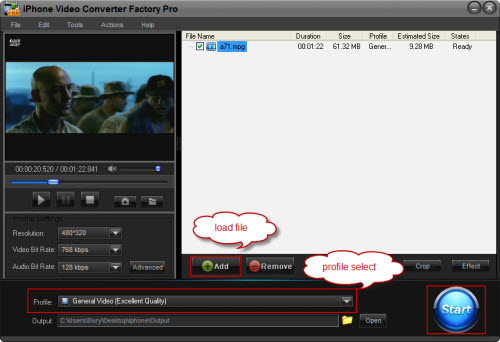 1. Download an iPhone Video Converter Factory Pro and learn how to use it
2. Add your WMA files that you want to convert video to your iPhone 4
3. Choose a output video format like MP4 that is suitable for your iPhone 4
4. Set the parameters of the video that you want to get
5. Click Start to convert!
6. Finish converting and enjoy your converted video on your iPhone.
Like what you see, with iPhone Video Converter Factory Pro, you can convert WMA to iPhone 4 within several simple steps.
Screenshot of Apple Video Converter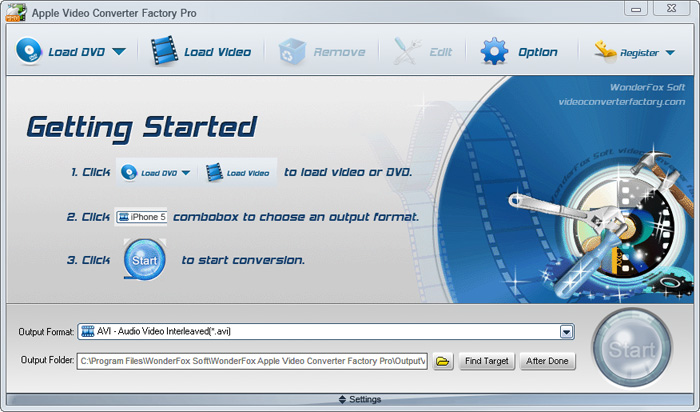 How to Convert Video to Other Apple Devices
If you have several different Apple devices and also want to enjoy videos on them without video and audio format limitation, the below tips or guides may be helpful to you.
If you want to convert iPod music to MP3 so that you can play your iPod music resources on your other MP3 players, it is necessary for you to know how to convert iPod music to MP3. Also, if you want to enjoy MKV videos on yur iPod, Apple Video Converter Factory Pro can help you easily convert MKV to iPod . This powerful video converter can easily help you convert video to iPod Touch 4, convert video to iPod Classic, convert AVI to iPod compatible videos, convert video to iPod Nano and so on. In a word, it can convert nearly all popular videos and audios to iPod series compatible videos and audios.
I hope the above tips and guides will be useful to you, and if you have any problems on using Apple Video Converter Factory Pro, please see the User Guide of this software for more details.