Convert MKV to iPod - Unmatched Enjoy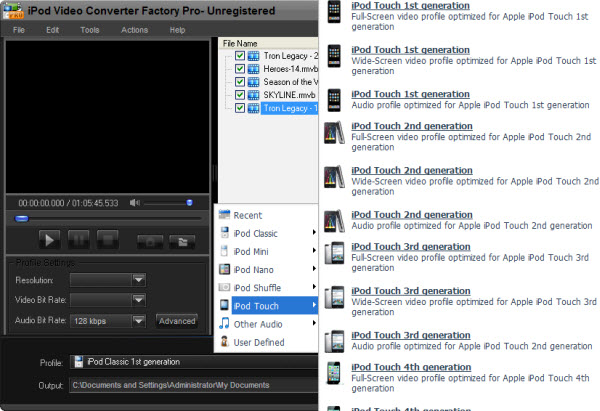 MKV is coming up on popularity and will no doubt become the dominant video container for HD videos. Great movies now see being increasingly delivered over the internet in MKV format. If you have an iPod - Touch/Nano/Classic, you can't watch the MKV video on your iPod player, that is a very regrettable thing. Why? Let me explain it step by step.
Why We Need iPod Video Converter?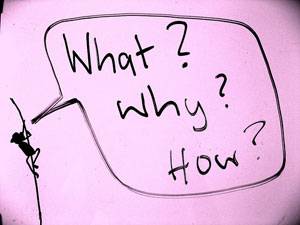 Recently I found on some websites that many people want to play MKV files on their iPod player, but they do not know how to convert MKV to iPod or a proper solution. For example, one person asked, 'I have some MKV videos which I want to get them on my iPod. But when I import MKV to iTunes, it says the files can't be copied to iPod, is there any way that can let me watch my MKV movie on my ipod?' And many persons also have similar questions. In fact, the movies you purchased from iTune store can be gotten on iPod easily. But iPod only support MP4 format video, so if you want to play MKV files on iPod, it's necessary to convert MKV to iPod compatible files with third-party conversion software in order to play it successfully on iPod devices.
How to Choose a Good Video Converter to Convert MKV to iPod?
A good video converter is defaulted to the most common settings, but powerful enough to customize. The interface should be intuitive and user-friendly.
According to my experience, here are 4 tips you can follow:
Input Files - Good video converter has maximum compatibility and could convert a wide variety of input files. The more video and audio formats the video converter can convert, the more powerful the video converter is.
Features - The good video converter includes the ability to adjust multiple advanced options including video resolutions, bitrates and framerates. Most features are reserved for advanced users, but they should be readily available and easy to find.
Ease to Use - Friendly and intuitive interface. Tool bars, buttons and menus should be clearly labeled and self explanatory.
Price - High quality converters combine lots of functions and modes that will get your money's worth in less than no time!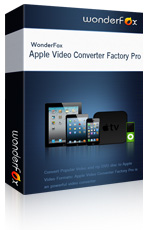 Here I recommend the iPod Video Converter Factory Pro. The iPod video conversion software is totally meet the above 4 tips. It is a perfect and smart MKV iPod converter; convert MKV to iPod format is so easy and it is armed with a user-friendly interface and fast speed, it makes convert MKV to iPod routine quite simple. The iPod Video Converter also can convert most regular video files including AVI, MP4, DAT, MPG, MPEG, H.264and so on. Besides, it can convert high definition video to iPod, and the supported iPod family include iPod / iPod Touch / iPod Touch2 / iPod Touch 3 / iPod Touch 4 / iPod nano 5 / iPod nano 6 / (iPod Nano Chromatic)/ iPod Classic, iPod shuffle, iPod shuffle 4GB, etc. What's more important, compare with the converting function are the editing and the effect. It allows users to add some originality to the videos.
Just $19.95 you can get the perfect iPod video conversion software.
Screenshot of iPod Video Converter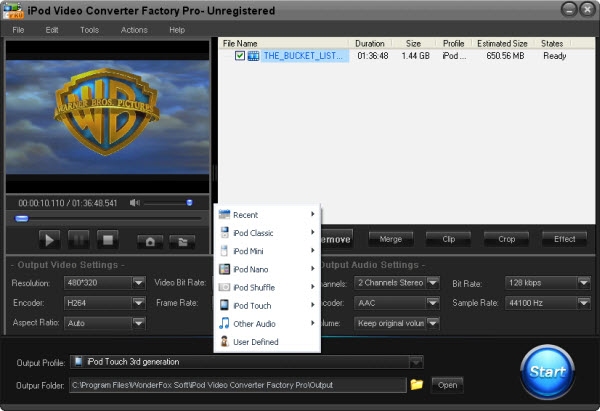 More Tips and Guides about Your iPod
If you want to enjoy more kinds of videos and audios on your iPod without format limitation, the below passage will be very useful to you. These tips and guides include convert video to iPod series and convert audio files to your iPod compatible audio files.
If you want to convert iPod music to MP3 so that you can play your iPod music resources on your other MP3 players, it is necessary for you to know how to convert iPod music to MP3. Also, if you want to enjoy MKV videos on yur iPod, iPod Video Converter Factory Pro can help you easily convert MKV to iPod . This powerful video converter can easily help you convert video to iPod Touch 4 if you have a iPod Touch 4; convert video to iPod Classic if you have a iPod Classic, convert AVI to iPod compatible videos and convert video to iPod Nano , etc. In a word, it can convert nearly all popular videos and audios to iPod series compatible videos and audios.
What's better, with iPod Video Converter Factory Pro, you can convert video and audio to you iPod series with optimized presets, that is, you do not have to figure out what the right video format, audio format, ecoder, bit rate or encoder are for your iPod series like iPod Touch 4, just simply select your corresponding device icon from the output profile. For more information about how to use iPod Video Converter Factory Pro, please see the User Guide of this software.