How to Convert Video to iPod Video Format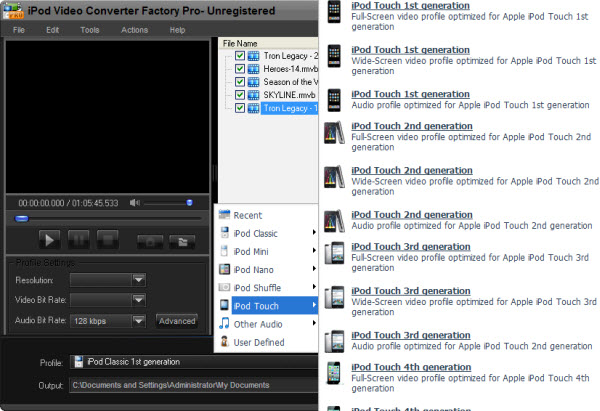 Why We Need Convert Video to iPod Video Format
If you own an iPod device, you probably want to be able to put some of your favorite movies on it and watch them wherever you go.
In order to put movies on your iPod, you will first have to get them into iPod Video format, which is the MPEG-4 Video Format. You cannot simply drag and drop video onto your iPod through iTunes; it doesn't work that way, although things will be much easier if you could. However you will be amazed at how easy it is to actually put a video on your iPod, and once you have the proper tools convert video to iPod video format will become a walk in the park.
So in order to convert video to iPod Video Format, you are going to need some sort of converter software. Most of the software offers free download so you can start putting video onto your iPod today! Now when looking for converter software, you have two routes to take, you can take the technical computer geek route, or the simple user friendly, "clicking a few buttons to get the conversion done", route.
Apparently, the simple route is the way that most people will take. These user-friendly programs are specifically designed to help you convert video to iPod video format, and it can all be done by clicking a few buttons.
Free iPod Video Converter Factory is just like that! Free iPod Video Converter Factory is the professional video converter just for iPod video converting; it supports to convert all popular video formats (AVI, FLV, MPEG, WMV, VOB, MKV, etc) to iPod video. Free iPod Video Converter Factory is easy to use. Even the software is free, it still allows users to convert videos in batches, and this may facilitate users a lot. It also supports to extract audio files from videos, and free to update for lifetime is the highlight. Then about how to convert video to iPod, all you need is do as follows:
Step1: Import video: Launch Free iPod Video Converter Factory, Click "Add" button to import video(s), click "Remove" button to delete video. > Step2: Choose an output format: 1. Click "Profile" combo box to choose an output format;2. Common profile settings, in most cases, we provide multi-options for each setting; 3. More advanced settings. > Step3: choose an output folder: Click the "folder" button in output setting area, select an output folder in the dialog box that opens, and then click "OK". > Step4: Converting. > After finishing the above settings, check the files needed to convert in the file list, and click "Start" button on the main interface, to start converting the movie. (You can choose whether to display the preview. You can pause/resume the converting at anytime. You can click "Background" button to set the interface minimize to taskbar.)
Tips: 1. Upgrade to iPod Video Converter Factory Pro by click "Upgrade" button. Upgrade within the program, do not need to download and reinstall. 2. Easy share the program to your friends by click "Tell Your Friends" button. Are you an Apple fans? Are you a movie fans? If your answer is "Yes", then download it. Convert video to iPod video format can be so easy with Free iPod Video Converter Factory! Action!
Screenshot of Free iPod Video Converter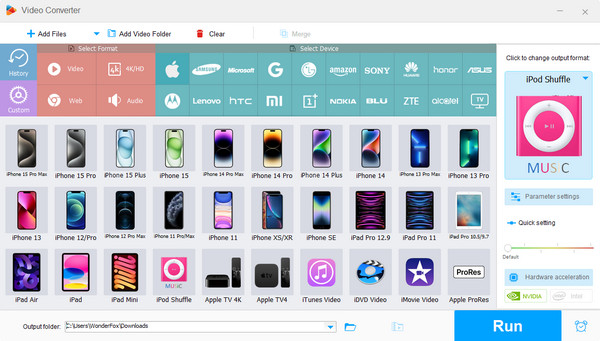 More Tips and Guides about Your iPod
If you want to enjoy more kinds of videos and audios on your iPod without format limitation, the below passage will be very useful to you. These tips and guides include convert video to iPod series and convert audio files to your iPod compatible audio files.
If you want to convert iPod music to MP3 so that you can play your iPod music resources on your other MP3 players, it is necessary for you to know how to convert iPod music to MP3. Also, if you want to enjoy MKV videos on yur iPod, iPod Video Converter Factory Pro can help you easily convert MKV to iPod . This powerful video converter can easily help you convert video to iPod Touch 4 if you have a iPod Touch 4; convert video to iPod Classic if you have a iPod Classic, convert AVI to iPod compatible videos and convert video to iPod Nano , etc. In a word, it can convert nearly all popular videos and audios to iPod series compatible videos and audios.
What's better, with iPod Video Converter Factory Pro, you can convert video and audio to you iPod series with optimized presets, that is, you do not have to figure out what the right video format, audio format, ecoder, bit rate or encoder are for your iPod series like iPod Touch 4, just simply select your corresponding device icon from the output profile. For more information about how to use iPod Video Converter Factory Pro, please see the User Guide of this software.