AV1 Video Hasn't Been Widely Popularized Yet
To be honest, I'm not really privy to much of those advanced technical jargon and incomprehensible concepts. In a nutshell, AV1 (AOMedia Video 1) is an open, royalty-free video codec primarily designed for accelerating video transmission and delivery over the Internet. Generally speaking, compared with the well-known H.264, HEVC, VP8 or VP9, AV1 can deliver ultra-high-quality video with smaller file size and lower bandwidth consumption.
Despite the fact that more and more content providers, browsers and software are gradually adding support for AV1 video decoding, there's still a long way to popularize around the world. It's very common to see some error message like "0xc00d5212", "Codec not supported", "cannot decode av01 format" and so forth. To fix this, let's delve more into AV1 codec download for Windows 10/11 in the next part.
Solution 1 - Install AV1 Video Extension Windows 10/11
Actually, Microsoft had officially released a free AV1 video codec for Windows 10/11 which extends the capacity to play AV1-encoded video content as early as 2018. If you haven't figured it out yet, follow the steps below for AV1 video extension Windows 10/11 download.
Step 1. Simply open this webpage: https://www.microsoft.com/en-us/p/av1-video-extension/9mvzqvxjbq9v on your browser, and click "Get" button.
Step 2. If prompted, click the "Open Microsoft Store" button to open Microsoft Store app, press "Get" button again. Alternatively, you can directly open Microsoft Store app and search for "AV1 Video Extension".
Note: It requires Windows 10 version 17763.0 or higher to proceed.
Step 3. After that, Microsoft Store will download AV1 codec for Windows 10/11 and install it automatically.
Step 4. Finally, reboot Windows if necessary. Then you're supposed to smoothly play AV1-encoded videos in the native Movies & TV app or Windows Media Player or Windows 11 Media Player.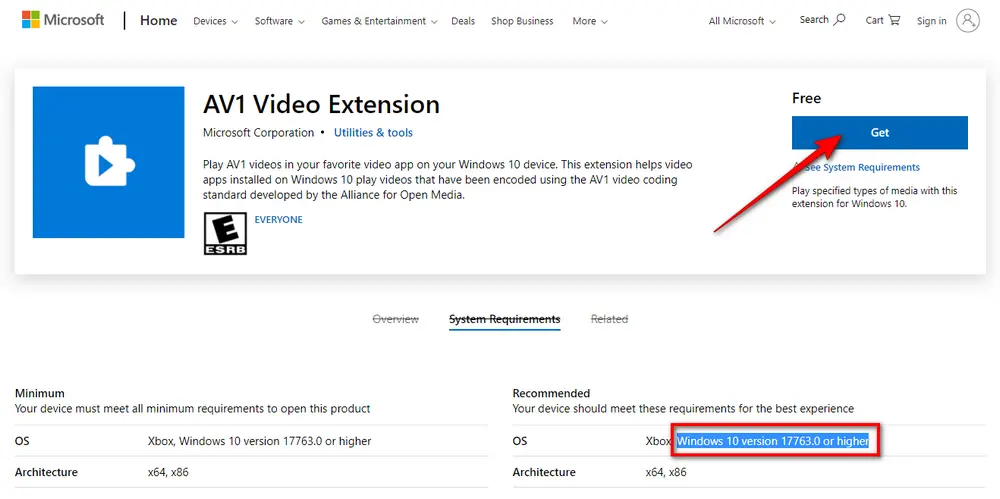 Solution 2 - Install K-Lite Codec Pack on Windows 10/11
If you're always keen on Windows 10/11 old versions, K-Lite Codec Pack would be a decent choice, which is a popular codec pack that is well-known for its rich collection of the majority of audio and video codecs. It provides a simple fix to most video/audio decoding issues, and is well-liked by novice users. Here's the walkthrough for AV1 codec download and installation.
Step 1. Open the official download webpage https://codecguide.com/download_kl.htm from your browser.
Step 2. The download page offers 4 versions for your choice. If there is no special requirement, the Basic version is totally enough for the majority of people.
Step 3. The packs include both 32-bit and 64-bit codecs that work great on Windows Vista/7/8/8.1/10/11. Once you've downloaded the .exe file, run the installer and follow the instructions to install AV1 codec for Windows 10/11. Now you're able to enjoy AV1 videos normally.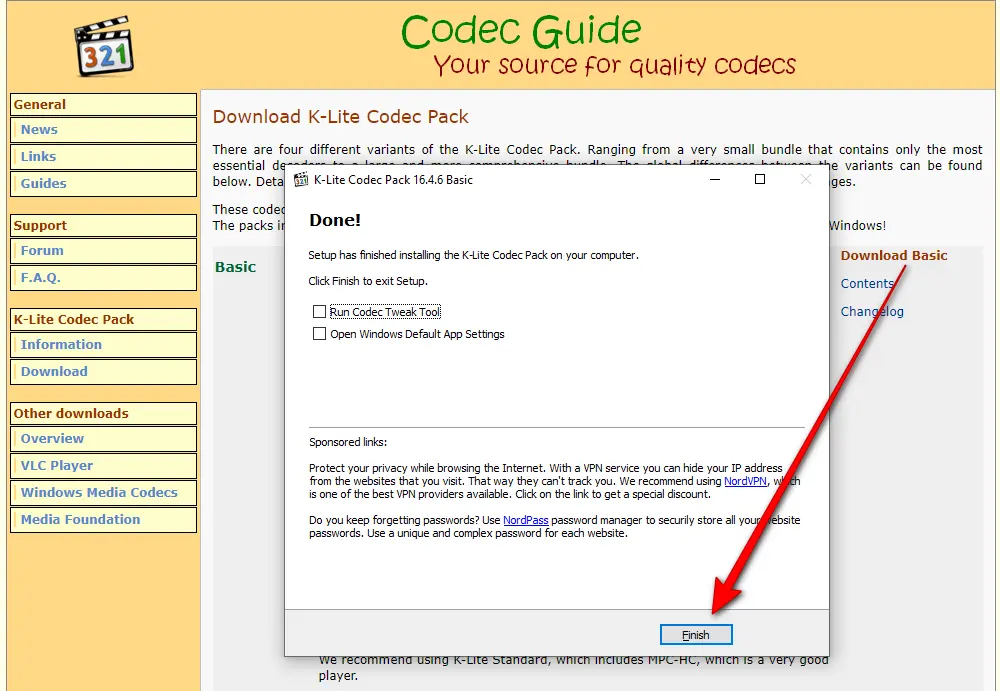 Bonus: How to Convert AV1 Videos to Common Formats?
With the two solutions above, it should be all right to decode AV1 videos on Windows 10/11 without downloading AV1 players. But it doesn't mean those videos will successfully play on other systems, platforms or devices. Undeniably, H.264 is still the industry standard with the best compatibility at the present stage. It's a good option to convert AV1 to H.264 or other common formats for convenient playback.
Therefore, a user-friendly AV1 video converter is more helpful for video transcoding. HD Video Converter Factory Pro is a top-ranking application for simple video processing. With its intuitive GUI and perspicuous layout, you're able to convert AV1 to H.264, MP4, AVI, MKV, etc. without a hitch. Download itDownload it below and check out the how-to guide.
Step 1. Run HD Video Converter Factory Pro and open "Converter".
Step 2. Drag and drop AV1-encoded video files into the program.
Step 3. Select H.264, H.265, VP9 or any other profile on the right side.
Step 4. Specify an output folder on the bottom, lastly, click "Run" button to convert AV1 to your familiar format.
Also Read: AV1 VS HEVC | YouTube AV1 Video | VP9 VS H.265 | H.265 VS H.264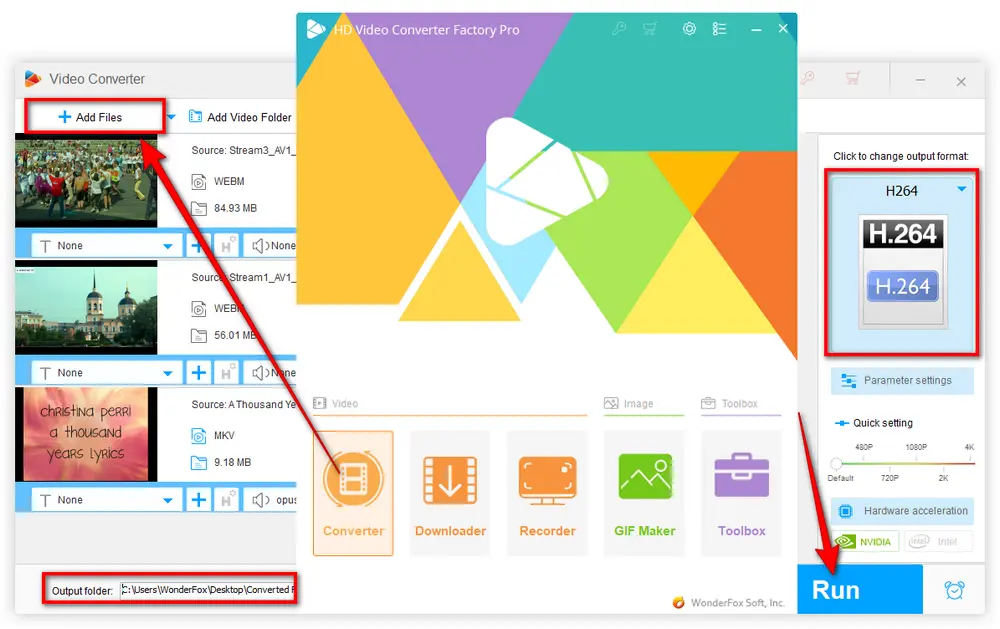 Final Words...
Now you've figured out the solutions to AV1 codec download for Windows 10/11. After that, you're free to play AV1 videos on Windows without difficulty. AV1 is definitely setting a cutting-edge and new standard for video compression and delivery over the web in the near future. By then, all service would provide the native support for AV1 video decoding. We are looking forward to that day!