VP9 VS H.265
H.265
H.265 is the abbreviation of High Efficiency Video Coding, a.k.a HEVC, the successor to H.264. It's a new video compression standard designed by VCEG and MPEG which has significant advantages over the predecessor, like improved video quality and a higher compression ratio. H.265 is widely used in all name brand 4K TVs, all VOD media players, etc.
VP9
Unlike H.265, the VP9 is an open source and royalty free video coding format developed by Google. The VP9 can reduce bit rate to 50% compared to WebM VP8 video and maintain the original quality at the same time. It owns high efficient video compression capability. The VP9 is mainly used for compressing HD and ultra HD content on YouTube in half the bandwidth to offer an easier transmission for users. In addition to the Google browser, Firefox and Opera have added the VP9 codec as well.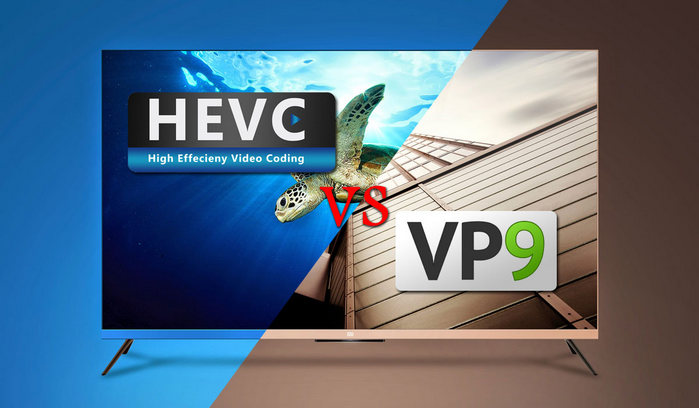 VP9 vs H.265
How Does VP9 and H.265 Work
The interesting thing about VP9 H.265 is that while the 4k video makes individual pixels smaller to increase picture quality, the H.265 and VP9 are making them bigger than normal pixels to reduce bit rate.
H.265 can process macroblocks of pixels, like 64×64, 16×16 or 4×4; they will be compressed as a single unit. Then a series computational processing will be performed and these macroblocks will be rebuilt into the same original image again.
VP9 is similar in certain aspects. It can also take 64x64 macroblocks, the difference is VP9 don't treat them squarely, it can sample 64×32 or 4×8 blocks for greater efficiency.
According to third parties researches, VP9 is very helpful in streaming videos and owns many customers than H.265. VP9 is widely applied to YouTube and will account for the main part of YouTube videos.
Besides, having been applied to Google in its 4K video streaming, VP9 is also supported by a wide range of major TV, like LG, Sony, Samsung, Toshiba and even GPU/processor manufacturers like Intel and Nvidia.
That's why more and more people are getting used to this format and they need a VP9 encoder to encode other video to it. If there's no VP9 encoder installed, how to convert video to VP9 if we need to upload video to YouTube?
How to Change Video to WebM VP9
You need a professional VP9 codec converter to convert your own videos to high quality VP9 video fast and safe. So here's the ultimate VP9 converter - HD Video Converter Factory Pro, it's integrated with VP9 encoder and H.265, can deal with all kinds of requirements for HD video.
Before this whole VP9 coding process, you can download and install this VP9 video converter first and open it.

HD Video Converter Factory Pro
The best HD video converter to deal with VP9 video, it can help you convert video to VP9 format or other way around without any quality loss. Learn more >
Convert to VP9 Video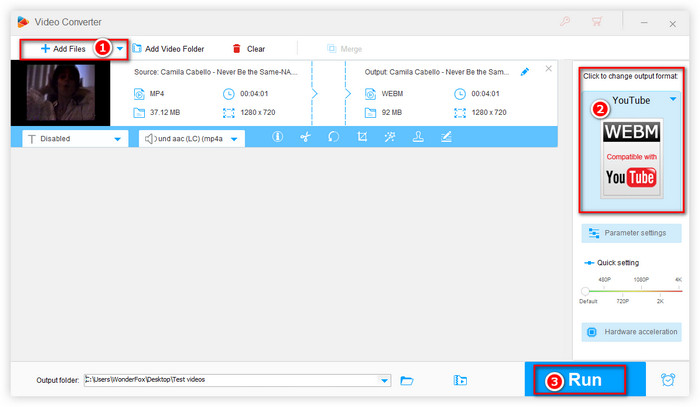 Three steps needed
Note: This VP9 converter can help you edit your VP9 videos before converting them losslessly, like cutting video, cropping video based on your own needs.
1 Pick Converter on the main interface and add files to this tool, you can import many videos.
2 Choose output format as VP9 video in the "Video" category.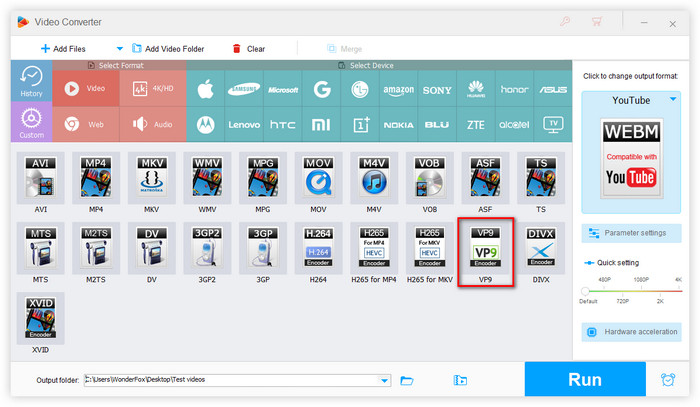 Multiple output choices for users
3 Start conversion by clicking "Run", you can convert several videos in batch mode.
This VP9 encoder can also help you personalize your video parameters, click "Parameter settings" to open a new window as shown below, you can change video aspect ratio, video resolution and volume easily. The slider above the "Parameter settings" option enables you to adjust video resolution too. With the video downloading features, you can use this tool to get uhd video from YouTube just in few minutes.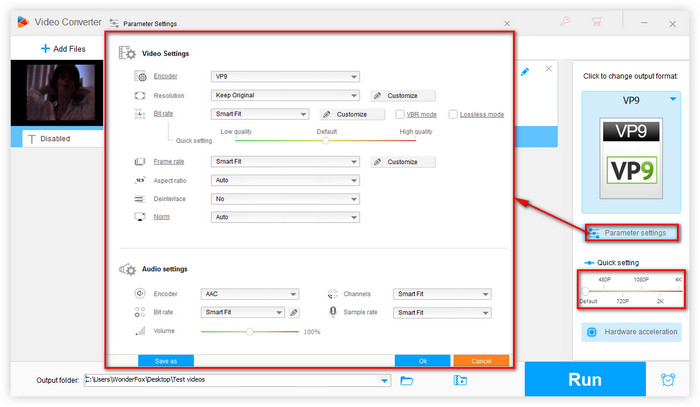 User friendly tip
Note: It also can help you deal with other WebM video like html 5 video.
How to Change WebM VP9 to Other Video Format
Except for changing commonly used video format to WebM VP9, we also need tochange VP9 video formatto other video format as well. Then problems like media player or portable devices can't import or open VP9 video will be solved. And when you type keywords like "VP9 mp4" in Google, want to find a free video converting tool, you might consider some famous tools, like Handbrake, but it has failed a lot of times, that's why you can try the HD Video Converter Factory Pro, the best Handbrake VP9 alternative application to help you out. The conversion operation is the same as mentioned before.

Congrats, problem solved now! Why not keep the full-licensed program for
LIFETIME
at lowest price of the year now!
Still got question? Submit it to us and get answer within 24 hours.