Does Windows 10 Have HEVC Codec?
Windows 10 originally gave support for HEVC codec by default but since the Windows 10 Fall Creators Update for new installations, Microsoft doesn't include it on the operating system anymore. When it comes to Microsoft Store apps like Movie & TV and Netflix 4K that utilize the system decoder functionality, you may run into a playback failure. The good side is, Microsoft provides specific HEVC codec extensions pack at the same time, which enables you to still use system apps to deal with HEVC files. The following shows how you can find and get the HEVC codec for Windows 10.
To know more information about what HEVC is and how it works, please check out this post: Best HEVC Converter>>

Install the HEVC Codec Extension from Microsoft Store
1. Install HEVC Video Extensions ($0.99)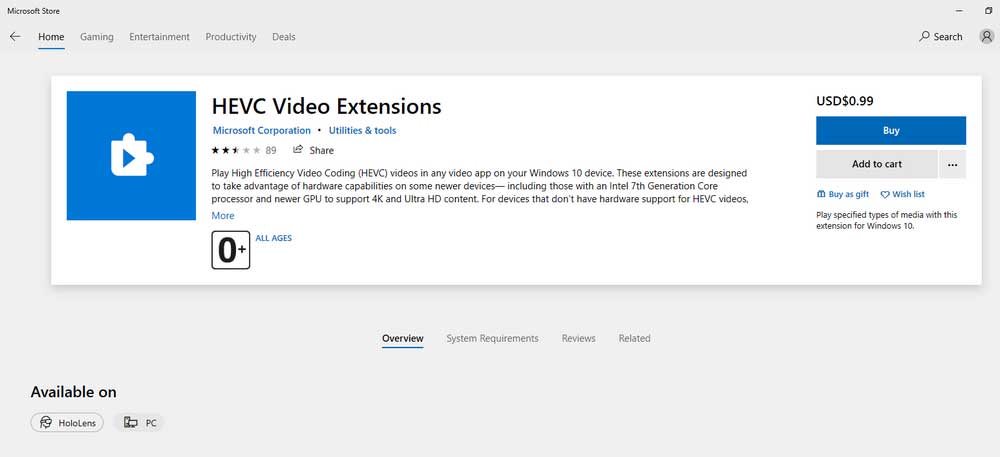 There is an HEVC Video Extensions package on Microsoft Store, for decoding HEVC files directly. Just type in the package name into the search box on Microsoft Store to locate and download it. But this H.265 codec Windows 10 package costs $0.99. To be frankly, the same as the case that Windows 10 users need to buy Windows DVD Player with $14.99 for playing DVDs on Windows 10, few people feel it worthwhile to pay for a once-free feature. Is there any way for HEVC codec Windows 10 free download? It's for sure!
2. Install HEVC Video Extensions from Device Manufacturer (Free)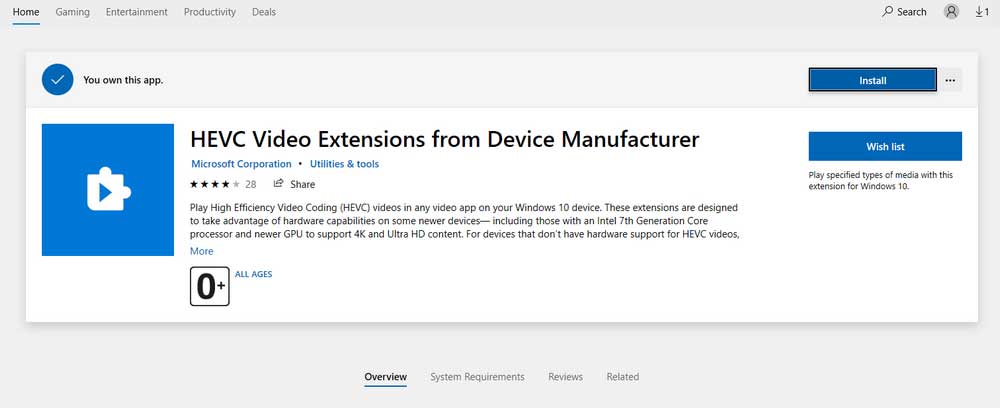 Here is the free version that is exactly the same as the HEVC Video Extensions package above. As the name implies, HEVC Video Extensions from Device Manufacturer seems to be primarily for pre-installation aims for device manufacturers before they ship their products. But it functions pretty well for recognizing HEVC content, and it's completely free.
Click to access the free version: HEVC Video Extensions from Device Manufacturer
On the detailed information page, click on Get and it will direct you to Microsoft Store on which you're able to install the package.
After the installation, test your HEVC files to see whether the HEVC codec Windows 10 playback issue goes away. If the installation is done properly, you should be able to play HEVC files now.
Tips
A right HEVC decoder is necessary to play and stream HEVC content. At the same time, hardware configuration also plays an important role in displaying varied effects, especially for 4K H.265(HEVC) playback. In short, your computer should be equipped with 7th Generation Intel Core i7 Intel (Kaby Lake) processor equivalent and NVIDIA GeForce GTX 1050 equivalent at least to deliver high-quality playback performance.