Rip and Backup DVD The Lone Ranger, Another Big-budget Film with Johnny Depp
The Lone Ranger DVD Release Date: Nov, 2013
The Lone Ranger first appeared in a radio show in the nineteen thirties, and later was adapted to novel, film, comic and other forms. The main character of The Lone Ranger is a masked ex-Texas Ranger who, with his Indian friend Tonto, fights injustice in the American Old West. In 2013, The Lone Ranger with a revised storyline and new casts Armie Hammer as The Lone Ranger and Johnny Depp as Tonto, has been released by Walt Disney Pictures and Jerry Bruckheimer Films.
Hot DVDs: The Croods, The Frozen Ground, World War Z
Directed by Gore Verbinski, the famed masked hero – Lone Longer is brought to life through a thrilling adventure infused with action and humor. The story centers on the fight between Texas Rangers and a gang of outlaws led by Butch Cavendish. The Rangers cannot stand the outrage of the gang so they chase after them, wishing to bring them to justice but at last have been killed in a brutal way. One survivor is found by an American Indian Tonto (Johnny Depp), who nurses him back to health. The surviving Ranger, wearing a mask named Silver (Armie Hammer), teams up with Tonto to take the fight with the gang.
Production with an estimated budget of $225 million makes The Lone Ranger a really big-budget film. However, it received negatively by American critics and performance at the box office was not as good as expected. However, there are still some people loves it. As for me, even though it is overlong, noisy and boring at some point, I think it is an undercooked would-be blockbuster you will see this year especially for the big fans of Depp. Performance of Johnny Depp and Armie Hammer, impressive location work and exciting action senses make it enjoyable in some ways. But for those who look forward to new breakthrough of Johnny Depp, the similar role stereotype like Captain Jack might disappoint you. In conclusion, The Lone Ranger is still a tolerable and entertaining Western adventure. The typical summer movie you want to see to spend a good time.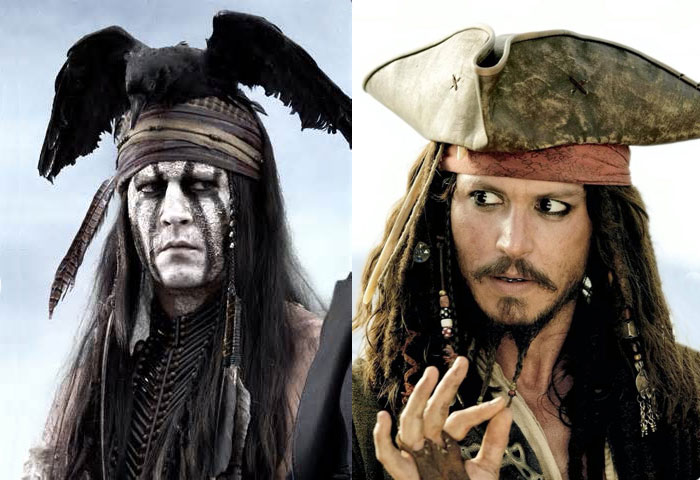 Backup The Lone Ranger to Have a Nice Movie Time
The Lone Ranger is a movie you would like to add to movie collection of Johnny Depp. If you already have DVD The Lone Ranger, how to store it for a long term without worrying about scratches and damage of DVD would be the first thing you need to resolve. The best way is to rip and backup The Lone Ranger to your hard drive and then it would be extremely easy for you to collect it and share it with your friends. Here we introduce you a good program to do this task – WonderFox DVD Video Converter, is a very powerful program that enables you to rip and backup this DVD movie in your hard drive regardless of any DVD copy protection. What's more, it can help you to convert any DVD to the video format optimized for portable devices you need so that you can enjoy this DVD movie on the go freely. Now let's start to learn how to backup DVD The Lone Ranger step by step.

How to Rip and Backup DVD The Lone Ranger with Ease
Step 1 Insert DVD and Import It to Program
Download and Launch WonderFox DVD Video Converter, and then click "Load DVD" to import DVD you need on the main interface. This program will detect the right title and basic information of this DVD automatically.
Step 2 Select Output Format and Device
Select the output format or device you want for output. More than 150 video formats are provided for you. After that, you can specify output folder if need or just keep original.
Step 3 Start Processing
At last, press "Run" button to start ripping the encrypted DVD The Lone Ranger to your PC. When the conversion is done, you can share your DVD video with your friends and play DVD The Lone Ranger on iPhone, iPad and other portable devices you have.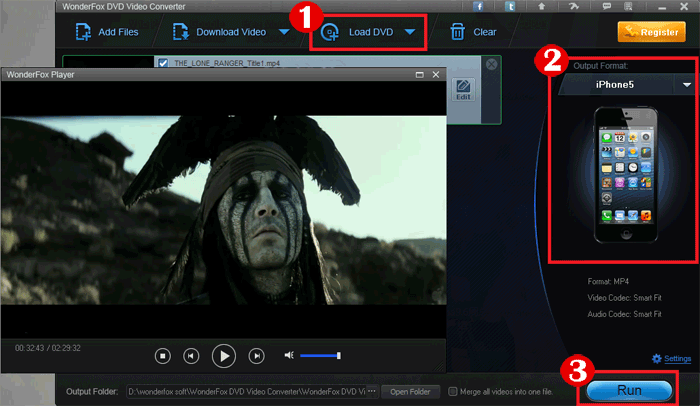 Learn more about WonderFox DVD Video Converter via online tutorial>>
More about WonderFox DVD Video Converter