Brief Comment for New DVD Release - Parker
Parker is a 2013 American crime thriller film directed by Taylor Hackford. Starring Jason Statham and Jennifer Lopez, the film is based on the 19th Parker novel, Flashfire written by Donald Westlake. It's DVD and Blu-ray Disc had been released in this May.
The film revolves around professional thief Parker (Statham), who has an unusual code. He doesn't steal from the poor and hurt innocent people. He is asked to join 4 other guys one of whom is related to a known mobster. They pull off the job flawlessly and Parker wants to part ways with them. But he is double-crossed by his crew. They try to kill him. Thus, He sets out to get his revenge, travelling to Palm Beach, where he enlists the help of Leslie (Lopez). Assuming a new disguise, he looks to hijack the score of the crew's latest heist. As the story develops, Leslie falls for Parker, who remains faithful to his longtime girlfriend Claire (Emma Booth).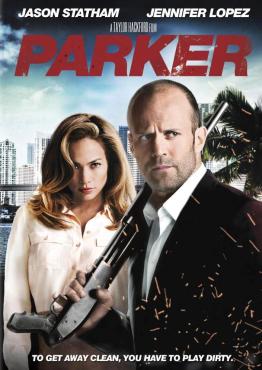 Before the release of Parker, it cannot be overstated that this movie could be one of the best movies at the beginning of 2013. Attractive casts (Jason Statham and Jennifer Lopez), top notch cinematography, smart plot (adapted from Flashfire) and realistic action, all of these are seemingly indispensable factors to make a Hollywood blockbuster. Plus splendid cutting in its trailer rekindled enthusiasm of many action junkies.
However, after watching the whole movie, you would feel like many critics said, "a poor adaptation of the book, and typical of Statham's sub-par action films of the past few years". "Undead actor" has been commonly seen in Hollywood. The role of Statham in Parker takes this routine to new extreme. He is alive after having been double-crossed and he is alive after he gets shot. He is still alive under surprise attack. All of those against Parker were dead and all of these who assistant Parker got a happy ending at last.
Parker received mixed to negative reviews from film critics. Metacritic gave the film a score of 46 out of 100 based on 21 reviews from mainstream critics. Based on 93 reviews sampled by another review aggregator, Rotten Tomatoes, the film has a "Rotten" rating from critics, with 41% positive reviews and an average rating of 4.8/10.
Thanks to director, Parker still owns some strong points. Audience could pay more attention to the characters Jason Statham and Jennifer Lopez played because the plot has been simplified, finding "Statham appropriate and well-fitted for the role of Parker (Statham turns out to be a good choice to play the taciturn thief) and praising the work of Lopez as providing comedic relief".
Most people called this film a bore, yet it is also worth watching if you are a big fan of Jason Statham or Jennifer Lopez, if you like direct, brutal and invigorating action senses, even if you just madly cling to luxury castle and limousine.