New DVD Release: 56 Up and The House I Live In
Among a great deal of DVDs released last week, two documentary films: 56 Up and The House I live In, which have been remarked as the great works in our time, are movies you must see. Now let's have a quick look about these two movies.
56 Up is the latest installment of the Up Series, a great series of documentary films produced by Granada Television. Starting in 1964 with Seven Up, the lives of fourteen selected children from Britain have been checked in every seven years and so far the documentary has had eight episodes spanning 49 years.
The original concept, just as the note stated at the beginning of 7 Up, was to represent the range of socio-economic backgrounds in Britain at that time, with the explicit assumption that each child's social class predetermines their future: "Why do we bring these children together? Because we want to get a glimpse of England in the year 2000, the shop steward and the executive of the year 2000 are now seven years old." Although it began as a political documentary, the series has become a film of human nature and existentialism.
This latest installment of the Up Series more feels like a retrospective and summation of the whole series, with ample quotation from the previous films, which gives you the wonderful feeling of seeing the child-like wonderment giving way to harsh reality in most of the children and the passage of time when they get older. When you watch the Up Series you are also watching yourself in a way.
Undoubtedly, the series has received high praise over the years. It is one of the great documentary projects in the history of cinema and also an engrossing sociological experiment on film. Released on July 2nd, 2013, 56 Up is a movie you should not miss.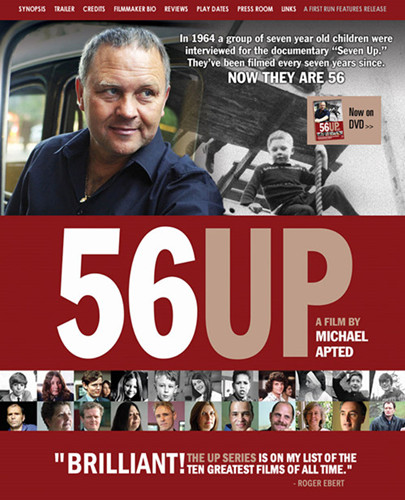 The House I Live In, directed by Eugene Jarecki, is a 2012 documentary film about War on Drugs in the United States. "This documentary explored the risks that prohibition poses to freedom and the tragedy of addicts being treated as criminals. In the four decades since the War on Drugs commenced, over 45 millions of addicts have been arrested - and for each one jailed, another family is destroyed. Meanwhile, the prisons in America are growing overcrowded with non-violent criminals, and illegal drugs are still being sold in schoolyards. By examining just where it all went wrong, Jarecki reveals that a solution is possible if we can just find it in ourselves to be compassionate, and see past the decades of paranoia and propaganda."
Jarecki takes a highly original approach to create a compelling, thought-provoking look at a highly relevant and controversial topic, leaving it to us to decide what to make of it. But it is clearly reflected from movie that all our efforts and investments in fighting the War on Drugs haven't yielded any real success, only ruined lives, families and communities. There comes a point in any war where it becomes important to ask: Is it worth it?
The House I Live In has been remarked as "2012's best documentary and the most important drug war film you'll ever see". DVD released on July 2nd, 2013, The House I Live In will blow your mind.