Solution 1: Free Desktop WMV to WebM Converter
Free HD Video Converter Factory is a user-friendly free utility primarily dedicated to simplifying the video processing and editing. Compared with other video transcoders, it's would be the best choice for green hands. Without suffering from esoteric command lines and complicated interface, WMV to WebM conversion is just a cinch.
Step 1. Launch Free HD Video Converter Factory and open "Converter".
Step 2. Drag and drop WMV files into the interface. All files will be listed right there.
Step 3. Click on the format profile on the right side to open the full list of 500+ optimized presets. Select "WebM" profile under "Web" category.
Step 4. Specify a destination folder on the bottom and hit "Run" button to convert WMV to WebM.
Also Read: Convert WebM to WMV | Convert MKV to WebM | Convert MP4 to WebM | WebM Video Converter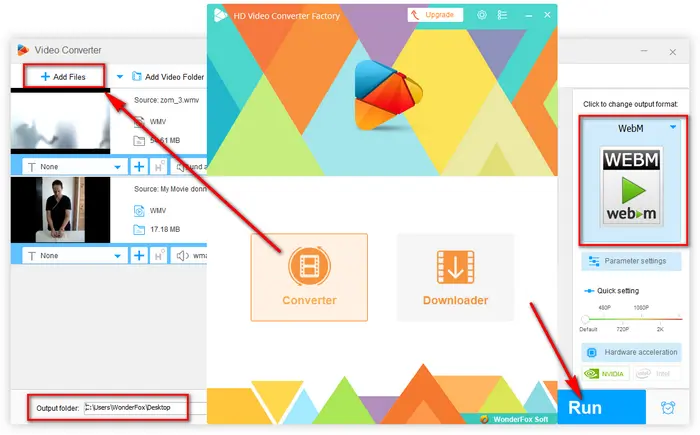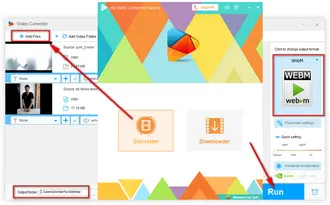 Solution 2: Convert WMV to WebM in HandBrake
HandBrake is supposed to be the most familiar video conversion program in the industry. No further introduction is needed because it's so versatile and well-received. Despite a fact that it features with a variety of options and settings pleased by advanced users, beginners should stick with the defaults as it isn't necessarily the easiest program to use.
Step 1. Run HandBrake, you'll be guided to open a single WMV file or a folder with multiple files.
Step 2. HandBrake will scan the WMV file and display all video information right there. Click "Presets" button on the top toolbar and select any option from all available HandBrake presets on the right side.
Step 3. Select "WebM" container in the drop-down list of "Format" under "Summary" tab. You have to configure each WMV file and click "Add to Queue" button for later HandBrake batch conversion.
Step 4. Click "Browse" button to specify a destination to save your converted WebM videos.
Step 5. Lastly, hit "Start Encode" button to start the WMV to WebM conversion process.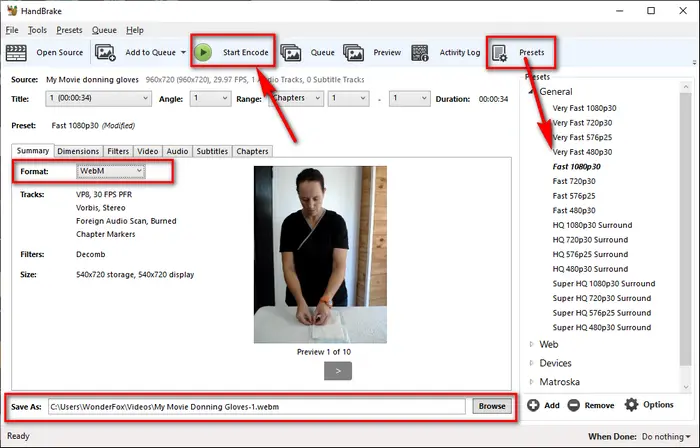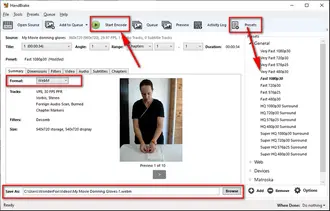 Solution 3: Convert WMV to WebM in VLC
VLC is more than an essential multimedia player that is also capable of converting WMV file to WebM. If you still have no idea how to do that, follow the instructions below and get the hang of the trick.
Step 1. Open VLC, click "Media" menu and select "Convert/Save" option.
Step 2. Click "+ Add" button under "File" tab to import your Windows media video file. Then click "Convert/Save" button below.
Step 3. Select "Video - VP80 + Vorbis (Webm)" option in the drop-down list of "Profile" section.
Step 4. Press "Browse" button to choose a destination directory.
Step 5. Finally, click "Start" button to convert Windows media video file to WebM.
Related Posts: VLC Batch Convert Files | VLC WebM Tips | VLC Converter | Convert VLC to MP4