What is WebM?
WebM, sponsored by Google, is a container format which is based on Matroska media container (well-known as MKV). WebM files are compressed and encoded with the VP8 or VP9 video codec, Vorbis or Opus audio codecs, and WebVTT text tracks. It is primarily intended to offer a royalty-free alternative to use in the HTML5 video tag.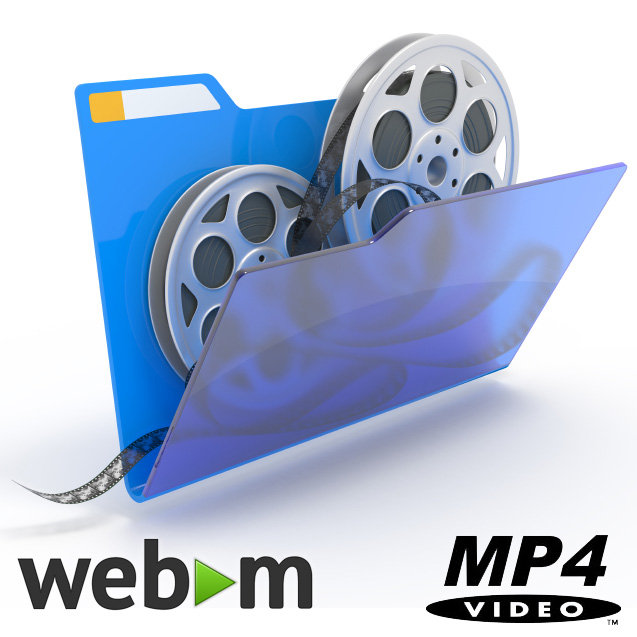 WebM Video File
Pros and Cons of WebM
WebM was built for the web. Make sure you have installed the latest version of a browser so that WebM video can play directly in your web browser using HTML5 without flash player. However, everything has two sides, check out the Pros and Cons of WebM below:
Advantages:
1. 100% free and open to everyone.
2. Play video with higher quality and better performance, even on old PCs.
3. Have implemented on more and more popular sites like YouTube, Wikimedia, 4chan, etc.
Disadvantages:
1. Less supported web browsers currently, only Mozilla Firefox, Opera, and Google Chrome. Internet Explorer 9 and Safari require the third-party WebM Media Foundation Components.
2. Less media players support WebM video or need to install components or plug-ins.
3. WebM video cannot play on most portable devices.
Why Convert WebM to MP4, AVI, MKV, MOV, WMV, etc?
After all, WebM is for the web. Just like the OGV file, although it has a brilliant performance on the web, the defect is also obvious offline. You may get frustrated and upset that it's not convenient to play and edit WebM video since currently it has a bad compatibility with most media players, portable devices and video editing software .
To solve this problem, the most direct and effective way is to convert WebM to MP4 as well as convert WebM to AVI, WMV, MKV, MOV and more. Because MP4 is widely used and has good speed, compression, hardware decoders, and video quality. Therefore, a free WebM encoder is requisite for this job. Follow this step-by-step guide below on how to convert WebM to MP4 or other formats and devices.
How to Convert WebM File?
The best free WebM video converter - Free HD Video Converter Factory is highly recommended. Open it after downloading and installing on your Windows PC (Windows 10/8/7/Vista/XP).

Free HD Video Converter Factory
Free HD Video Converter Factory is the best free solution to convert WebM to MP4, AVI, MKV, MOV, WMV or other popular formats and portable devices. Learn more >
Step 1 - Add WebM Video to The free WebM Encoder
Click "Add Files" to import your WebM video files or simply drag the wanted WebM videos into the program.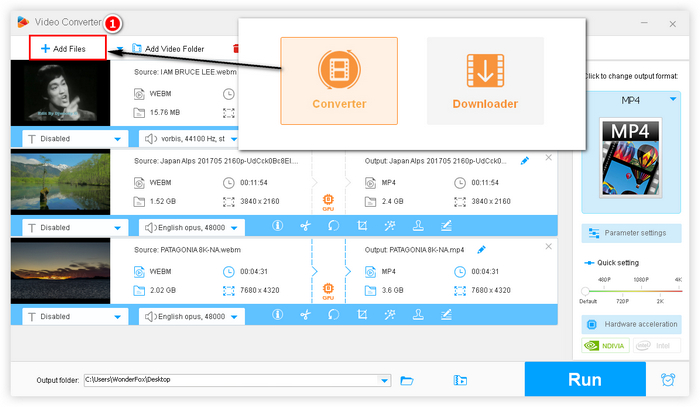 Add WebM Videos
Note: This free webm converter also enables you to import and convert M2V to MP4, PVR to AVI, TREC to MKV, MSWMM to MOV and more.
Step 2 - Set Output Format as MP4 or Other Format or Device
Open the output format drop-down list on the right and select MP4 as output format.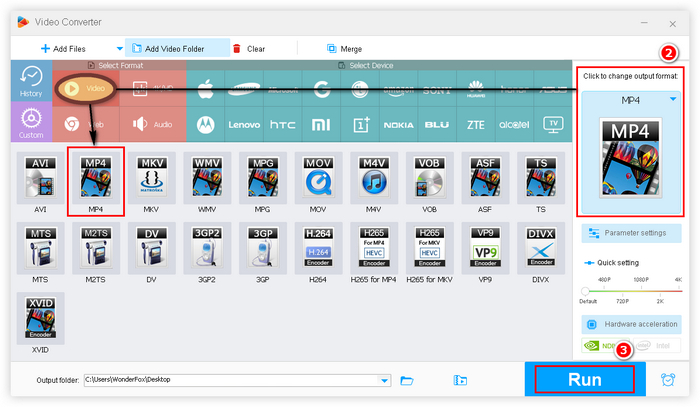 Select Output Format
Note: Except for MP4, there is a wide range of video&audio formats so that you can convert video to H.265, 4K, VP9, etc, even various devices for your choice including Android, iOS, smartphones, tablets, TVs, game consoles.
Optional - Regulate Video Settings
If you're an experienced user, this free WebM video converter empowers you to regulate the detailed parameters by clicking Setting button. You can change resolution, change aspect ratio, encoder, bitrate, frame rate and so on right there.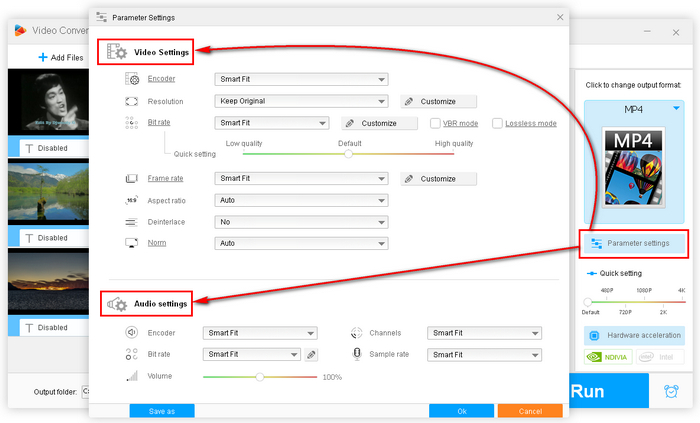 Regulate Video Settings
Step 3 - Start to Convert WebM to MP4
Click Run button to start the process of converting WebM to MP4 when all things are ready.
After done, you can play WebM video with portable devices anytime and anywhere, even edit it in Windows Movie Maker, iMovie, QuickTime or professional 4K video editors.
Enjoy More Features with Free WebM Video Converter
With this free WebM converter, you can even download YouTube video clips in batches and combine videos into a single one. Meanwhile, you are allowed to make a simple editing like cut, merge, rotate, crop and add special effect as well.
Still got question? Submit it to us and get answer within 24 hours.