HandBrake Presets - A Shortcut to Your Desired Format
You know what, some platforms, applications and devices have strict standards or guidelines for video import, upload and playback. That's the reason why a video transcoder is a must-have on your computer. And I bet HandBrake is definitely the first choice for most people.
Benefited from its built-in presets, non-tech-savvy guys can simply convert original video to the format supported by specific platforms or devices for general use. In addition to that, you can also optimize and customize the HandBrake presets as you wish. That's what I'm going to tell you in the next part.
Also Read: HandBrake Tutorial | Handbrake GPU Acceleration | HandBrake Audio Sync Issue | Handbrake PAL to NTSC Conversion
How to Modify Official HandBrake Presets?
By default, HandBrake offers a number of official presets specifically tailored for different purposes. Sometimes, you may want to make a few minor changes based on a preset. To do that, just select a preset on the right side that most closely describes the need you want after you import your source file. Then make your preferred changes on the left, and you'll see a "Modified" word at the end of the "Preset" statement, which means your modified settings will take effect when the encoding starts.
However, keep in mind, the official presets cannot be modified and saved with your new changes. So the above practice is just a one-off procedure. If you want to save the settings permanently, please refer to the "Add Customized Presets" part below.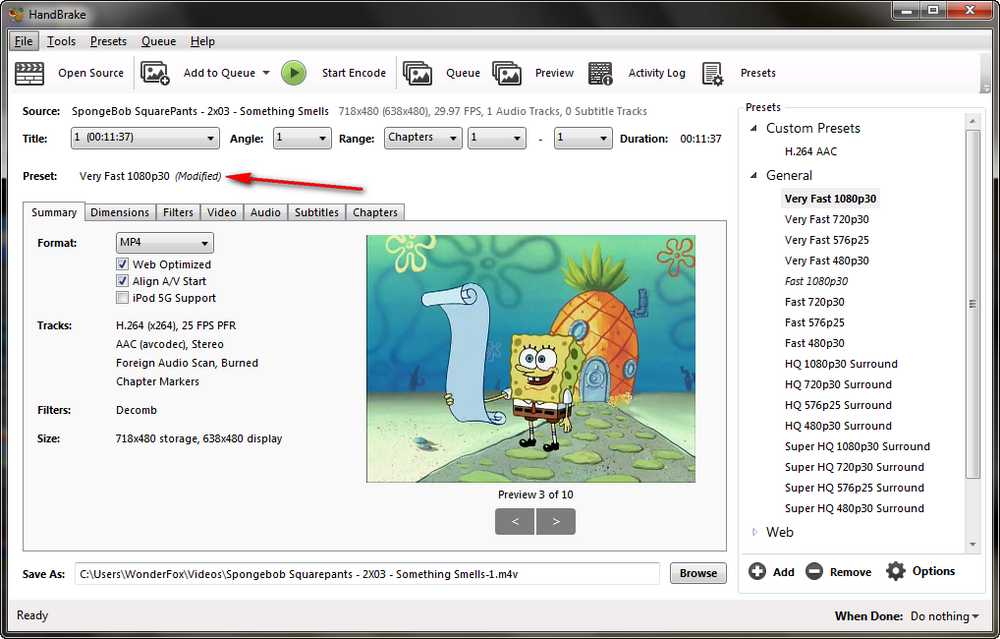 In addition to the built-in presets, you're entitled to add customized HandBrake presets for your personal preference. After all, the default presets don't always cover and meet all your changeable tastes.
After adding your source video, click the "Add" button on the bottom of preset pane, here you can create and save your customized presets so that you can directly select them next time without any change, such as the best HandBrake preset for DVD, best HandBrake settings for iPad and the forth.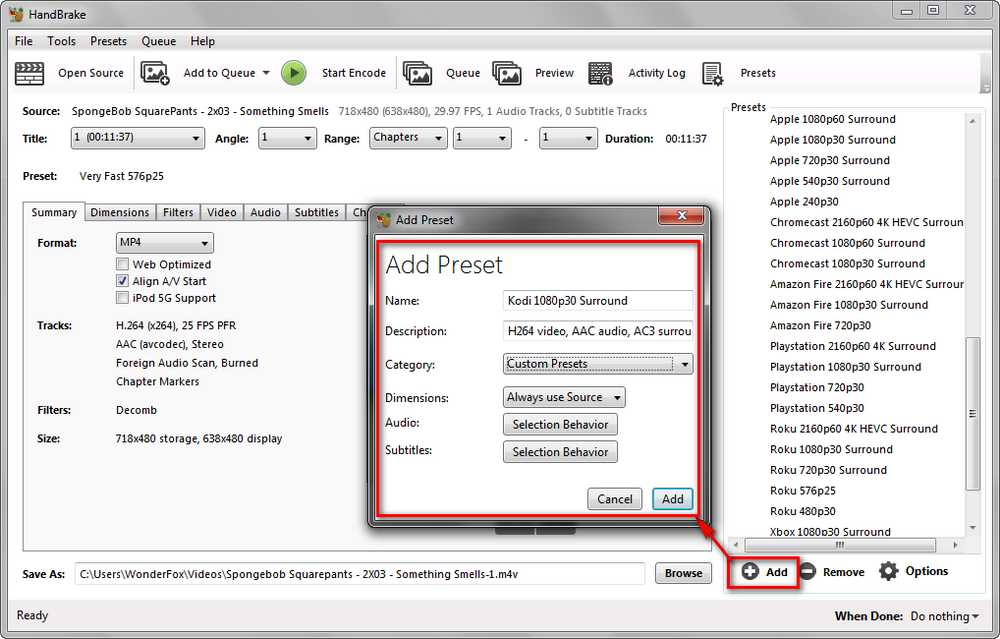 To update your customized HandBrake preset, just select it and make some changes, when it shows the "Modified", right click on your custom preset and select "Update Selected Preset" option.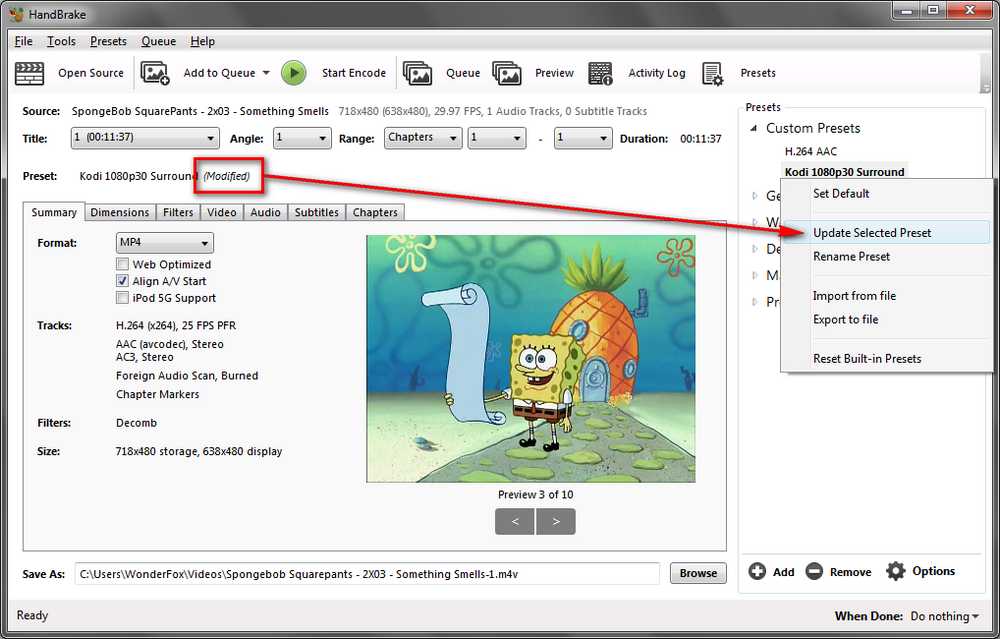 It's fairly easy to delete an unwanted preset, just select the preset and click "Remove" button on the bottom of preset pane. It works for both official presets and custom presets. And if your regret the removed items, right click on the blank area and select "Reset Built-in Presets" option to restore all official presets.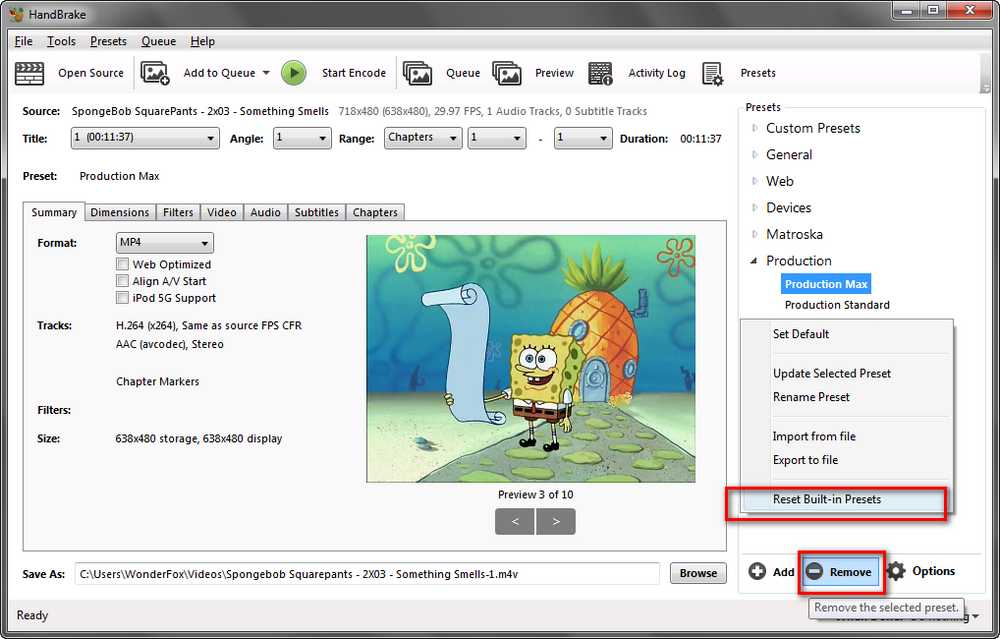 But it doesn't work for custom presets, instead, HandBrake allows you to export and import custom HandBrake presets as a .json file, so that it's convenient to transfer your common using habit to HandBrake on another computer.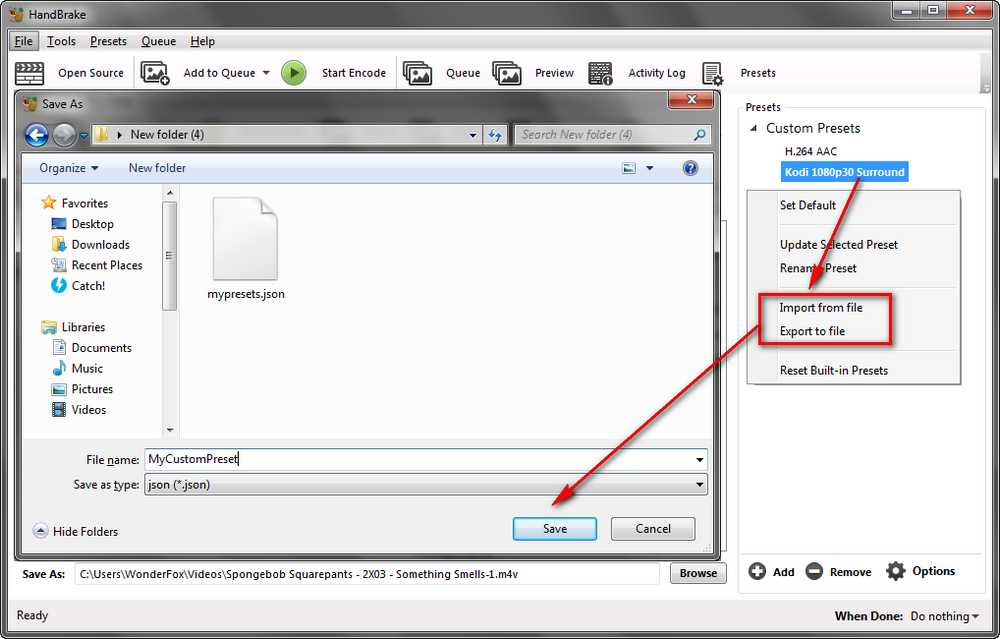 So many people may wonder if it's possible to import the custom presets downloaded from other people. Theoretically, it may work if you're using the same version on the same platform, but the success is not guaranteed. You can give it a shot by yourself.