Step 1 - Open GIF Maker
Launch HD Video Converter Factory Pro, you'll see a clean and intuitive interface with five main features. Hover your mouse over "GIF Maker" and select "Convert Video to GIF" to open it.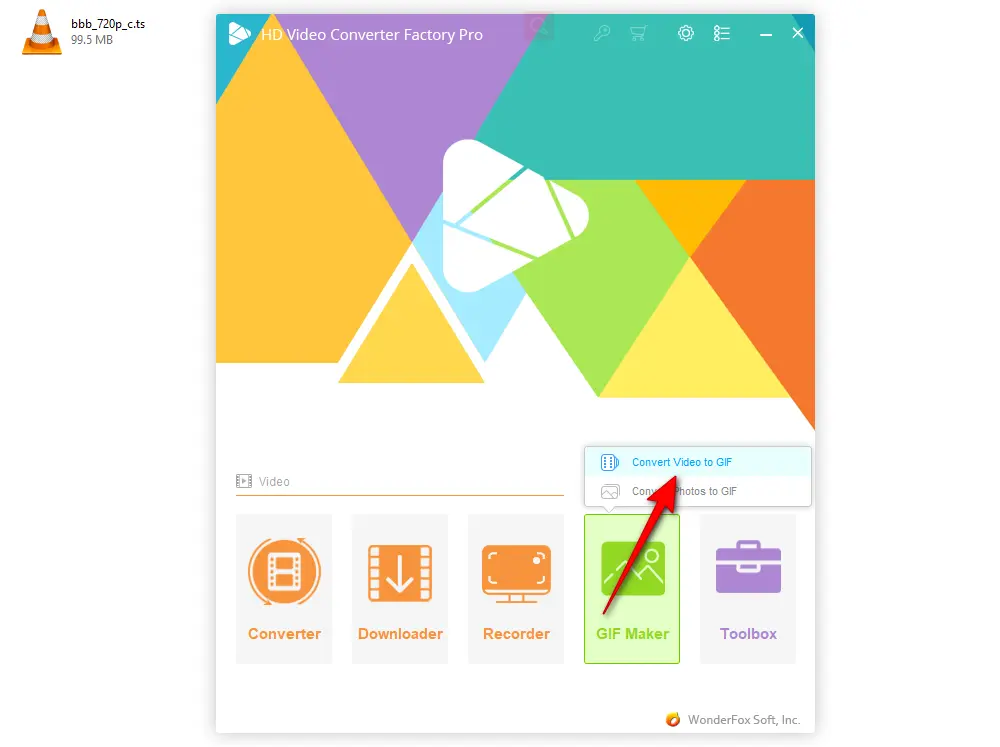 Step 2 - Import TS Video
Click on "+Add Video" button in the top-left corner to import the TS video which you want to make a GIF from. Alternatively, you can directly drag and drop the TS video into the player-like window. Then it will reveal some information like video duration, video resolution, frame rate, etc.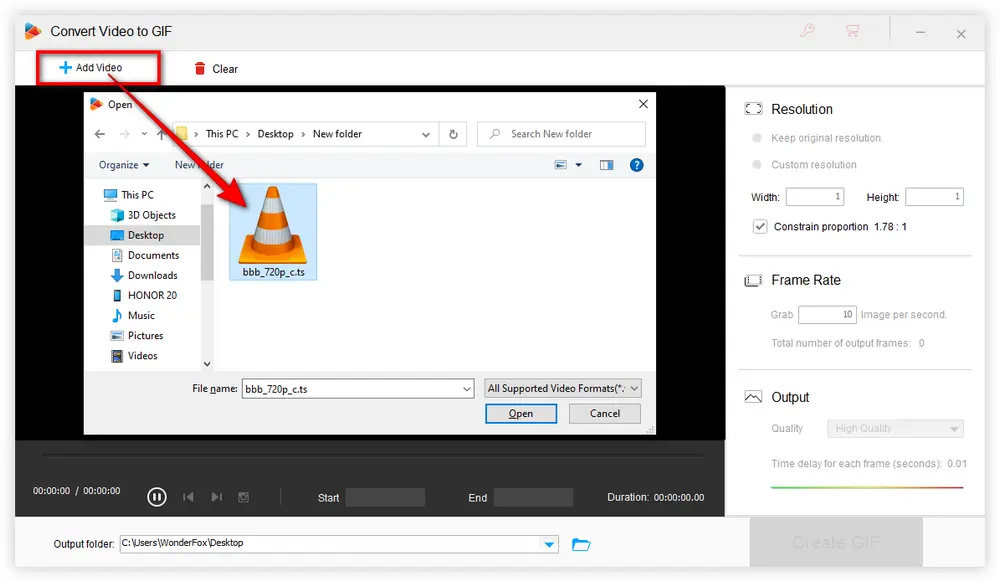 Step 3 - Customize GIF Settings
(1) Drag both sliders along the playback progress bar to select your favorite moment in the TS video. You can also enter the start and end time to make it more accurate. Click "Play" button to preview the section.
(2) Choose "Custom resolution" to input the values of video width and height. Keep "Constrain proportion" enabled to avoid image distortion.
(3) Change the image number per second. The smaller the number, the faster the GIF playback speed.
(4) Modify the GIF quality and time delay for each frame as you wish.
Step 4 - Convert TS to GIF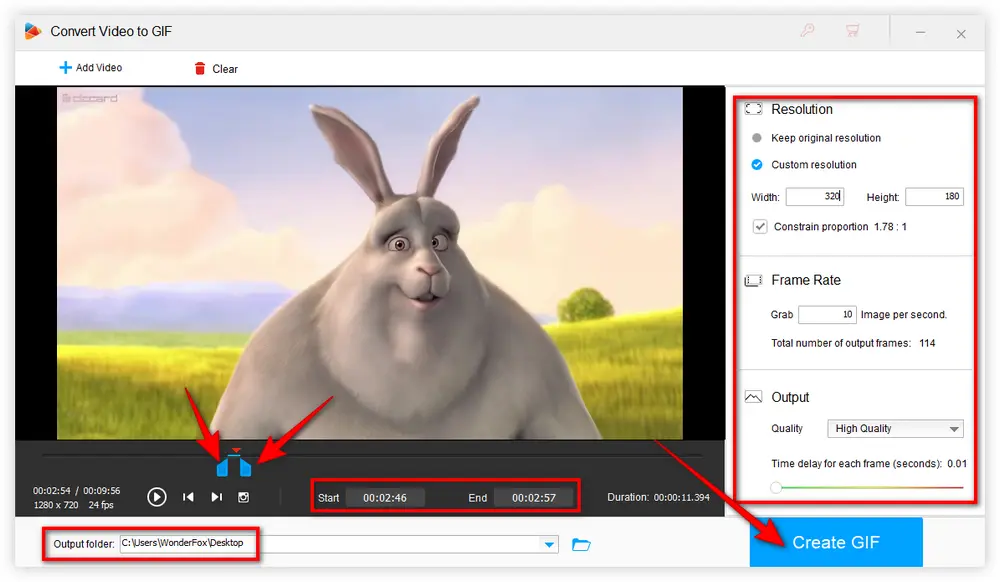 Solution 2: Convert TS to GIF Online
Quite a lot of people are more inclined to online solution. However, you may notice that most alleged online TS to GIF converters actually convert the whole TS video to a large GIF file with original resolution. I bet that's not what you want. To make your life easier, I have screened out 3 workable online GIF makers that can make a customized GIF from a TS video.
1. https://hnet.com/video-to-gif/
2. https://www.onlineconverter.com/video-to-gif
3. https://ezgif.com/video-to-gif
Step 1. Take HNET Video to GIF Converter as an example, open https://hnet.com/video-to-gif/ in your browser, this online application allows to convert virtually any video to animated GIF image.
Step 2. Click "Upload a Video" button to import and upload the TS video file. You are allowed to upload up to 300MB per file.
Step 3. Modify the start/end time, resolution and frames per second below.
Step 4. Click "Convert Now" button to convert TS to GIF image.
Step 5. Finally, press "Download" button to download the GIF file to local drive.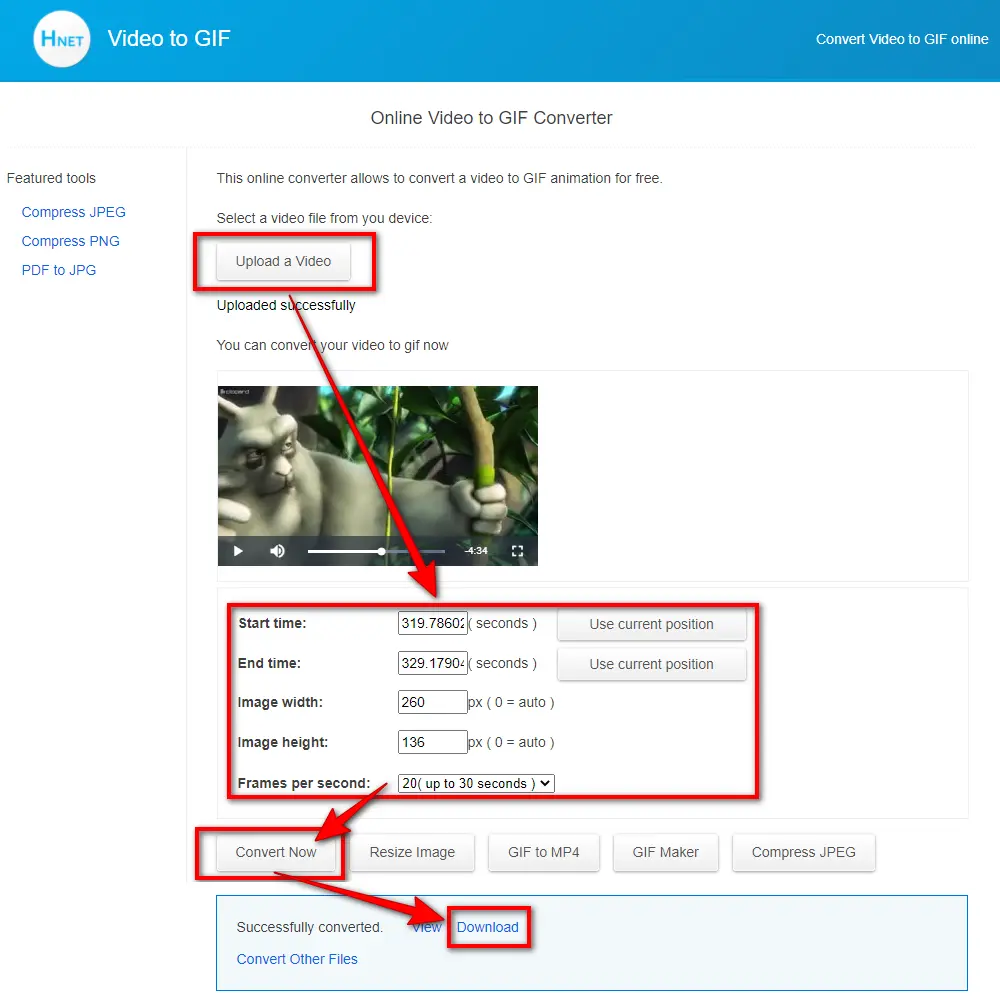 Final Words...
If you want to make an animated GIF image from a small-sized TS video, the online solution would be fairly enough for this job. For those people who intend to a more stable and efficient method without the restrictions of file size and Internet connection, the desktop TS to GIF converter can definitely provide the best experience. Just pick any option based on your actual need. Thanks for reading this!