GIPHY is a perfect online GIF maker, it's popular, simple and multifunctional. GIPHY supports YouTube, Vimeo and GIPHY links, their special effects are cool, and really suitable for beginners. It covers a wide range of input video formats including MP4 to GIF, which is the most frequently taken conversion.
Now, I'm going to show you how to make GIF from YouTube with GIPHY.
Please navigate to https://giphy.com/create/gifmaker before starting.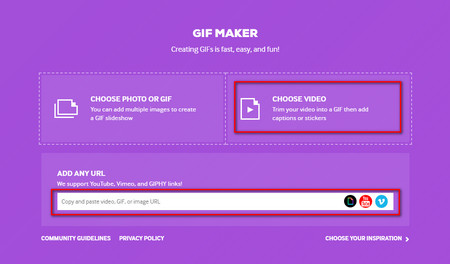 Import the Video
Step 1: Import the Video that You Want to Convert
Upload video from local by clicking on the "CHOOSE VIDEO" section. Or you just drag the target file to the central area of that site.
Copy YouTube video URL and paste it in the blank to import the video.
(As you can see, you can create GIF with multiple images as well.)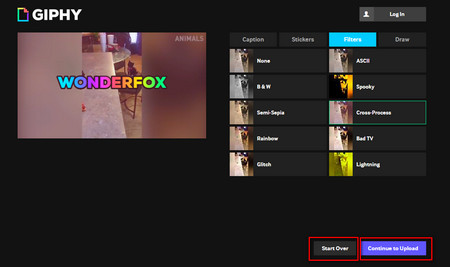 Customize Parameters
Step 2: Customize Parameters
Customize video duration and start time. Considering the size limit for uploading and viewing experience, I suggest that you should limit GIF duration to 10 seconds.
After that, this site allows you to add special effects, which are various texts, stickers that you can tag. Then draw something (or not) and choose an eye-pleasing filter as will.
Click on the "Continue to Upload" button to proceed or click on the "Start Over" button if the result is not satisfying.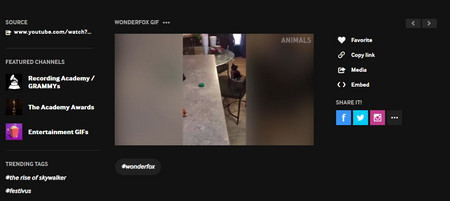 Time for Sharing
Step 3: It's Time to Share
Enter tags (that relate your GIF to similar ones) for your GIF, click on the "Upload to GIPHY" button and wait till it's fully created.
Share the output GIF to sites provided: Facebook, Twitter, Instagram, Tumblr, Pinterest, Reddit.
Or right-click and choose "save image as…" to download the GIF.