In addition to use professional desktop converters, convert video to GIF online is also a good choice. Using video to GIF online converter, you can upload MP4, AVI, WebM, FLV, WMV, and many popular types of video and convert them into high-quality animated GIFs.
Many video to GIF websites are presented when we input "convert video to GIF online", "video to a GIF converter online" and other relevant words in the browser. After testing, I found that EZGIF.COM is a nice video to GIF converter online. It can not only easily convert GIF to MP4, but also convert video to GIF, such as MP4 to GIF.

Next let's move on to the detailed tutorial on how to convert a video to GIF online.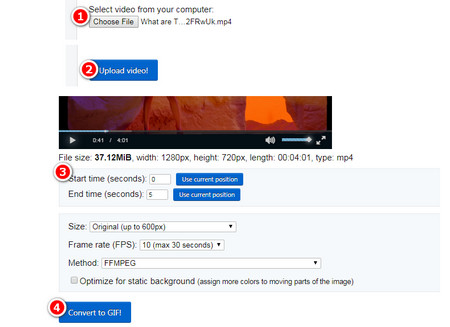 How to Convert a Video to a GIF Online
Step 1: In order to convert a video to GIF, first of all, visit https://ezgif.com/video-to-gif. And then, click on Choose File button to upload the video you want to convert to a GIF. After that, click on Upload video! to enter a new window.
Step 2: After uploading the video, you can select the video part to cut and enter the start and end time. If nothing is selected, the online GIF converter will start making the GIF from the first five seconds of the video fragment.
Step 3: Click the "Convert to GIF!" button to export your GIF. If you want to change the size of the GIF or crop GIF, you can use its resize and crop tools on the GIF after finishing the conversion.
Upload video file: MP4, WebM, AVI, MPEG, FLV, MOV, 3GP and other video files
Max file size: 100MB