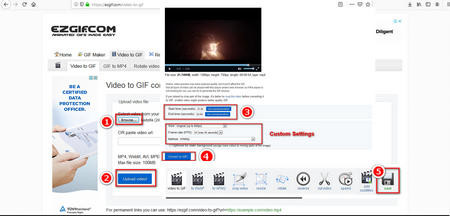 EZGIF.COM
EZGIF.COM is a free and multi-functional animated GIF maker online. With its help, you can crop, resize, optimize, split, add text to GIFs. This online maker allows you to turn images into GIFs and convert videos to GIFs.
If you want to turn images into GIFs, please click the GIF Maker option, and hit the Browse button to import image files, which supports up to 2000 inputs. Then press the Upload and make a GIF! button to make a GIF file.
If you want to convert videos to GIFs, you can select the Video to GIF option.
Step 1. Click the Browse button to choose a video like MP4, AVI, WebM, FLV, WMV and many other popular video formats into this online converter, or you can paste a video URL into the blank box.
Step 2. Hit the Upload video! button. After uploading the video, you can begin to make GIFs. Select the part of the video you want to cut. You can press the Use current position button to set the start and end time.
Step 3. Open the Size list to select the GIF size, and you can also set the frame rate.
Step 4. Click the Convert to GIF! button. Last, hit the Save button to save the GIF.