Is It Possible to Play Videos from USB on Panasonic TV?
Sure. It is quite easy to play video files from a USB flash drive on most Panasonic TVs. The process is simple and straightforward, and it only takes a few minutes to get everything set up. There are a few things you will need to have before you begin, including a USB flash drive and a TV that supports this feature. In addition, your USB drive must be formatted as either FAT16 or FAT32. If it is not, you will need to format it before you can continue. Once you have everything you need, follow these steps to play videos from a USB drive on your Panasonic TV: Insert the USB drive into the Panasonic TV's USB port > Press the "Home" button on the remote control > Select the "USB" option > Scroll through the list and play the video.
What are Panasonic TV Supported Video Formats?
However, you're likely to run into some problems like Panasonic TV MKV not working issue, Panasonic TV MP4 no sound, etc. due to some video codecs not supported on Panasonic TV. So, you need to figure out the Panasonic TV supported video formats or Panasonic TV USB video format before that.
It's unfortunate that Panasonic TV supported video formats vary on different models. You can go and check the Manual of your model and learn the details about USB Media Player User Guide:
If your video file is definitely on the supported format list, make sure that both audio codec and video codec are supported as well, otherwise it may not work properly. Meanwhile, there are some other limitations that you need to pay attention to, such as the maximum file size, resolution, frame rate, bit rate, etc.
How to Convert Videos to Panasonic TV Supported Formats?
That may sound a bit complicated if you're not that tech-savvy. But don't panic, WonderFox HD Video Converter Factory Pro will help you skip these tedious steps and ensure a smooth video playback experience on Panasonic TV. It's a well-rounded video and audio processor that comes with a variety of predefined profiles, allowing you to convert video files to Panasonic TV supported format without a hitch.
Free downloadFree download the awesome utility, and let's jump in the how-to guide.
Step 1 - Add Panasonic TV Unsupported Video Files
Run HD Video Converter Factory Pro and open "Converter" module. Press "Add Files" button to add the videos that won't play in your Panasonic TV. A simple drag-n-drop is also allowed. This utility supports batch processing and hardware acceleration.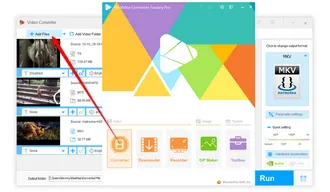 Step 2 - Choose Panasonic TV Profile as Export Format
To convert videos to Panasonic TV USB video format, expand the full output format library of 500+ presets on the right side. Then go to "TV" category and directly choose "Panasonic" profile, which has been preset to MP4 (H.264/AAC) that is well-supported on most Panasonic TV models.
Also Read: Vizio TV USB Format | Sony BRAVIA Video Format | Play Unsupported Videos on TV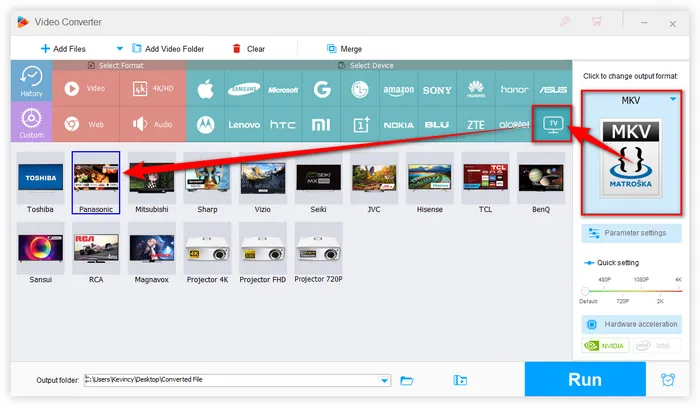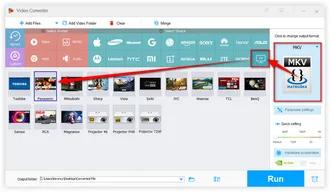 Step 3 - Start the Batch Conversion