Hisense TVs have become increasingly popular for their sleek designs, advanced features, and affordable pricing. One of the key features is its ability to play video files on a large screen from external storage devices like USB drives.
While Hisense TVs offer USB video playback, users may experience compatibility issues with certain video formats. In this comprehensive guide, we'll cover the most common video formats supported by Hisense TVs, how to troubleshoot playback issues, and the best video converters to ensure a seamless viewing experience. Let's dive in!
Hisense TV Video Format Compatibility
Hisense TVs support a variety of video formats, but the specific standards may vary between different models. It is always recommended to consult your TV's user manual or the official Hisense website for a comprehensive list of supported video formats. However, some of the most common video formats supported by Hisense TVs include:
MP4 (H.264/AVC)
AVI (MJPEG, Xvid, and DivX)
MKV (H.264/AVC)
WMV (VC-1)
MOV (H.264/AVC)
FLV (H.263)
3GP (H.264/AVC)
WebM (VP8)
TS (MPEG-2)
Troubleshooting Hisense TV Video Playback Issues
If you're experiencing issues with playing unsupported video files on your Hisense TV, such as Hisense TV won't play MP4 files, Hisense TV won't play AVI files, no sound, or black screen, etc., here are a few potential causes and solutions to consider:
Unsupported Codec: The video file might be encoded with a codec that is not supported by your Hisense TV. Converting the file to a compatible codec, such as H.264, can resolve the issue.
Incompatible Resolution: Certain Hisense TV models have specific resolution limitations for MP4 playback. Ensure that the resolution of the video file is within the supported range of your TV.
Corrupted File: If the video file is damaged or corrupted, it may not play on any device. Try playing other video files to determine if the issue is specific to that particular file.
USB Drive Compatibility: Ensure that the drive is formatted correctly (FAT32 or NTFS) and the file is located in a supported directory.
It is important to note that even if a specific video format is supported, your Hisense TV may still have difficulty playing back files with higher resolutions, bitrates, or frame rates that exceed the TV's capabilities.
Convert Video to Hisense TV Supported Format
If the above is difficult for you to understand, I've got you covered with a straightforward solution. To ensure that your video files are compatible with your Hisense TV, you only need to convert them to a supported format. Given this, a user-friendly Hisense TV video converter is necessary.
WonderFox HD Video Converter Factory Pro is a versatile yet easy-to-use video processor that supports various formats, offers editing tools, and can automatically optimize video files for playback on specific devices, including Hisense TV. This way, you can ensure that the converted file meets the required video and audio codecs supported by your TV. Download it on your PC and follow the step-by-step instruction.
Step 1 - Add Hisense TV Unsupported Video Files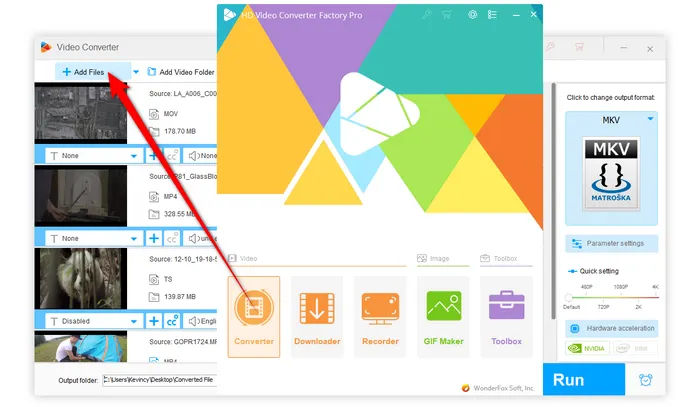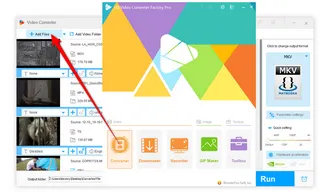 Step 2 - Choose Hisense TV Profile
To convert files to Hisense TV USB video format, expand the format list of 500+ configured presets on the right side. Navigate to "TV" category and choose "Hisense" profile directly, which has been optimized for Hisense TV, making it easy to ensure that your converted videos will play correctly on your Hisense TV.
Also Read: Sharp Aquos TV USB Video Format | Panasonic TV Supported Format | Toshiba TV Video Format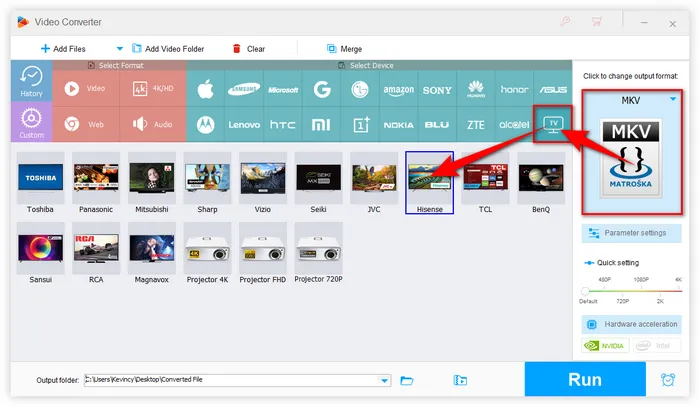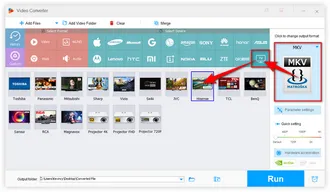 Step 3 - Convert Videos to Hisense TV Supported Format
Specify a directory path at the bottom to save the converted video files. Finally, hit "Run" button to batch convert video files to Hisense TV compatible format. With GPU acceleration enabled, the process is supposed to be complete at a blazing-fast speed.