If you are not satisfied with the recording quality, a relatively new Google Slides add-on - Creator Studio is worth a shot. Thanks to the developer Amit Agarwal, after you install the add-on, your Google Slides will possess the extra capability to export presentation to MP4 video, animated GIF or image sequences. The operation steps are as follows.
Step 1. Visit https://gsuite.google.com/u/0/marketplace and submit a search query "Creator Studio", or simply go to https://creatorstudio.dev/ to install Creator Studio add-on. It requires permission to access and read your presentation for conversion.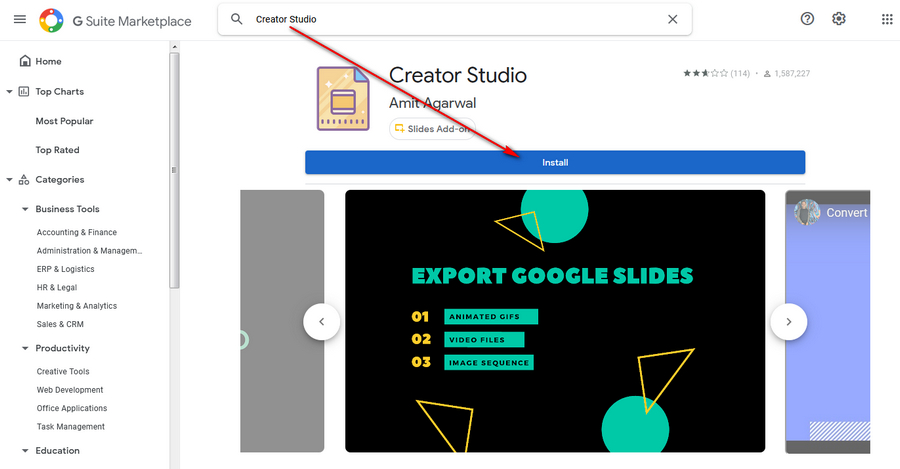 Step 2. Once the add-on is installed, open or refresh your Google Slides presentation. Navigate to "Add-ons" on top menu bar. Hover your mouse over "Creator Studio", then select "Create Video" option.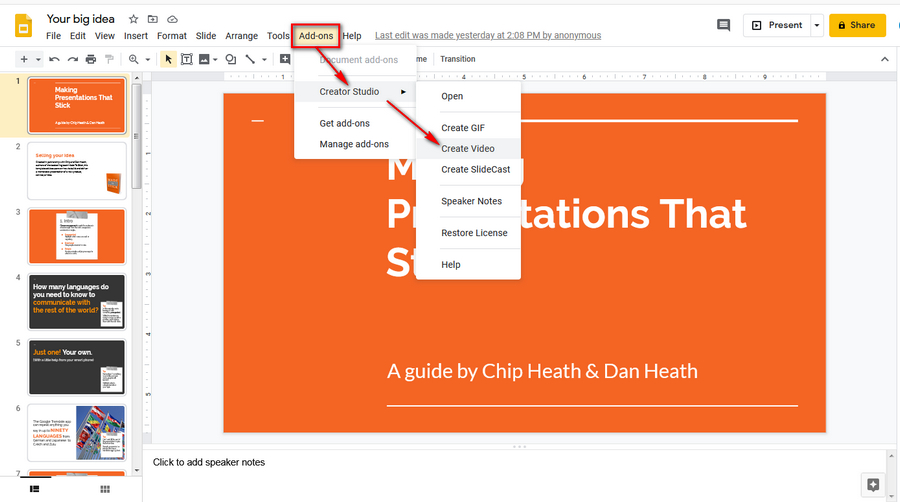 Step 3. After a short while, the Creator Studio sidebar will appear on the right. Type in the width of the converted video (no more than 1600 pixels for basic version), the video height will be automatically adjusted to match the aspect ratio of your presentation. Specify the time interval in seconds between slides (no more than 4 seconds). Then select "Video File (MP4)" option for export format. Lastly, hit "GO" button to render the video. When the process is complete, the MP4 file will be saved in your Google Drive, meanwhile, you'll see a download icon at the end of "Video File (MP4)" option. Hit the icon to download it to your local drive.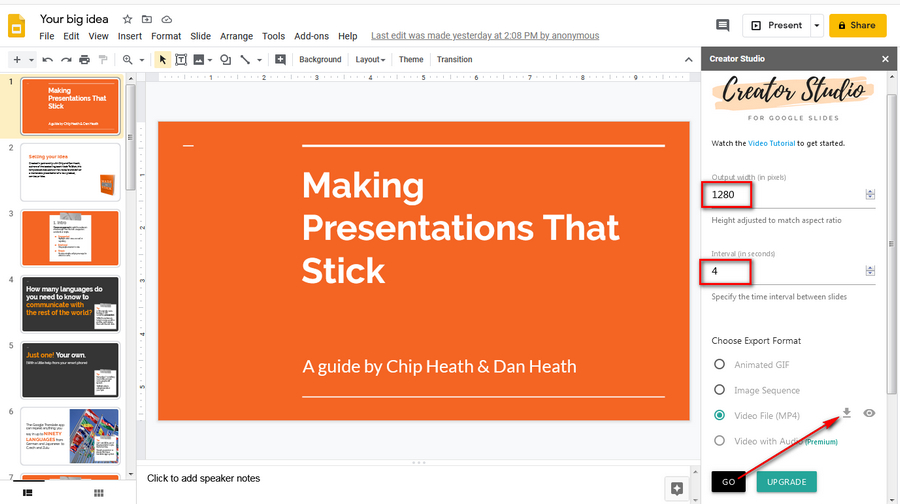 Note: As a casual user like me, the basic version is enough. If you're pleased with the performance of this add-on, switching to Creator Studio Premium will unlock more features, such as customize high-resolution, time interval, add background music, voice or narration, slide transitions support, etc. Check out more info in the video tutorial below.