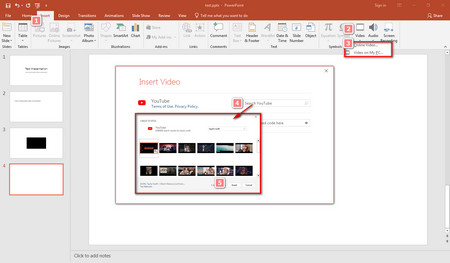 How to Embed a YouTube Video in PowerPoint
Step 1: How to put a YouTube video in PowerPoint? First of all, open your PowerPoint and click the slide that you want to add a video to.
Step 2: Click "Video > Online Video" on the "Insert" menu.
Step 3: In the Search YouTube box, type the name of the video that you want to insert, and press Enter.
Step 4: Choose one video from the search results, and click Insert to embed YouTube video in PowerPoint.
Step 5: Similar to method 1, once the video rectangle is on your slide, select it, right-click it and choose Preview. Finally, click the Play button to play the video.
These are the two methods of how to put a YouTube video in PowerPoint, do you get them? In fact, the actual operation is much simpler than your imagination. I hope this article will help people who have such confusion. And, you are free to share this article!