Installing a codec pack from a third-party source will grant your PC the compatibility to these originally unsupported videos, that compatibility includes: playing; using in programs like PowerPoint, WMP; etc. The recommended codec pack here is K-lite codec pack. See how to use this pack below.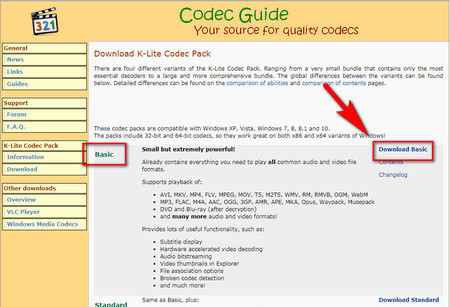 Download a Proper 32/64-bit Codec Pack for PowerPoint
Step 1. Navigate to the safe download source: https://www.codecguide.com/download_kl.htm
Step 2. As you can see, four different variants of packs are provided, these packs all include 32-bit and 64-bit codecs for PowerPoint, and the later contains the more comprehensive codec sets. "Basic" pack will suffice in most scenarios, so hit "Download Basis"
Step 3. If there's any former codec pack, remove it.
Step 4. Launch and install the K-Lite Codec Pack to your Windows PC.
Step 5. Re-insert unsupported videos into PowerPoint, they should be nicely supported this time.