There are some online converters that enable to save PowerPoint as video. we have selected some good sites for you:
https://products.aspose.app/slides/video
https://video.online-convert.com/convert-to-mp4
https://www.files-conversion.com/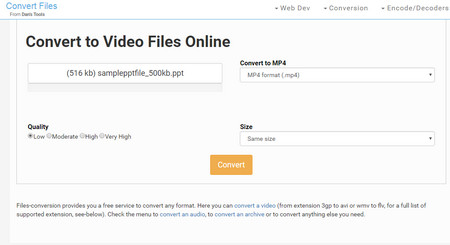 Online PowerPoint Video Converter
It's easy to convert PPT to video online. Let's see how to make a PowerPoint into a video with files-conversion.com.
Step 1. Visit the site: https://www.files-conversion.com/
Step 2. Click the "Select a File" button to upload a PowerPoint File.
Step 3. Choose the needed output format, quality and size.
Step 4. Press "Convert" to convert PowerPoint to video.
Step 5. Once the conversion finishes, right click on the files and select "save link as" to download the video.
Now you can choose the needed one from the two solution above. Besides converting PowerPoint to video, here you can also download the best video converter that helps you to work efficiently, which is worth a try!