If you use PowerPoint a lot, it is best to update to Microsoft Office 2010 or higher version. For one thing, PowerPoint 2010/2013/2016 are more powerful, for another, they will be downward compatible with PowerPoint 2007. This means that you can import PPT created in PowerPoint 2007 on the new version, and then convert it to video. The steps of PowerPoint 2007 to video are as follows: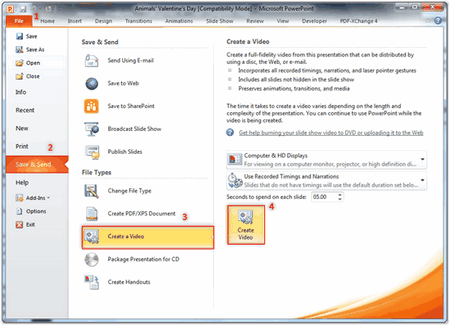 Convert PowerPoint 2007 to MP4 in PowerPoint 2010/2013/2016
Step 1. How to convert PowerPoint 2007 to video? Firstly, import PPT 2007 into PowerPoint 2010/2013/2016.
Step 2. Click File > Export on the menu bar.
Step 3. Click Create a Video to select the resolution, size, and quality of the video in Presentation Quality. If you need to add timings and narration, you can record it yourself.
Step 4. Fill in Seconds spent on each slide or keep the default for 5 seconds, then click the Create Video button.
Step 5. Customize video output directory, video file name and video output format (WMV or MP4).
Step 6. Click the Save button to start to save PowerPoint as video 2007.
Method 3 - Convert PowerPoint 2007 to Video Converter Online
If you think the above methods are troublesome, then you could also choose online PowerPoint 2007 to video converter apps to save PowerPoint as video 2007.
After testing and comparing, we recommend (http://www.mp3care.com--INVALID) online-convert.com to solve "how to convert PPT to video in office 2007" issue.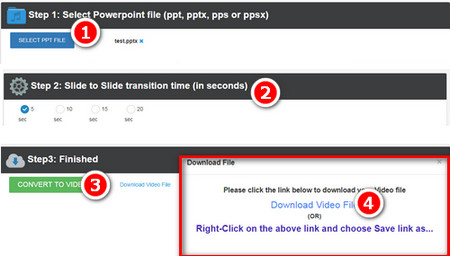 How to Convert PPT to Video in Office 2007 Online
Step 1. For the sake of converting PowerPoint 2007 to video online, firstly, please visit http://www.mp3care.com/powerpoint-to-video.aspx https://video.online-convert.com/convert-to-mp4.
Step 2. Upload PowerPoint file (ppt, pptx, pps or ppsx) you want to convert to video.
Step 3. Set video parameters such as resolution, bitrate, frame rate, etc., before conversion.
Step 4. Once the settings are ready, hit START to begin converting PPT 2007 to video at once. The video will automatically be saved to your computer.