Since PowerPoint 2016 was released, it has supported more operations on video files, such as trimming videos, adding effects into videos, and certainly, compressing videos. To complete your video compression goals, Microsoft PowerPoint offers three options, i.e., Presentation Quality, Internet Quality, and Low Quality. Choose one to start video compressions according to your actual needs. The following guideline will show you how to compress a video in PowerPoint.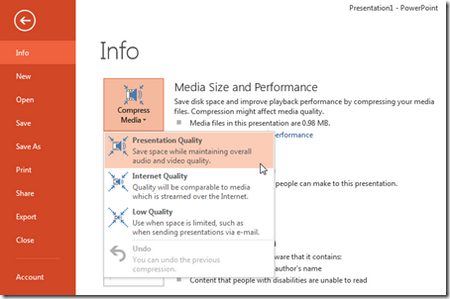 Compress video in PowerPoint
Step 1. Open the presentation that contains video files
Step 2. Click the File tab on the left-top corner, and then select Compress Media in the Multimedia section under the Info list. A new compressor window will pop up.
Step 3. Keep waiting till the long-time compressing process finishes.