Have you ever found it difficult to play DVDs on computers or portable DVD players, especially when you play the newest DVDs? That is because the newest DVDs are always protected by more advanced encryption technology. Take it easy. Here comes the problem solver – WonderFox DVD Ripper Pro, which can carry out DVD copy protection removal effortlessly and precisely.

by Helen
Update on May 25, 2020
The Inconvenience with DVD Copy Protection and Solution to Fix It
For those DVD fans, if you are also travel enthusiasts or need to be away on business trip frequently. You may face the following situation that you want to watch DVDs to relax yourself in the long journey, but you disappointedly find that your laptops cannot play DVDs. This troublesome situation results from DVD copy protection. And the various DVD encryption technologies, such as DVD CSS, Region Code, Multi-angle, Disney X-Project DRM, Cinavia and more, set strict barrier for you to view DVDs on other devices. Let's take DVD CSS as an example, it is a digital rights management and encryption system which applied by many commercial DVD producers to stop DVD duplication.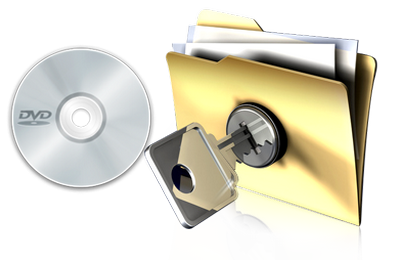 DVD Copy Protection Removal
Considering that you can't carry your whole set of DVD player with you easily, you can get rid of DVD protection and copy it on your portable devices, so that you can enjoy your DVD joyfully and conveniently. Therefore, how to remove copy protection from DVD becomes your prime concern. Since I have suffered the same problem, I sincerely advise you to use WonderFox DVD Ripper Pro. Equipped with industry-leading DVD ripping technology, this software can remove DVD copy protection conveniently and now I can watch DVD on my iPhone and iPad freely with this great DVD ripper.
Preparation: Get the DVD protection removal software free download here and then follow my steps to get rid of DVD protection.
Follow My Steps to Get Rid of DVD Copy Protection
Step 1
Open this software, and then add the target DVD Disc into the user interface. Or if you want to remove the protection of ISO Image or DVD Folder, just click the corresponding button. For instance, you can deal with ISO to AVI, ISO to MKV, Disc to Digital and so on.
Add Target DVD Disc
Step 2
Click the "Output Format" button and batches of format will come into view. You can select one output format you want, such as DVD to MPEG, or select the device you use, like DVD to iPhone7, DVD to iPad, DVD to Android.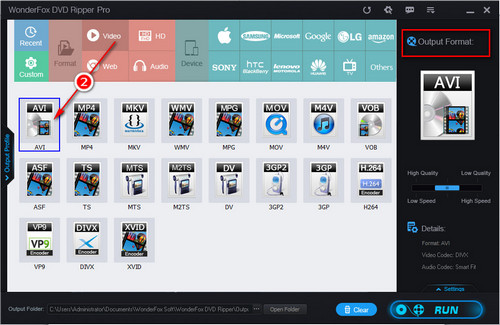 Choose One Expect Output Format
Step 3
After the output format selection, you need to choose a folder to save your final video. And then just click the "Run" button. A few minutes later, the whole process of DVD copy protection removal finishes and you can backup it or enjoy your DVD source on other devices free now.
Select Output Folder and Start to Remove DVD Protection
Tips: Please make it clear that if it is legal to rip a DVD for backup and private use in your country. And after you get rid of DVD copy protection, please apply the ripping files for personal use, other than commercial use.
Other Excellent Functions of This Ripper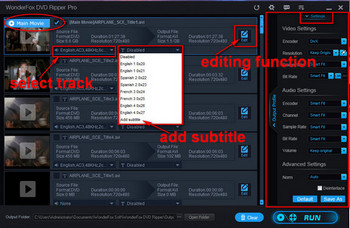 Other Excellent Functions
Advanced ripping technology: Based on advanced technology, this software is able to precisely and automatically mark out the main movie of a DVD among titles (title means information about main movie, movie clips, titbits of this movie, interviews on director or actors, ads, etc and title max=99). This powerful function provides you great convenience, for it has saved you lots of time to find out the main movie. Besides, other titles, like video clips and actors' interviews are also showing on the interface, you can rip them either if necessary.
Fast Ripping Speed and High quality: This ripper is capable of ripping DVD to digital video in a flash and you can deal with batch conversion. To satisfy your viewing experience, the output video will keep the original DVD definition. Furthermore, this DVD ripper pro supports fast compression like convert DVD to DivX and lossless compression like convert DVD to H264.
Great editing function and setting: This software allows you clip videos and add special effect as you wish and you can also choose a preferred track. Moreover, this software also supports you remove subtitle, select subtitle or add subtitle to DVD. Other than the interesting editing functions, you can also set the output format parameter. For example, change the ratio aspect, change resolution, bit rates and so on.
DVD discs are fragile and easy to get scratched or damaged if you keep them improperly. After you finish DVD copyright removal with WonderFox DVD ripper Pro, you can easily preserve your DVD sources.
Now, please download the DVD Ripper Pro to complete your jobs.
More Special Features on WonderFox DVD Ripper Pro
Acting as a powerful Ripper able to decode any DVDs fast and safely
Performing as an excellent DVD Player with high-quality output
Back up damaged old DVD to fix scratched DVDs
Fastest DVD-to-digital Conversion Speed
A Video Compressor to save space for your storage
Full support DVD Folder and ISO image as well