The Easter holiday is around the corner, how will you spend your holiday: take an Easter parade, decorate the hard-boiled eggs, camp out with families or other interesting activities? No matter what you do, I guess, you may need an Easter movie to for relaxation! Here is a list of best Easter movies which are well-received.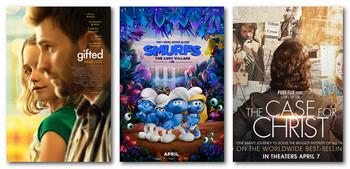 Easter Movies
Popular Easter Movies
The Dog Who Saved Easter
Ben-Hur
I Can Only Imagine
Mary Magdalene
Here Comes Peter Cottontail
Ice Age: The Great Egg-Scapade
You can go to the theater to watch Easter movies with families/friends. In addition to the above movies, here is a list of the best Easter movies appealing to kids and adults. Go ahead and read on. I believe that you can find at least one which is special for you!
Top 7 Classic Easter Movies
Easter Movies for Kids
During Easter holiday, children could take part in many activities: coloring the eggs, taking Easter parade or finding the bunny. Actually, watching Easter movies for children is also a good choice. Here are 3 kids Easter movies.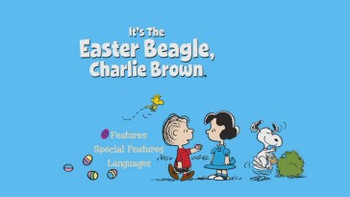 It's the Easter Beagle, Charlie Brown (1974)
It's the Easter Beagle, Charlie Brown (1974)
This kid Easter movie is based upon the popular comic strip Peanuts by Charles M. Schulz. It shows that the Peanuts gang to prepare Easter holiday: decorating eggs and shopping trips. It shows kids some Easter traditions in an easy way. Namely, it is an animated movie as well as an educational one!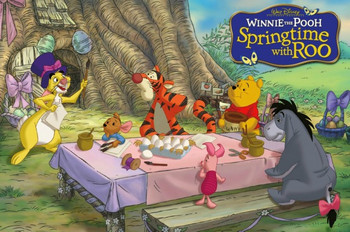 Winnie the Pooh –Springtime with Roo (2004)
Winnie the Pooh –Springtime with Roo (2004)
Although the quality of this movie cannot be as good as the Pooh movies of the sixties, I also highly recommend here it. Since this movie is funny and explains many lessons, including how friendship and love can bring people with different goals together. It is a fun and sweet story I love.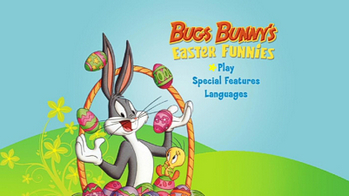 Bugs Bunny's Easter Funnies (1977)
Bugs Bunny's Easter Funnies (1977)
It is a fun and sweet story and I love these funny characters so much.The dialogue are always witty and fresh, with some references that might go over the head at a very young head but today still hold up and make you smile.
Easter Movies for Families
There are some Easter movies for families, so that you can enjoy the movies with you parents or children. It is the happiest moment to enjoy a movie with families in my opinion.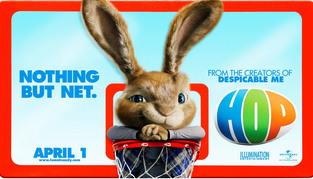 Hop (2011)
Hop (2011)
The animation is splendid and funny. The jokes in this movie are so easy that any kid would enjoy. Even as an adult I was laughing throughout the entire movie.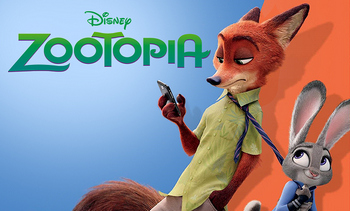 Zootopia (2016)
Zootopia(2016)
As one of the hottest films in recent years, you must heard about it. If you have watched it you can watch it again, if you haven't watch it, you should better enjoy it since the animation was terrific, the acting was mesmerizing and the plot was impressively perfect.
And Easter Movies for Adults
If you want to spend your Easter holiday with your friends, you can pick up the following movies which are more meaningful!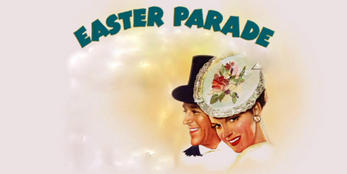 Easter Parade (1948)
Easter Parade (1948)
Cute story, excellent cast, gorgeous costumes make this movie as one of the most classic Easter movies though it was produced almost 70 years ago.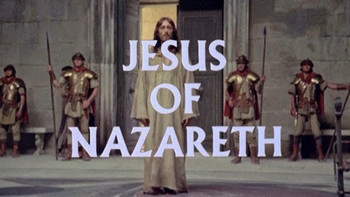 Jesus of Nazareth (1977)
Jesus of Nazareth(1977)
I think this movie is the most detailed movie about the life of Christ so far and Robert Powell's portrayal of Jesus was exquisite. The plot and actors performance make this film on the must-see list.
How to Get Easter Movies for Free?
1. Download Easter videos from YouTube, Vimeo, Twitch and other video sharing sites with WonderFox free video converter. Click here to free download it.
2. If you have already bought or are going to buy some Easter movie DVDs, you can rip Easter DVD in a more convenient way of viewing and preserving with a free DVD ripper. You can free download this free ripper by clicking here.
For example, you may find the best Easter movies on Netflix, you can use a tool named Netflix ripper to backup these Easter DVD movies.
Method 1: Download Easter Movies with Free Video Downloader
Here is a free tool to help us finish Easter video download. This tool enables us to download video/audio from 1000+ video sharing sites. For instance, download kids movies from YouTube, download wedding songs and download yoga video. It also supports video/audio formats conversion: convert MKV to PS4, convert FLAC to WAV, etc.
Step 1 Copy and Paste URL
Enter "Downloader", click "+ New Download" then copy and paste the target URL. Don't forget to click "Analyze" button.
Step 2 Select Output Quality and Format
After automatically analyzing, we can select the preferable quality and output format. Click "OK" then.
Step 3 Start Downloading
The final step to download Easter videos is to click "Download All" button.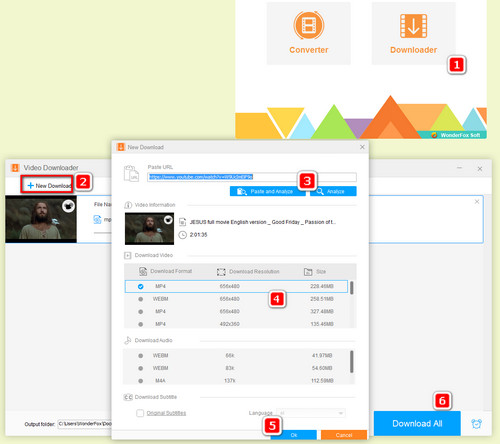 Download Easter Videos within 3 Steps
Method 2: Rip Easter DVD with Free DVD Ripper
A free DVD ripper that I have used also helps us watch classic Easter movies. It is really useful, I used this tool to backup INSANITY DVD to my iPad and convert ISO file to AVI. Apart from ripping a DVD, it can also decrypt Video_TS folders and ISO files. If you meet Video_TS folder or ISO file playback issues, you can also use this powerful tool!
Step 1 Insert Easter Movie DVD
Insert a DVD into the disk drive and launch the software. Then select the DVD source from the interface.
Step 2 Select the Output Format or Device
Select the output format or device by clicking the right "Output Profile". This free version only supports MPEG format. If you want other formats, you can download the Pro version.
Step 3Start Ripping
Click the button "Run" and start ripping.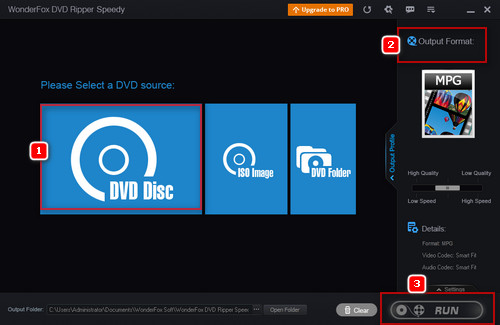 Rip DVD Movies within 3 Steps
Now, please download the Free HD Video Converter Factory to complete your jobs.
More Special Features of Free HD Video Converter Factory
Download Easter videos from 1000+ sites. Freely select output video size before downloading
Various media formats, optimized profiles for 500+ hot devices
Provided with a built-in video editor
Can compress video with best quality but smallest size
Fastest conversion speed, 30X speed up supported
Extract soundtracks from film/video