Date back to your childhood, did you look forward to going to church with elders in your family just for listening to those breathtaking and mind-reassuring Christian music? Or even play hide-and–seek with your best friends in the magnificent and holy place? And I am sure that countless precious and unforgettable memories have carved in your heart. Perhaps Christian music was here on your first day in this world which comforts and encourages you to confront with this world dauntlessly. If you think Christian music is worth knowing about, I would be honored to introduce some main styles to you.
1) A Brief Introduction to Different Types of Christian Music
There are mainly six types of Christian music, including Praise/worship music, Gospel music, Rap, Pop, Blues, and Metal. Among those styles, Gospel music can't be ignored or put aside since it is full of piano, organ, drums and vocal harmonies. Are you interested in humming it? Now, here is the opportunity for you to freely download gospel music from YouTube.
2) The Reasons Why Christian Music Download is a Great Idea?
Reason one: With the rapid growth of technology and economy, we are forced to lead a fast-paced lifestyle. This hyper-competitive society leaves us no time to eat a simple breakfast at home, let alone, to take care of our own hearts. After finishing a week's hard work, it is time to replenish our weary and blundering souls. Reason two: The influence of Christianity on society and people's daily life is profound and comprehensive. Generally speaking, it can be recognized as the root and the origin of our culture. In the past, people used to go to church every weekend to embrace the divine spirits of God. But now, parents have to work in the big cities in order to support the family. Therefore, the younger generation gets less chance to go to church since lack of companionship from guardians. Probably, some Christian songs videos free download from YouTube will make up for this absence.
3) Download Top 50 Christian Songs Videos from YouTube and Extract Audio
Free HD Video Converter Factory: a mature and multi-functional application which brings convenience and cheerfulness to every needy client. Let this Christian music downloader enrich your life.

Free HD Video Converter Factory
Free HD Video Converter Factory is a useful tool to help you download Christian music in a much easier way. And it also provides functions like clipping sections, ringtone making and special effects adding, etc. Learn more >
Step one:Download and install Free HD Video Converter Factory. Go to "YouTube", search" top 50 Christian songs", copy the playlist URL.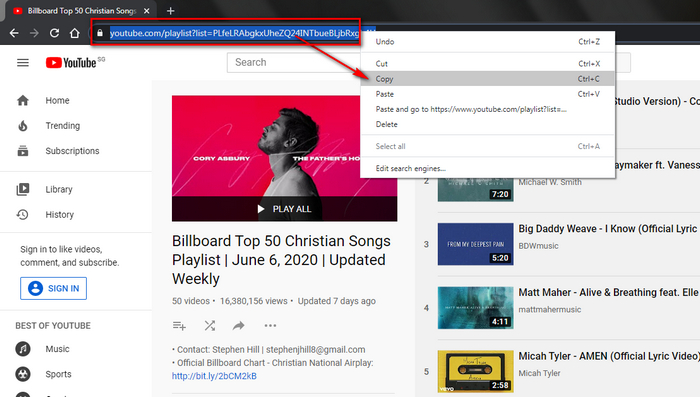 Copy URL
Step two: Launch Free HD Video Converter Factory and open Downloader. Click on "New Download" button to pop up a new window.
Step Three: Then press "Paste and Analyze" button. After the analysis, it will present you all available videos in the playlist within a few minutes. Add all videos into program and tap "Download All " button to initiate the procedure of hottest Christian music download.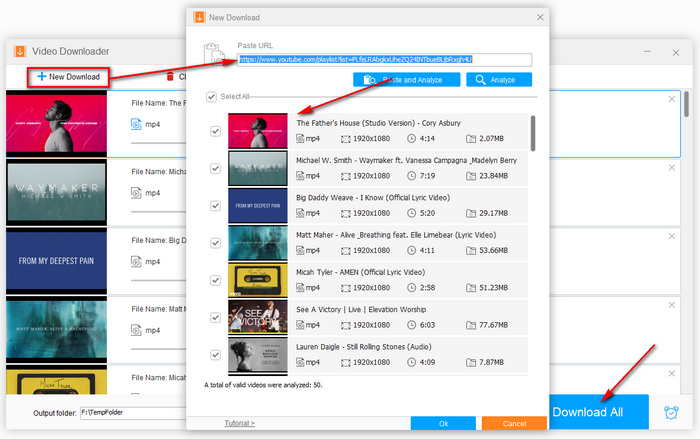 Download Christian Music
Step four: After done, close Downloader and open Converter. Import the downloaded music videos and click the output format and choose MP3 as the output format. Click "Run" button. Hit the" Output Folder" to check the output audio files.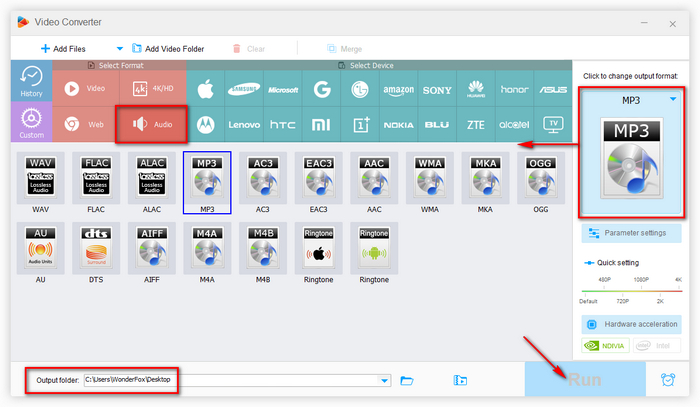 Extract Audio from Video
If you know audio parameters well, you can adjust the encoder, channels, bit rate, sample rate and fine-tune volume in Parameters Settings. Or keep the smart fit. Notice: Its "Batch Conversion" function supports file conversion up to ten at a time. And you can find the setting by click the "Option", which appeared as a hammer on the right side. You are allowed to download Christian songs from YouTube once at a time. Besides, You can even make a ringtone out of the converted audio. Now, I will show you how to make it.
4) Pro Version Supports Ringtone Making
If you'd like to clip one of your favorite audio sections and set it as your ringtone. You are able to free download its Pro version. Here comes the tutorial of how to make a ringtone out of a Christian music.
Step one: Run the program and press Toolbox, then open Ringtone Studio.
Step two: Click "Add File", and choose the song.
Step three: Drag the slider to clip the section that you like. (for iOS users, phone ringtone lasts at least 40 seconds, and SMS lasts 25 seconds)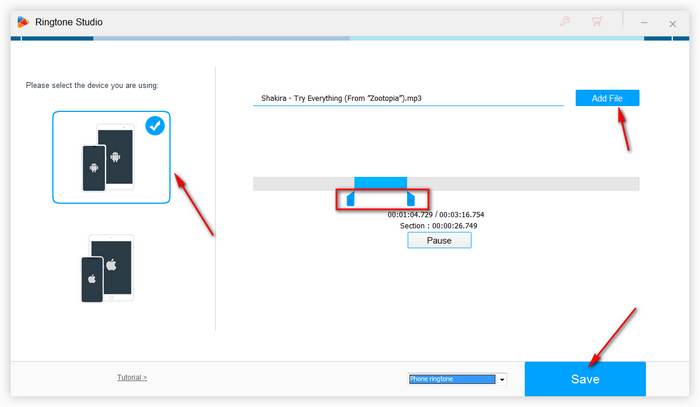 Make Ringtone
I sincerely hope you this article can help you more or less. And if you encounter any problems while using this Christian music downloader, please contact us. Or you have other ideas of Christian music appreciation, welcome to share with us. Finally, I would like to share with you the best Christian Music from billboard, and you can download from YouTube by using Free HD Video Converter Factory.
5) The List of Best Christian Music from Billboard
NO. 1: The Father's House (Studio Version) - Cory Asbury
NO. 2: Michael W. Smith - Waymaker ft. Vanessa Campagna & Madelyn Berry
NO. 3: Big Daddy Weave - I Know
NO. 4: Matt Maher - Alive & Breathing feat. Elle Limebear
NO. 5: Micah Tyler - AMEN
NO. 6: See A Victory | Live | Elevation Worship
NO. 7: Lauren Daigle - Still Rolling Stones (Audio)
NO. 8: We The Kingdom - Holy Water (Live)
NO. 9: Jeremy Camp - Keep Me In The Moment (Audio)
NO. 10: Cochren & Co. - One Day

And the list goes on. This ranking list has been changing with each passing pay. It is true that opinions differ from each other on Christian music preference. Consequently, why not download Christian songs on your devices and share it with friends or family members?
Still got question? Submit it to us and get answer within 24 hours.